Student Involvement is Key to Experiencing True Torero Life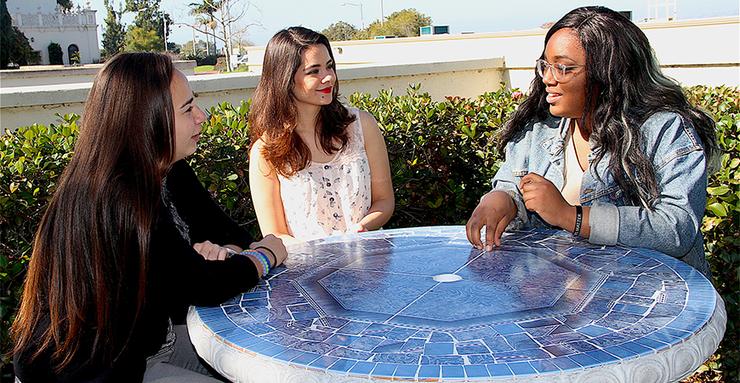 When it comes to offering incoming University of San Diego students chances to connect and encouragement to get involved on campus — especially early — the only dilemma is choosing which path to take.
There's the standard, official four-day orientation, Ole Weekend for first-year and transfer undergraduate students. But there are also pre-orientation retreats, through University Ministry and Outdoor Adventures. There's Student Support Services' August Summer Bridge program, the Living-Learning Community for all first-year and transfer students, a Pre-Undergraduate Research Experience (PURE) summer program and, within the first week of the fall and spring semester, there's the always popular Alcalá Bazaar.
"If you ask any freshman student about their Alcalá Bazaar experience, they'll tell you the same thing — it's overwhelming because there's so much going on. It's a great gateway to see what's happening on campus, to find things to put yourself out there and help you step out of your comfort zone," says Dylan Valdivia, a junior business marketing and real estate double major.
Chelsea McLin, a senior English major and Ethnic Studies minor, will graduate in May, but her involvement in the Black Student Union (BSU), with Rainbow Educators, as an Upward Bound tutor, McNair Scholar and resident assistant (RA) demonstrates her multiple connections through Alcalá Bazaar.
"I still go because I always find something new I really enjoy," she says. "I did USD Radio for a while and I met some good friends there. I learned about the Smile Club my freshman year and about an acapella group. It's always cool to see everyone's school pride on display at the Alcalá Bazaar."
Comfortable Being Uncomfortable
Getting involved, particularly as a college newcomer or new to San Diego, can seem to be a challenge — but Valdivia won't forget his freshman introduction to USD. He signed up to backpack in the Sierra Nevada Mountains on an Outdoor Adventures' pre-orientation trip. He didn't know anyone and wasn't much of an outdoorsy type, but it was a trip he's not soon to forget and always appreciate.
"It was the best 'worst' experience of my life," says Valdivia with a grin as he recalls it. "I committed myself a hundred percent to put myself out there when I first came to USD. I'd never gone backpacking before and don't know what I was thinking at the time. It didn't take long for me to wonder what I'd gotten myself into, but I became so close to the people I met on that trip. I became friends with several people and one of them is now my roommate. I look back on that trip now as one of the best decisions I've ever made at USD."
Meeting new people, sharing experiences and learning more about himself are important practices for Valdivia. As chairperson for the USD Changemaker Hub's active Student Changemaker Committee and as a Lead Student Involvement Consultant with the Student Leadership, Involvement and Changemaking (SLIC) program, he helps other Toreros make successful connections, too.
"We look at the student involvement big picture and work on setting it up and improving it," Valdivia says. "As Changemaker chair, I want to help lay a solid foundation for those who want to be part of the Changemaker Hub and make it easier for first-years to integrate into what's going on here."
Summer Bridge Support
McLin and Alicia Reyes, a second-semester freshman, began their USD student experience in Summer Bridge, a program limited to 80 students each August and run by the on-campus Student Support Services office. This week-long orientation program, which leads into Ole Weekend, has students attend mock college classes and workshops, assigns a peer mentor, grants them early check-in to residence halls, and they participate in icebreaker exercises to build camaraderie and start friendships.
"You meet a lot of people at the same time and that can be intimidating at first, but then when I'm on campus and I see them again, it's nice to have a familiar face. It makes it so much easier knowing you have someone you can hang out with and you're not by yourself," Reyes says. "That's also what I like about SSS. You're never alone. You always have people who support you. It's made a big impact on me. It gives me confidence. I don't think I'd be as confident without having done Summer Bridge."
Reyes is currently working toward being a student mentor for the August 2017 Summer Bridge program.
Finding Community, Giving Back
Community is what first-generation student Lucero Chavez sought when she came to USD. Now an international relations major set to graduate in May, the Guadalajara, Mexico-born and San Diego-raised Honors Program member and International Student Organization (ISO) president found it initially difficult to connect on campus.
The Alcalá Bazaar helped. Chavez found the United Front Multicultural Center and its Link Mentoring Program, the Student Outreach and Recruitment (SOAR) program, and her involvement in ISO came through connecting by way of ISO's coffee hour socials each Thursday, special dinners and other activities to meet fellow international students.
As her campus involvement grew, so did development of the whole. Chavez's academic and extracurricular commitments, she says, help with organization and time management skills, developing personal leadership traits, networking, public speaking, team leading and more. And as she develops her skills, Chavez knows the importance of paying it forward.
"By being in the community and benefitting from being in these organizations, the leadership positions I have now are about giving back," says Chavez.
She, along with Valdivia, McLin and Reyes, are enjoying their college experiences, have a desire to be involved and believe the best way for future Toreros to take advantage of USD's many resources is to take ownership of it.
"Step out of your comfort zone, take risks, take chances and have faith that you'll find your community, you'll find your place at USD," Valdivia says. "It's definitely possible. I believe that one hundred percent."
— Ryan T. Blystone