USD School of Law Alumni Association Names 2021 Distinguished Alumni and Rising Stars
USD School of Law Alumni Association Names 2021 Distinguished Alumni and Rising Stars
Alumni Association Names 2021 Distinguished Alumni and Rising Stars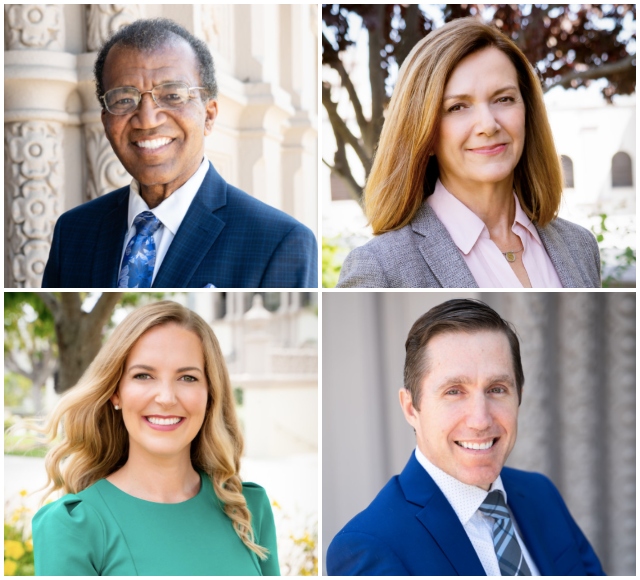 SAN DIEGO (November 22, 2021) – The University of San Diego (USD) Alumni Association Board of Directors recently presented their Distinguished Alumni Awards and Rising Star Recent Alumni Awards. The Honorable Richard T. Fields '87 (LLM) and Karen P. Hewitt '89 (JD) were presented with the Distinguished Alumni Award while Dylan M. Aste '11 (JD) and Kirsten F. Gallacher '12 (JD) were presented with the Rising Star Recent Alumni Award.
The Distinguished Alumni Award is the school's highest honor bestowed upon alumni. The award is presented to law school alumni who have distinguished themselves in the legal field or other chosen profession at an exemplary level and who embody the high ethical standards and commitment to community service USD School of Law seeks to instill in its graduates.
The honorable Justice Richard T. Fields '87 (LLM) is an Associate Justice for the Fourth Appellate District, Division Two, of California Courts of Appeal, and assumed office in 2017. Before that, he served in the courts of Riverside County for 26 years prior to his appointment and subsequent confirmation to the Courts of Appeal, serving as Presiding Judge in 2007 and 2008. In April 2000, Justice Fields became the first Black judge in Riverside County. Prior to his appointment as a judge in the Riverside County Superior Court, Justice Fields served as a Court Commissioner, and became Riverside County's first Black jurist in 1991.
Karen Hewitt '89 (JD) is partner-in-charge of Jones Day's California region, which encompasses five offices and nearly 300 lawyers. She represents companies nationwide in civil and criminal investigations and in complex business litigation. Before joining Jones Day in 2010, Hewitt worked at the U.S. Department of Justice for 18 years and served as the United States Attorney for the Southern District of California from 2007-2010. Under Hewitt's direction, the U.S. Attorney's Office achieved a record number of convictions. She led a staff of approximately 275 employees and expanded criminal prosecutions in many areas, making San Diego the third-busiest U.S. Attorney's Office for felony prosecutions in the nation.
USD School of Law and the Law Alumni Association Board of Directors present the Rising Star Recent Alumni Award to alumni who have graduated within the past ten years and have made significant achievements in the legal profession, or chosen field, and demonstrated a high level of community involvement. Since its inception in 2011, 20 law school alumni have received the Rising Star Recent Alumni Award.
Dylan M. Aste '11 (JD) currently serves as an Assistant United States Attorney in the Affirmative Civil Enforcement Unit of the United States Attorney's Office for the Southern District of California. He has successfully recovered more than $50 million in federal court and has twice received a certificate of commendation from the Principal Deputy Assistant Attorney General for outstanding performance and invaluable assistance in support of the activities of the Civil Rights Division. In 2020, the Federal Bar Association awarded Aste the "Younger Federal Lawyer Award," a national annual award presented to only five recipients. Aste was also included in San Diego Metro's Class of 2020 "40 Under 40."
Kirsten F. Gallacher '12 (JD) is a senior associate at the San Diego Law Firm, Wilson Turner Kosmo LLP and member of the Class Action and Employment Law practice groups. Her practice focuses on class action defense, primarily in the fields of consumer protection and employment. She has successfully obtained multiple summary judgments as well as defeated certification of putative classes. In 2021, Gallacher was selected as a finalist in the San Diego Business Journal's "40 Next Top Business Leaders Under Forty" as well as for the "Leaders in Law Awards."
You can watch video profiles on the DAA award winners here.
About the University of San Diego School of Law
Each year, USD educates approximately 800 Juris Doctor and graduate law students from throughout the United States and around the world. The law school is best known for its offerings in the areas of business and corporate law, constitutional law, intellectual property, international and comparative law, public interest law and taxation.
USD School of Law is one of the 84 law schools elected to the Order of the Coif, a national honor society for law school graduates. The law school's faculty is a strong group of outstanding scholars and teachers with national and international reputations and currently ranks 30th nationally among U.S. law faculties in scholarly impact and 28th nationally in past-year faculty downloads on the Social Sciences Research Network (SSRN). The school is accredited by the American Bar Association and is a member of the Association of American Law Schools. Founded in 1954, the law school is part of the University of San Diego, a private, independent, Roman Catholic university chartered in 1949.