Not Missing a Beat
Not Missing a Beat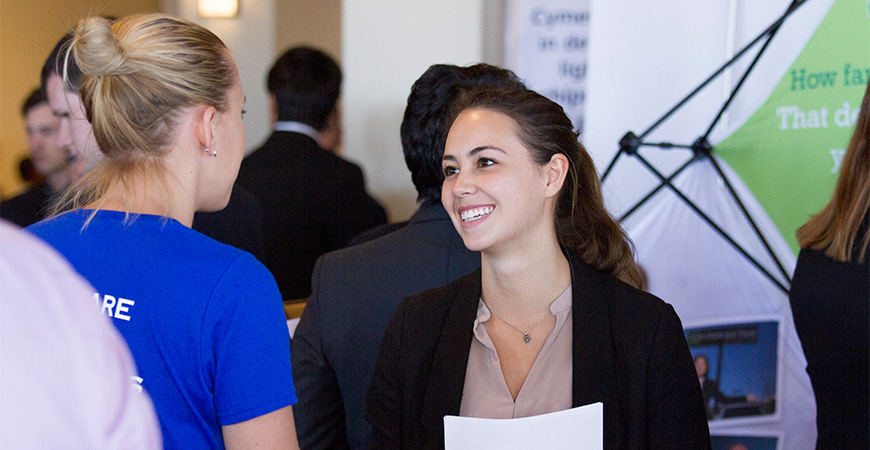 The motto of the University of San Diego Career Development Center is "learn, explore, connect," and is the motivation behind each event, counseling meeting and student interaction. Since its creation more than 40 years ago, the Career Development Center has adapted to changing professional and societal demands, while remaining rooted in its goal of student success.
"It's where you get a dedicated team of professionals who can help students start at the beginning of their time here at USD," says Robin Darmon, senior director of the Career Development Center. "What's beautiful about the makeup of the team is we've got lots of different areas of expertise. So, something that keeps us solidified and focused is that we're all helping students learn, explore and connect."
For Darmon, the growth in the center's mentoring platform, T.E.A.M. (Torero Employers and Alumni Mentors), to 5,087 users is an example of the ways the Torero community is connected and invested in students and alumni.
Specifically this past year, Darmon is pleased with what the center has accomplished, especially given the constraints of the COVID-19 pandemic. For her, these connections are thousands of "touch-points" with Toreros that ensure professional growth and development remain an integral part of the university's mission.
"We didn't miss a beat," says Darmon, who was impressed and inspired by the ways she says her team "pivoted seamlessly" to adjust to a virtual environment.
From 27 Alumni Zoom Trips and 26 virtual Torero Treks, to the more than 60 Summer Internship Awards given to undergraduate students, professional development has been front and center, even in the midst of a global health crisis.
For Darmon, the possibilities are endless as she and her team explore what's next in higher education career development. One thing is for certain, the team is sure to build off of the momentum from the past year, continuing to deliver unparalleled career support for the Torero community.
Click here to read the Career Development Center's 2020-2021 Annual Report.
— Allyson Meyer '16 (BA), '21 (MBA)