Abterra Biosciences Powers Forward with Assistance from USD's Brink SBDC Support and Programs
Abterra Biosciences Powers Forward with Assistance from USD's Brink SBDC Support and Programs
Abterra Biosciences gains investments via the San Diego Angel Conference, Seattle Angel Conference, & SBIR grant after mentorship by Brink.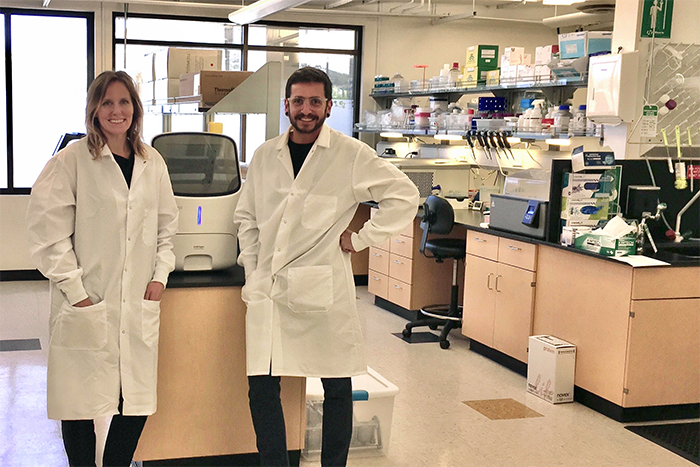 "I've found the Brink SBDC to be immensely useful with diverse programming such as webinars and 1:1 mentorship to help understand the basics of running our business. That led us right to The San Diego Angel Conference Entrepreneur track which significantly accelerated our seed fundraising." — Natalie Castellana, CEO, Abterra Biosciences
Abterra Biosciences joined The Brink SBDC at the University of San Diego School of Business in July 2018, utilizing several services such as one-on-one consulting and participating in Brink events. Since then, they have experienced significant growth and success.
In February 2021, they were awarded two National Institutes of Health Small Business Innovation Research (SBIR) grants to further develop aspects of their technology for analyzing immune responses for therapeutic antibody discovery. The next month, they graduated from JLABS into their own lab space at the San Diego Science Center.
The Brink made connections for Abterra Biosciences to Angel investors, networks, and funds up and down the West Coast.
In March of 2021, Abterra Biosciences competed in the 3rd San Diego Angel Conference and became a finalist, winning $106,000. Castellana admits, "We were starting from zero in terms of fundraising strategy and pitch deck fundamentals."
Prior to competing from September to December, participating companies attend events in the San Diego Angel Conference Entrepreneur track (SDAC) to develop and refine their pitch and prepare their company to present to investors from January to March. The E-track is also open to students and non-participating companies to learn about the process of preparing a company for Angel investing.
The annual SDAC finale occurs in March and is open to the public to attend. Attendees may network, the 7 finalists will present their pitch, and the winner will be announced.
To Castellana, "The E-track addressed a lot of gaps in our knowledge from selecting milestones to valuation and pitch deck construction."
After the San Diego Angel Conference, The Brink connected Abterra Biosciences to the Seattle Angel Conference for more funds. Taking what they learned and experienced from SDAC III, along with The Brink's advice, Abterra Bio competed in the 19th Seattle Angel Conference in May 2021. They won the conference and Audience Favorite Award out of 81 US start-up companies, earning an additional $225,000 investment.
Although they've encountered much success, it was not always a smooth road to their success. Transitioning from academic scientists to building a biotech company presented many challenges for their company. "We had to relearn how to communicate what we were doing for our customer segment, build a sales and marketing process, and fundraise," explains Castellana.
In addition to funding assistance from The Brink's one on one consulting, Abterra Biosciences was able to reframe the features of their technology to benefit their customers, rather than features they thought were innovation. In turn, this directly contributed to their revenue growth.
The momentum continued. The Brink team helped craft Abterra Bioscience's value proposition and formalize a sales process. Going one step further, The Brink boosted their marketing efforts by contributing to screening and recruiting their first dedicated sales and marketing team member.
In addition to a new Marketing Manager, they hired a Senior Bioinformatic Scientist, with a total of 9 team members.
"We made a systematic effort to improve our sales and marketing, and achieve enormous growth in sales between 2019 and 2020," asserts Castellana.
Between quarter 1 of 2020 to quarter 1 of 2021, Abterra Biosciences has 90% growth in revenue and is continuing to accelerate their success.
"We have some exciting publications coming out soon, and will have more coming out as a direct result of our expanding capabilities and ongoing pilot projects," remarks Castanella.
Abterra Biosciences continues to grow quickly and is excited for their next move. With the SBIR awards and seed fundraising, they are building a drug discovery platform that will transform cancer treatment.
"You can't beat the access to experts in business development that The Brink provides, and with no strings attached," remarks Castellana.
More about Abterra Biosciences
Abterra Biosciences, formerly Digital Proteomics, is a CRO (contract research organization) that utilizes next-generation sequencing, mass spectrometry, and machine learning methods to map the antibody response and quickly identify better therapeutic antibodies.* They were founded in 2009 by Dr. Pavel Pevzner and Dr. Vineet Bafna whose expertise created the algorithmic foundation the products and services were built upon.
*Therapeutic antibodies are biopharmaceuticals used to help the body fight cancer, infection, or other diseases.