Kirk's Gratitude, Progress Shine Through Sunlight U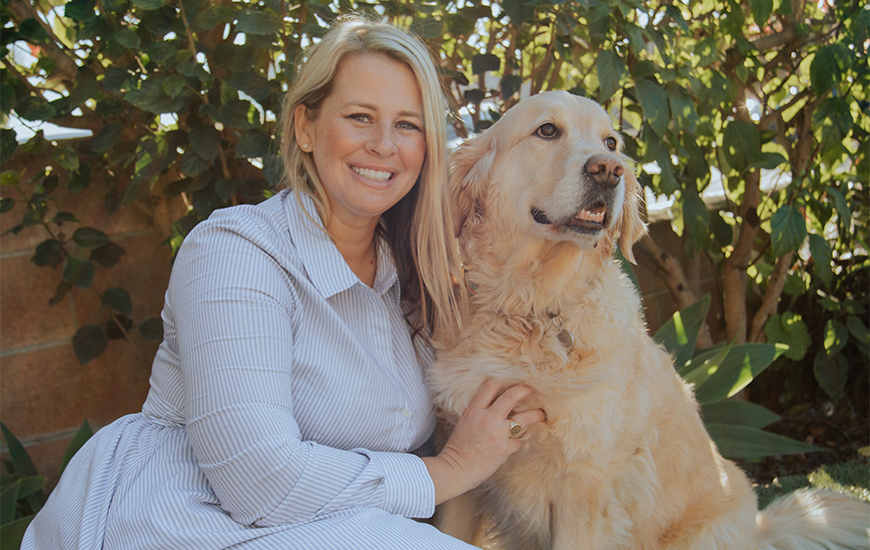 Brittany Catton Kirk has many reasons to be grateful.
A family with her husband and two young children, friends, a solid academic and professional resume and a community organization she created to help not only herself, but others to process and heal from a traumatic situation, are just a few reasons. She's also graduating from the University of San Diego this month with a master's degree in social innovation from the Kroc School of Peace Studies and her entrepreneurial idea, Sunlight U, earned her a spot in next month's Fowler Global Social Innovation Challenge.
Life seems pretty good, even during a COVID-19 pandemic with shelter-in-place restrictions. Kirk, however, has never been the type to settle or slow down. She's a positive force, always working on something, always improving and looking to stay at the forefront of what's next.
Development at USD, Then and Now
Kirk earned an undergraduate degree in political science and leadership minor from USD in 2005. Her activities included presidential positions for USD Rotaract (community service connected to local Rotary Club chapters) and the Student International Business Council (SIBC), involvement in Gamma Phi Beta, the Student Alumni Association and Associated Students.
One of her most rewarding experiences was with the SIBC.
"The SIBC is the only endowed student-run council on campus. I was able to create and execute projects in Kenya, Jamaica, France and domestically, some with paid travel overseas to present and connect with other cultures. That resume experience helped me jump several rungs when I graduated and was hired by the Armed Services YMCA. If you are an undergrad, I highly recommend joining SIBC because it will positively impact your career and network for life."
Her SIBC involvement remains current as Kirk serves as an SIBC advisor. Being back on campus also helped her decide her next move. She was in the audience for the 2019 Fowler Global Social Innovation Challenge and it motivated her to return to USD as a graduate student.
"I attended in person and was so inspired that it sold me on applying for the MASI program. Having a chance to participate in global social innovation, right here in San Diego? It's a once-in-a-lifetime opportunity," she said.
Kirk jumped right back into utilizing the resources USD has to improve her skillset.
"I think USD is light years ahead of many other schools in terms of innovation and entrepreneurship. USD's approach of hands-on learning and building ventures from the ground up has led to great things. As a master's student, I've been dazzled and slightly overwhelmed with all I could possibly do."
Kirk has connected with The Brink, a countywide small business development center program with a USD-based chapter, she's listened to the Kroc Institute for Peace and Justice's' Women PeaceMakers share their experiences from all over the world, attended a Women's Venture Summit, and has enjoyed coaching opportunities through the Fowler Business Concept Challenge and Fowler Global Social Innovation Challenge. She also started a USD graduate club, Sunlight for Survivors.
Learning, Healing: Sunlight Retreats
Her various USD experiences provide knowledge she can use as executive director and founder of the nonprofit organization, Sunlight Retreats for Survivors of Rape.
Kirk, who was raped in 2012, speaks openly on her Sunlight Retreats web biography about her struggles afterward and the motivation to create something to help.
Kirk said she struggled in her career, relationships and gained 60 pounds while trying to recover from the attack and associated post-traumatic stress. She looked for a safe place to go and heal. Her go-to was to create Sunlight Retreats for Survivors.
Calling it "an accelerator for healing for survivors of rape," Kirk created an in-person program to empower survivors with tools, trauma education, resilience training and peer support.
"Sunlight Retreats is a changemaking program that gives survivors a better way to heal so they can rebuild and empower others," she said.
The four-day retreats — the next one is in September, pending the status of the COVID-19 pandemic — have been encouraging. Kirk said 100 percent of the 100 survivors who've attended one of three retreats reported via anonymous survey that they'd recommend Sunlight Retreats to a fellow survivor. One hundred percent said it aided in their healing, and 100 percent said Sunlight Retreats made them stronger.
Sunlight U Shines
Sunlight U, meanwhile, "is a for-profit social enterprise that focuses on online education to empower survivors with the science of trauma," Kirk said. "A portion of the proceeds will be reinvested into low-income scholarships for trauma survivors to attend Sunlight U."
Sunlight U has become a well-known entity in USD's entrepreneurial and innovation circles this last year. Kirk enrolling in the MASI program has been perfect to scale Sunlight U.
"I've really enjoyed the MASI teachers and cohort. Our teachers teach us to think and design outside the box and our cohort is a practical group of working professionals looking to make more of a social impact with our degree."
It has certainly paid off for Sunlight U, both funding- and knowledge-wise.
In November, Kirk pitched it at the inaugural Fowler Business Concept Challenge, finishing second and earning $7,500 in student scholarship funding.
Calling support for her idea "validating," Kirk was encouraged by knowing Sunlight U can help others who might feel they are alone. "It's about being a voice for the voiceless. Many people can relate to this, but they're not vocal. We're all brave to be able to survive an attack. By normalizing it among the USD community and the business community, survivors can feel supported."
Kirk continued with MASI classes, enhanced Sunlight U in anticipation of applying for the Center for Peace and Commerce's Fowler Global Social Innovation Challenge. The application deadline fell one day after the COVID-19 pandemic caused USD to announce it was moving classes and programs to remote learning.
It gave Kirk a reason to believe Sunlight U was ripe for change, too, based on what a pandemic can cause — trauma.
"I pivoted Sunlight U after COVID-19 hit to include all trauma. I noticed that in a lot of my trauma support groups, survivors were being triggered by the chaos, uncertainty, and isolation they've had to deal with after their trauma," Kirk explained. "We learn at Sunlight Retreats … that trauma is trauma is trauma. Our brains deal with trauma the same way, even if we may respond differently. I know even if I scaled Sunlight Retreats, I would never be able to meet the massive need; survivors email me daily needing help all over the world.
"The most powerful part of Sunlight Retreats is learning the science of trauma. All 100 survivors who have been through the program, including me, have been in therapy for years, yet the science of trauma has never been explained. They have reported great healing and validation with knowing the science, as a tool in their toolbox for their life-long healing journey," she said. "If we bring that science online, in a community setting where different types of trauma survivors can see they aren't alone, they will be able to reclaim their lives."
Fowler Global Social Innovation Challenge
Kirk's progress with Sunlight U continued April 29. Her idea, along with Xatalyze, an undergraduate student project idea to utilize a capacitor energy storage device, finished among the top two among 15 USD teams. They will represent USD against institutions from around the world in the $50,000 Fowler Global SIC, June 12-13.
Sunlight U won $4,000 of $13,000 seed funding in the USD Finals, including two $500 bonus categories based on judges' decisions after she gave the full 10-minute pitch. But Kirk knows she's got room to improve.
"I will definitely work to incorporate the judges' feedback from the USD Finals. I attended all three sessions with mentors and I found it so valuable to get outside my own perspective and listen to people much more seasoned, those who've been there and successfully launched successful ventures. They made points where I could clarify and what I can champion more."
Brittany Catton Kirk is grateful — but still not settled. She's eager to improve, driven by what's happening and what's next. She's ready to shine.
— Ryan T. Blystone
Register now for the $50,000 Fowler Global Social Innovation Finals. The virtual public starts at 5 p.m. on Saturday, June 13.