Torero Tidbits: USD Programs Take Action on Food Insecurity, Homelessness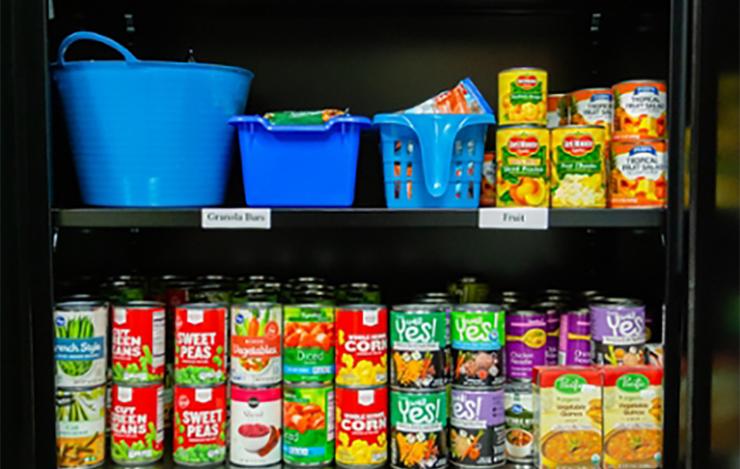 Social justice opportunities on the University of San Diego campus abound. There's no shortage of ways for the entire campus community to get more involved, help others and make this university a hub for making a difference. A few issues being examined closely this fall include food insecurity and homelessness.
Toreros Against Hunger
The goal of Toreros Against Hunger at USD is to serve as emergency food relief for USD students experiencing food insecurity. Food insecurity, broadly defined, is "the state of being without reliable access to sufficient quantity of affordable, nutritious food." Indicators of food insecurity include skipping meals and/or cutting the size of meals due to lack of financial resources, experiencing hunger but not eating and/or the inability to afford balanced meals.
• To this end, ways that USD helps those who are hungry includes the Torero Food Recovery Program. This program is intended to support members of the campus community who are experiencing food insecurity while also reducing waste by making food left over from Hospitality Services catered events available for pickup. This program is free for all USD students.
• USD Hospitality and Dining Services are committed to effective solutions to decrease food waste. Among them are: Our menus are thoughtfully planned to cross-utilize ingredients in recipes; Unprocessed leftover food is donated to San Diego Rescue Mission; Leftover food from university hosted catered events is made available to students via the Torero Food Recovery program — also, non-USD clients may opt-in to allow food from their catered events to also be made available via this program; USD Dining units are 100 percent tray-free. This greatly reduces the amount of food waste and saves tremendous resources, such as water, dish soap and electricity; We urge all catering clients to order appropriate quantities of food for their events.
• USD was the first college campus to install a Biohitech Digester (2009). Food scraps from University Center and Student Life Pavilion dining and catering units and kitchen are processed via the biohitech digester. This innovative machine eliminates the need for composting. A highly-refined formula of microorganisms and water break down all food scraps into liquid. Food wastes are entirely eliminated in approximately 24 hours, allowing the effluent to return to the ecosystem as gray water.
• There are also two food pantries on campus for USD students who are experiencing food insecurity. Food, select clothing (called the Torero Closet) and supplies are available in the Hahn University Center, Room 116. Food items are available in Mother Rosalie Hill Hall's SOLES Graduate Student Lounge. The UC food pantry is supported by the San Diego Food Bank, Associated Student Government, Torero Renaissance Scholars Program and community donations. Currently, the UC pantry has 62 students registered to use it and 5-10 students have been registering each week since the beginning of the semester on Sept. 4.
Homelessness Awareness, Events, Class
The Changemaker Hub's fall Changemaker Challenge, an idea competition to address current social challenges in our community, has the theme of "Homelessness, Displacement and Migration." While entries aren't due until Nov. 14, there are many dialogues, special events, film series, immersion trips across the U.S.-Mexico border and more available for students to gain deeper knowledge. The next connected event is the film, Icebox, which will be shown on Sept. 26 in the Humanities Center from 4-6:30 p.m. See the film and stay for a post-film discussion. The film tells the story of "a 12-year-old Honduran boy who is forced to flee his home and seek asylum in the United States, only to find himself trapped in the U.S. immigration system."
The Humanities Center is hosting seminars and pop-up courses, including one on Homelessness in the United States, this fall. Taught by Professors Mike Williams (Political Science and International Relations) and Kate DeConinck (Theology and Religious Studies), signups are available. This class is done on a one-unit, pass-fail-only basis. More information.
Also, USD will host a Homelessness and Food Insecurity Awareness Week Oct. 21-24. This event is connected to the new Urgent Challenges Collective, which is funded through a two-year strategic initiative grant from USD. The UCC's aim is to provide new opportunities for studying and addressing homelessness and food insecurity in the local community.
— Compiled by Ryan T. Blystone