USD Law School Hosts Ashoka Pre-Day Event, Bergman Lecture
USD Law School Hosts Ashoka Pre-Day Event, Bergman Lecture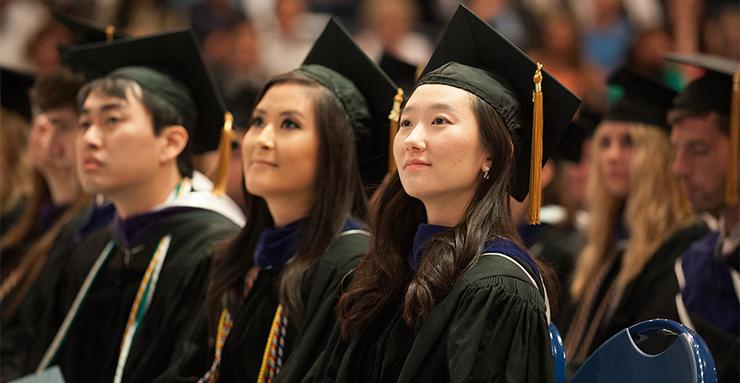 The University of San Diego is an Ashoka U Changemaker Campus. It has had this designation since 2011. Soon after, the campus hosted the annual Ashoka U Exchange, an event bringing all existing Changemaker campuses together and inviting others to listen, share and yes, exchange ideas, on ways to make the world a better place for everyone.
This year, not long after becoming one of the newest Ashoka U Changemaker campuses in the world, the University of California, San Diego, will be hosting the 2019 Ashoka U Exchange later this week.
Seizing an opportunity to provide a glimpse into the Changemaker vibe, the USD School of Law is hosting the Law and Social Innovation Pre-Day on Wednesday, Feb. 20 in the Joan B. Kroc Institute for Peace and Justice starting at 8:30 a.m.
The day-long schedule of activities will provide participants an opportunity to connect with other innovative legal educators, discuss the impact of Changemaker lawyers, and collectively consider how we can better embed social innovation skill-sets and mindsets into daily work.
The Pre-Day is open to all legal educators, as well as law students, practitioners, and Ashoka Fellows who work in the legal sector. Registration will take place until the start of the day's events — general admission tickets are $75 for all non-students and $15 for students ($15 fee will be refunded for those showing proof of attendance) — at 9 a.m.
University of San Diego School of Law Dean, Stephen Ferruolo, will welcome the audience before Justin Dillon, founder and CEO of FRDM and author of the book, A Selfish Plan to Change the World, gives the keynote speech.
Dan Jackson, executive director of NuLawLab at Northeastern University School of Law, will facilitate a curriculum development exercise. Participants will engage in a fast-paced design-thinking exercise to develop an open source syllabus for a Law and Social Innovation course, resulting in a prototype that will be tested throughout the Ashoka U Exchange at UCSD, and distribute to attendees (and beyond) as a model to take back to their respective law schools.
Lunch will be paired with a Meet the Changemakers segment as there will be a networking session with several legal services organizations in San Diego, impact investor, law and technology companies and academics from various disciplines. Among those to be present are Free to Thrive, which was founded by USD Law alumna Jamie Quient, Project Concern International, Brent King of ProtecttheJoy.org, Legal Aid Society of San Diego, Think Dignity, Southern California Immigration Project and USD entities, Center for Public Interest Law (CPIL), and Children's Advocacy Institute (CAI) and the Energy Policy Initiatives Center (EPIC).
A panel discussion titled, Legal Agents of Change, will follow lunch. This session will show some of the many ways to be lawyers and changemakers. The presenters are: Annette Wong, a mindfulness coach, podcast host (Break Form), writer, and practicing attorney; Luemara Wagner, an attorney, mediator and practitioner of collaborative law. Her practice focuses on family, business, innovation, startups, and international law; Glenn Meier is a Shareholder in Holley Driggs Walch Fine Puzey Stein & Thompson in Las Vegas, Nev. He helps business owners achieve their goals by applying the tenets of Conscious Capitalism. He's an early adopter of Conscious Contracts (R) and a certified practitioner and trainer. J. Kim Wright, an integrative lawyer, innovator and Systems Change Agent, will moderate the panel discussion.
An interaction session, moderated by Stephanie Dangel, executive director of the Innovation Practice Institute at the University of Pittsburgh School of Law, is next. Attendees will explore various ways to find meaning in the practice of law through exercises geared to help one develop a personal mission statement.
An evening reception happens next and will be combined with student perspectives on their reasons for attending law school, hopes for their future careers and their own efforts to foster social innovation in a law school environment. Moderating the event is Annette McGee Johnson, Global General Counsel for Ashoka.
Capping off the full day, at 6:30 p.m. is the USD School of Law's annual Bergman Lecture. This year's event, taking place in the IPJ Theatre, examines a landmark case, Tinker v. Des Moines, a 1969 U.S. Supreme Court decision that established students' First Amendment free-speech rights in public schools.
— USD News Center Staff