2018 Women PeaceMakers Spotlight: Rosa Emilia Salamanca, Colombia
2018 Women PeaceMakers Spotlight: Rosa Emilia Salamanca, Colombia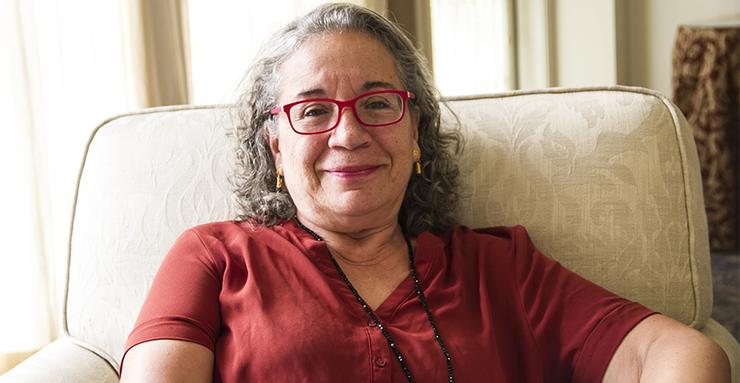 The University of San Diego is hosting four outstanding females from around the world to share their knowledge and to be present. In 2018, the 16th year of the Women PeaceMakers Program, the cohort consists of: Rosa Emilia Salamanca of Colombia, Roxana Cristescu of Eurasia, Amira Abdulrahman Hussein Timan from Sudan and Mariam Yazdani of Pakistan. They are part of a program that shines an important global spotlight on women leadership, a Changemaker spirit and how they can help to inspire female leaders-in-training. The women are at USD through Nov. 17. While they are here, they'll be working on the issue of ensuring women have a seat of power at the peace negotiation table. Today and in the coming week, USD News Center will spotlight one PeaceMaker each day to learn a little more about their backstory and to know about upcoming on-campus events featuring this impressive cohort.
Rosa Emilia Salamanca of Colombia
Bio Information: Salamanca is the executive director of Corporación de Investigación y Acción Social y Económica (CIASE) in Colombia, a member of the Women, Peace and Security Collective for Reflection and Action, which ensures women are part of building a more peaceful Colombia. Salamanca also participates in Coalicion 1325, which advocates for a Colombian National Action Plan on Women, Peace and Security. Salamanca was one of the key women who played a part in the Colombian peace process and the final negotiations in Havana, which resulted in the signing of what has been called one of the most gender-inclusive peace agreements in history.
Questions and Answers:
Q1: What does it mean to you to be a Women PeaceMaker?
For me, it has always been a concern to think as a peacebuilder and more in times as complex, globalized and difficult in terms of ethical definitions as the current ones. I suppose being a peacebuilder is a person who keeps the deep hope that despite all these difficulties, we can still be better as humans, men and women, and that we could reach a day when our priorities change, and we really think that to survive is in being and not in having, or that power is not what is achieved, but the power is me and my decisions, or that the transformation of conflicts requires knowing and transforming power relations existing in the everyday and in the non-everyday. In the micro, mezzo and macro, in every place where we act. A peacebuilder, I think, is the one who can feel deep empathy, but at the same time clearly recognizes that there are ethical limits that must be respected and that everything is not allowed either in politics or in life. That truth is built little by little and changes quickly every time someone names it, because of my truth and your truth the possible truth is being built. He or she is someone who recognizes that there are no absolute truths, they will never exist and that he or she has been able to break the dichotomies of friend-enemy, of goodness and badness. Something like that I think is a peacebuilder.
Q2: What advice could you give to young women who aspire to do peacebuilding work?
For young women, I do not have a special advise. With them I have a conversation. They have something that I do not have and it is their impressive knowledge of their cultural, political and social context. The one that they live, with the current technology, with the cultural exchange. They possess great knowledge. In that conversation I put their service, my experience and my learnings, but it is they who adapt it to their reality. They are the ones who build from where they are, I just have knowledge to share.
On-Campus Events: Salamanca and the three other Women PeaceMakers in the cohort, Mariam Yazdani of Pakistan, Roxana Cristescu of Eurasia and Amira Abdulrahman Hussein Timan from Sudan, will participate in USD Changemaker Hub's My Story: Badass Women on Tuesday, Oct. 23, 7 p.m. in UC Forum C. On Nov. 7, the cohort will take part in the Women PeaceMakers Panel on Nov. 7, 6 p.m. in the Joan B. Kroc Institute for Peace and Justice Theatre. Both events are free and open to the public.
Learn more about the USD Women PeaceMakers Program as well as the 2018 Women PeaceMaker Peace Researchers and the 2018 Women PeaceMaker Program's International Partners. For additional information, please contact Jennifer Bradshaw, Kroc IPJ Women's PeaceMaker Program Officer, by email at jenniferbradshaw@sandiego.edu or phone, (619) 260-4189.
— Ryan T. Blystone