USD Votes: Encouraging Campus Community to Register to Vote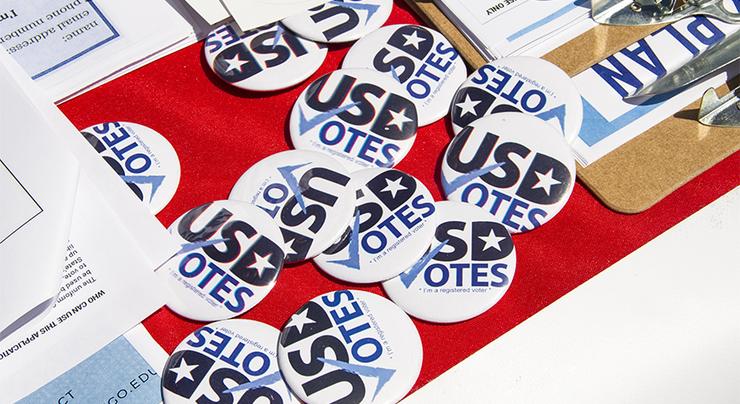 Are you registered to vote in the upcoming election on Tuesday, November 6? If you live in California, do you realize that the deadline to register to vote is 15 days before the election by mail, online or in-person? Do you know about USD Votes, an on-campus committee comprised of students, faculty and administrators who support the mission of USD by working to increase civic awareness and voter participation in the USD community?
The fall election is just about a month away, but the University of San Diego's USD Votes committee has been hosting campus events, had a table at the recent Alcala Bazaar and members of the committee have been seen in front of the Hahn University Center, the Paseo de Colachis and other venues to actively seek to register new voters.
Additionally, USD participates in two college voter-participation competitions, the All-In Campus Democracy Challenge, which earned USD Votes a Bronze Seal for having voter turnout above 50 percent in 2016, and this year, USD is also competing in the California Secretary of State's Ballot Bowl.
Here are a list of events taking place on campus between now and Nov. 6 that USD Votes suggests for the campus community of voters to attend and to get informed:
To Vote or Not to Vote: A Humanities Center Series, Oct. 4, Oct. 11, Oct. 29, 4 p.m. Humanities Center, Serra Hall 200
The center will host a series called "To Vote of Not to Vote," as a lead-in to the mid-term elections. The center will present panels about voting. Panelists will be addressing various aspects of voting and the democratic election process, such as demographics voter turnout, impediments to the right to vote and the impact that USD students can have in an election.
Politifest, Saturday, Oct. 6, noon to 6:30 p.m., USD campus
This is an educational and entertaining public affairs summit put on by Voice of San Diego. There will be a full day of programming, including a roster of experts to interview candidates and explore issues that will be on the November ballot. For more details, go to politifest.org. There are tickets required for the public, but tickets are free for students with student ID card. Register for this event.
Gun Control Debate, Tuesday, Oct. 16, 4-6 p.m., Kroc Institute for Peace and Justice Theatre
School shootings such as the one in Parkland, Fla., have led to calls for much tighter restrictions on private gun ownership, including a nationwide ban on assault weapons and high-capacity magazines. Defenders of private gun ownership argue that more laws are unlikely to lead to a significant reduction in violence, and that gun ownership is a basic individual right that governments are morally forbidden to infringe. The debate features New York Times bestselling author Michael Shermer and iconoclastic philosopher Michael Huemer.
Election Night at USD, 5-10 p.m., Frank's Lounge
Join USD political science professors and fellow students to watch live election returns and learn about America's choices in 2018.
More information
To get more information about USD Votes, to learn about registering to vote (whether that's in California or another U.S. state), please email Political Science Professor Dr. Casey Dominguez at caseydominguez@sandiego.edu
— Compiled by USD News Center