Kroc School Experiments With Pop-Up Office Hours at the Border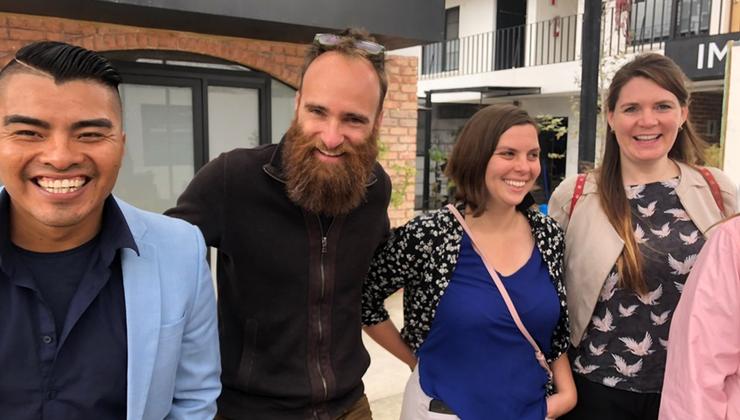 Collaborations transcend borders by definition. That's what we believe at the Kroc School. On Friday, May 18, we decided to practice what we preach in a new way: cross-border peace and social innovation. Here are the highlights of KrocSouth, A Border Experiment.
Purpose: Forming New Connections to Identify New Solutions
The idea behind KrocSouth was to test the idea of pop-up office hours in Tijuana so that we could highlight the Kroc School's growing portfolio of practice along the border, including recent and upcoming projects from the Trans-Border Institute and the Social Fabric Initiative, and also the student innovations related to the Global Social Innovation Challenge. Our operating theory was that an informal, pop-up presence could spark additional trans-border connections among students and social impact professionals. To that end, the booth was hosted by Kroc School students, staff and faculty who could speak to teaching workshops, facilitating partnerships and our project work.
Our goal was to engage even more Changemakers, peacebuilders and social entrepreneurs by expanding our reach. By opening up our network's social innovation discussions to a wider range of people, we hoped to broaden minds and bring new and different perspectives to the table.
In addition to sparking innovation for social change, informal connections further link San Diego and Tijuana, two cities that lie in close proximity to each other but collaborate less than they could on mutual issues. Despite a number of shared issues important to citizens in both cities such as immigration, health and poverty, there is a lack of meaningful cross-border collaboration geared towards identifying and implementing solutions. Our more formal efforts and our cross-border pop-up hours strengthen relationships that improve the region as a whole.
Results: New Opportunities for More Effective Learning
Our pop-up vision came to fruition and we achieved our goal. Over a three-hour period, Tijuana Changemakers from Create Purpose, Fundacion Gaia, Universidad Autonoma de Baja California and others stopped by for conversation about borders, peace and social innovation over coffee. Furthermore, engagement on social media was significant, with participants excited to post about their favorable experience using hashtags such as #KrocSouth and #KrocMex.
The event benefitted everyone involved. Kroc School students and faculty were exposed to a wider range of problems and challenges, and added binational, bilingual work to their portfolios of practice. The pop-up office hours also fostered a diverse and inclusive co-working space for attendees from both San Diego and Tijuana to come together, work side-by-side, and further their entrepreneurial ideas through meaningful discussions with diverse people. Social entrepreneurs in Tijuana, who may not always have access to a hub like this, enjoyed the opportunity to learn more about social enterprises and binational innovation.
We also learned that many of us are working on similar issues and interacting not just with the same sets of social problems and challenges, but also with many of the same key individuals and institutions. This kind of parallel evolution suggests that we should be holding these kinds of get-togethers much more frequently.
Going Forward: Stay Tuned for More Pop-Up Office Hours
Ultimately, the pop-up office hours resulted in a repeatable and vibrant community proving our theory correct that working cross- border can provide considerable value to all parties involved. As smart as one individual can be, collaboration captures the strengths of each and uses them for the good of the whole.
After the May 18 pop-up office test proved such a success, we have penciled-in our next two events for Fall 2018, and we anticipate engaging students across all three Kroc School programs. We are fully confident that those events will attract a growing number of students who are interested in continuing the collaboration between San Diego and Tijuana on shared social and environmental issues. We hope that these pop-up office hours will continue to foster inspiration and entrepreneurship between the San Diego and Tijuana region as a whole, leading to a more sustainable community long-term. As Henry Ford said, "Coming together is a beginning. Keeping together is progress. Working together is success."
Want to stay informed about future Kroc School events and other Kroc School work related to the border? Sign up for our newsletter.