USD Contributor: Retiring Brian Fogarty Reflects on Football, Development and More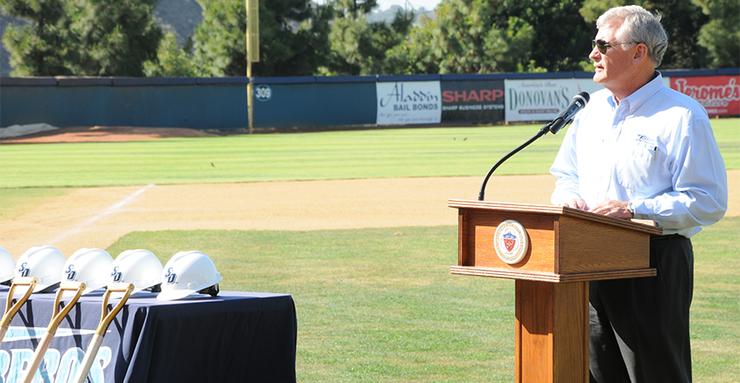 When then University of San Diego Athletics Director Father Patrick Cahill called Brian Fogarty, a finalist for the head football coaching vacancy in 1983, he informed the 32-year-old high school coach that there was bad news and good news.
"The bad news is you came in second. The good news, though, is that I don't think the other guy is going to take the job,'" Fogarty recalled. The top choice, John Gagliardi, was already a legendary coach at Minnesota's St. John's University. "He didn't take it and wound up coaching another 30 years at St. John's, becoming the winningest football coach (489 wins in 59 years) in any division, so I was very fortunate to get the job."
This stroke of luck paved the way for Fogarty, who still has the most wins as a USD football head coach, 71 in 13 seasons. Fogarty, who coached through 1995, led his teams to a .500 or better win-loss mark 11 times. He oversaw football's transition from Division III to I-AA and 1993 entry into the Pioneer Football League. After directing USD's 1996 spring football program, Fogarty's timely luck continued. He moved to athletics' development area, transitioning "a year or two before I thought I would," from coaching to a role he turned into an additional 21-year run.
Fogarty, in 34-plus years at USD, has worked for all four of USD's presidents, multiple athletics directors and university relations directors, alongside co-workers and colleagues and hundreds of student-athletes-turned alumni. On Thursday, Aug. 24 at 4:30 p.m., a retirement party will take place in Jenny Craig Pavilion to celebrate the 67-year-old's contributions to the betterment of USD. Fogarty will officially retire at the end of August.
"Brian Fogarty embodies the Torero spirit," says Ky Snyder, vice president of University Operations and former executive director of athletics. "His values perfectly align with USD and he respects the dignity of all those he comes in contact with. He has been a great coach, administrator, mentor and friend to so many at USD. I will sorely miss working alongside Brian, but I will miss, so much more, our daily interactions and his counsel. Brian has definitely had a positive, major impact on the University of San Diego."
Building an Impact
Fogarty's impact was first shaped as one of Ray and Lorene Fogarty's 10 children (six boys, four girls). Born in 1950 in Altadena, Calif., and into a family led by his father's faith in God, he learned a lot about trust.
"My dad had more faith than anyone I'd ever known and I think that was in all of us. His attitude always was that God will provide. If you live your life well, you'll be good. I've always kind of subscribed to that," Fogarty said. "We didn't have a bunch of rules, but I just know that everyone felt the same way, nobody wanted to disappoint them. They just expected us to do the right thing. I've tried to do the same thing with my kids and it has turned out well."
Fogarty was a young, but undersized offensive lineman for the St. Francis High football team. He played at Pasadena City College for two years and went to UC Santa Barbara where his playing career ended during spring football in 1970 when hits to the head told him it was time to stop playing and to turn to teaching and coaching. He coached lower-level sports teams at age 19 at St. Francis. Earning his degree and in physical education and minor in history at California State University, Los Angeles, he spent the next several years teaching and coaching St. Francis' football, basketball and baseball teams.
His coaching style was a by-product of the time, maintaining an "old school" approach. In high school, working with kids ages 14-18, he was instilling discipline and coaching athletes to follow what the staff demanded. At USD, teaching young men ages 18-22 or 23, there was still the disciplinary approach, but admittedly, "I came with the mindset that I'd treat them as adults until they proved to me that I shouldn't."
Football and personal growth wasn't the only thing he elevated at the college level. Fogarty was the lone full-time person in his program. Resources, such as a dedicated weight training facility, having recruiting coordinators and dedicated people to help him make connections across campus was in short supply. Fogarty built relationships across campus, meeting faculty when prospective student-athletes wanted to know more about the business school or arts and sciences for their academic interests.
"Brian epitomizes what USD is all about and it is hard to imagine USD without him as he has impacted so many aspects of campus, the community and untold numbers of students over the years," said Mitch Malachowski, a chemistry professor at USD since 1984 and USD Athletics' faculty representative. "He certainly is old school — he treats everyone with respect, caring and compassion and he always does it with a smile and a laugh. Being around Brian is always a treat and over the past three decades, I've learned so much from just spending time with him."
Building His Football Identity
Fogarty's approach to coaching college football, notably at a university that prides itself on both aspects of a "student-athlete," relied mostly on a conservative, ball-control offense and a tenacious defense.
"Defense was always the most important thing. We had an old-school mentality, if they can't score, you can't lose," he said. "Offensively, we were somewhat conservative. High school quarterbacks weren't clamoring to come to USD. Halfway through my time we put in the Wing-T offense, which is more of a trick'em style. It was so much fun."
The old-school Wing-T run-first system led to moderate success. Opposing teams had to take extra time to prepare for this basic, yet methodical offense. Fogarty's teams won no more than seven games in any season, though it happened four consecutive years (1989-92) with standouts such as running back Scott Sporrer (2,556 rushing yards, 21 touchdowns), quarterback Michael Bennett (25 touchdown passes) and all-purpose yardage gainers like Willie Branch and Jermaine Rucker.
Other top offensive players during Fogarty's USD tenure included quarterback Vince Moiso (31 touchdowns, 3,989 total yards), running back Todd Jackson (2,169 yards), receivers Jeff Mansukhani and Evan Hlavacek and kicker Dave Bergmann, whose 35 career field goals is still a record.
Defensively, John Gutsmiedl (all-time leading tackler with 332, and 11 interceptions), Mike Hamilton, Doug Popovich, Chuck Royer, David Dunn, Jeb Dougherty, Bryan Day, Dave Paladino and Christian Sirek were among the players whose talent shined brightest.
Fogarty's loyalty to a team-first philosophy always outweighed focus on individual standouts. Asked to speak on individuals, Fogarty gravitated only to team successes.
One of the Toreros' most satisfying wins came in 1993 against New York's Wagner College, who in 1992, like USD, had played at the Division III level but transitioned to I-AA in 1993. Wagner was the defending Division III national champion and USD was able to schedule a home game with the Toreros winning convincingly, 44-14.
"They had the number one defense in the country, they were holding teams to under 100 yards rushing a game. Running the Wing-T, they weren't used to it and we beat them soundly and our players really believed in it. I think it's one of our best victories," Fogarty said.
Victories, losses (53) and ties (three), typically define teams, programs and coaches. For USD and Fogarty, nonscholarship football means playing for the love of the game and building traits that can prepare them for the post-college world.
"The thing I'm most proud of is that our teams competed with class, worked and played hard," Fogarty said. "Since the announcement of my retirement, I've received nice emails from guys I never would have thought I would because I was tough on them. But they understood the values and perseverance we were trying to teach them. Although he wasn't the first to say it, (former USD coach) Jim Harbaugh says you won't truly know the success of your team until 20 years later when you see what type of employees they are, or become husbands and fathers. I think we've done okay."
Developing a New Career
Fogarty's own transition from football was important for his growth. Shifting to athletics development enabled him to utilize his coaching skills set to garner support for USD.
"I still tell people I'm a coach who raises money," he said. "To me, fundraising and development is about relationships and I've prided myself on that. It's about meeting people, treating them well, developing good relationships and having a great product — and we know what a great product we have here. That's made it enjoyable for me."
The relationships he's built within the athletics department and across campus have helped him thrive. "It's been great. The people I've met over the years are some I wouldn't have met if I'd just stayed as a football coach. Everyone in this office thinks like a team. Everyone here has as much to do with our success as I do. No one ever does it by themselves."
Athletics Executive Assistant Linda Coppa, who has worked with Fogarty since 2004, notes daily interactions with him often include a good dose of levity.
"I've worked with Brian for 13 years. When I look back on all those years, the word that always comes to my mind is laughter," she said. "Don't get me wrong, we work hard, always meeting our fundraising goals, but we've sure had fun in the process. We're co-workers, but more importantly, we've become friends. Brian always treats everyone with the same respect and kindness. Whether he's talking to an Executive Cabinet member, a President's Club member, an alum, parent, student-athlete or coworker, he always takes the time to listen and has a genuine interest in what's being said. He has taught me by example the definition of what a development officer should be."
Fond Farewell
During Thursday's retirement party, all sides of Brian Fogarty will be represented. The football coach. The development officer who contributed to successful fundraising programs and relationships with donors. University colleagues who appreciate Fogarty's values-based approach. The family-oriented man who is the ninth of 10 children and later, was a husband first to Vicki for 26 years (she passed away in 2000) and now, for 13 years, to Denise. Fogarty has four children — three are USD alumni — and eight grandkids. Between he and Denise that number is six and 12.
Asked how he'd like to be remembered, Fogarty's answer is simple and humble: "Someone who really cared about the university and did the best he could to make it better."
— Ryan T. Blystone