Faculty Publications
Frank Partnoy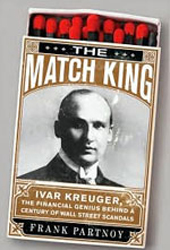 Ivar Kreuger, the infamous Match King, is remembered as the most colorful and compelling business personality of the roaring 1920s. From 1929 to 1932, he was the most talked-about business man in the world, for good reason. Wealthier than Morgan and as generous as Rockefeller, he miraculously survived the Great Crash, only to be found, one dark Paris morning, with a bullet through his heart. Opinions about Kreuger were deeply divided: hero or villain, innovator or fraudster, suicide or murder victim.
Biography
One of the world's leading experts on the complexities of modern finance and financial market regulation, Professor Frank Partnoy has been a law professor at the University of San Diego since 1997. He has written numerous opinion pieces for The New York Times and the Financial Times, and more than two dozen scholarly articles published in academic journals including The Journal of Finance.
In addition to The Match King, Professor Partnoy authored the best-selling F.I.A.S.C.O.: Blood in the Water on Wall Street, and Infectious Greed: How Deceit and Risk Corrupted the Financial Markets, a leading corporate law casebook.
Reviews
"This is a rare story that's actually better — more incredible, more suspenseful — when you know the comeuppance that awaits the hero." — Slate.com
"An eminently readable and scholarly biography...the tale of the Match King holds lessons for our own day and for future generations." — Wall Street Journal
"An absorbing tale and a poignant reminder that every boom has its scoundrels. Partnoy...manages to explain Kreuger's complex dealings without diminishing the tension of his dubious rise and inevitable fall … Partnoy gives us a rich account of the Roaring Twenties' most astounding confidence man." — Business Week