USD Celebrates Black History Month 2023
USD Celebrates Black History Month 2023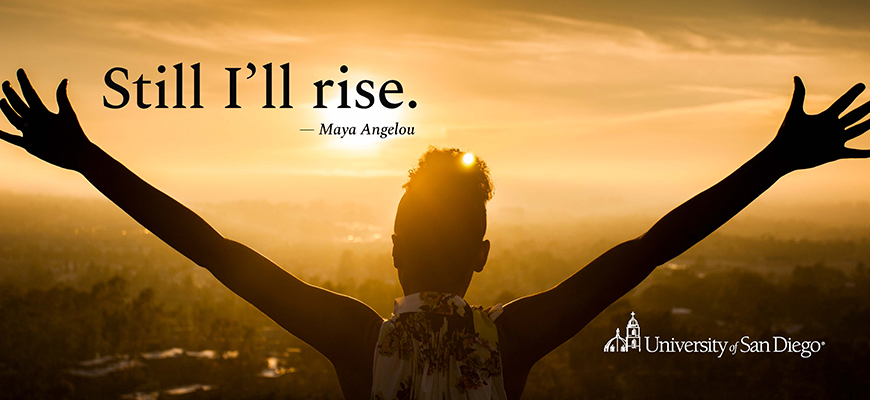 The University of San Diego will be celebrating Black History Month throughout the month of February. Check in weekly to the USD News Center to read original stories that recognize and celebrate the Black community at USD.
The following is a list of Black History Month events that delve into issues and celebrate and recognize greatness, excellence and legacies within the Black community.
Black History Month Vigil
Feb. 1, 6pm, Paseo de Colachis
Black Student Resource Center Block Party
Feb. 2, Noon, Lawn outside UC
Black Student Union (BSU) Welcome Back GBM
Feb. 6, 7pm, Solomon Hall
Equal to Us: The Church Responds to Racism
Feb, 6, 4pm, Founders Hall, Ministry Center
Beyond the Stigma: Living w/HIV
Feb. 7, 6pm, Hybrid BSRC(SLP 410 or Zoom)
Black Grads Matter
Feb. 9, 4pm, Grad Life Commons (SLP 401)
Ghostly Ideals: The Hauntology of Black Religious Leadership – Kyle E. Brooks, PhD
Feb. 9, 12:15pm, Zoom Meeting: 942 3453 9520
Black Student Union (BSU) Bonfire
Feb. 10, 5:30pm, Mission Beach
Being Black & LatinX
Feb, 14, 12:30pm, Black Student Resource Commons (SLP 410)

Virtual Alumni Spotlight: Ed Simon '17 MSEL
February 15, 12pm, Zoom (register for access link)
Black Resilience: Past, Present, Future
Feb. 16, 12pm, Ministry Center
The First Black Archaeologist
Feb. 17, 12pm, Saints Tekakwitha and Serra Hall, 200, Humanities Center
R&B N Paint
Feb. 20, 7 pm, Solomon Hall
Being Black and LGBTQIA+
Feb, 21, 12:30pm, Black Student Resource Commons (SLP 410)
Black Student Union x Black Employee Alliance Mixer
Feb., 23, 12:30pm, TBD
Center for Inclusion and Diversity, Sweet Talk
Feb. 23, Plaza de San Diego (Fountain in front of Maher Hall)
Red Lip Theology with Candice Marie Benbow
Feb. 27, 6:45pm, Copley Library - Mother Hill Reading Room
Black Student Union (BSU) Bowling
Feb. 27, 7pm, Aztec Lanes
Black & Female Identifying
Feb. 28, 12:30pm, Black Student Resource Commons (SLP 410)

Black Alumni Appreciation Dinner
March 8, 5pm, Bay Park Fish Company (4121 Ashton St, San Diego, CA 92110)

— USD News Center
Additional Black History Month 2023 details are forthcoming. Check back here and the Black Student Resource Commons website for additional updates and be sure to follow USD Black Student Resource Center on Instagram.