USD Rugby to Honor Military at Second Annual Founders Cup
USD Rugby to Honor Military at Second Annual Founders Cup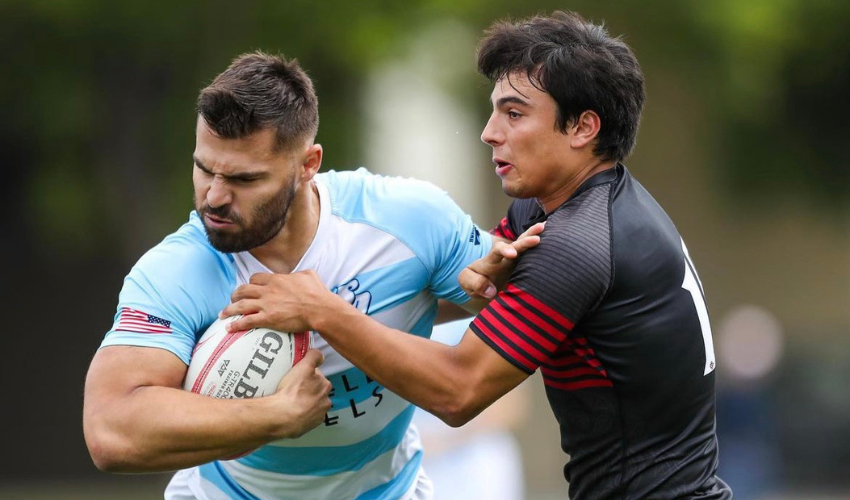 USD Rugby will host its second annual Founders Cup match against San Diego State University (SDSU) Rugby at Torero Stadium at 11 am on Saturday, Dec. 3.
The Founders Cup is named in honor of the founders and alumni of both universities' rugby programs. SDSU Rugby was founded in 1958 and USD Rugby was founded in 1980. The connection between the two programs goes back to 1978 when Gary Howat, head coach for SDSU, allowed two USD students to play for his program since the university didn't have a team at the time.
"We love to play San Diego State Rugby. They helped create this program," says USD junior Logan Tatum. "It means a lot to play them every year and have this cup game every year as an annual tradition."
The 2022 version will double as USD Rugby's military appreciation match, honoring military-connected individuals.
The team is currently hosting a charity auction benefiting the Pat Tillman Foundation, a non-profit created in 2004 by family and friends of former NFL Arizona Cardinals Safety turned U.S. Army Ranger, Pat Tillman, after he was killed by friendly fire during his deployment in Afghanistan.
The auction runs from now until Monday, Dec. 5 at 9 pm PST. Bids for starting jerseys begin at $100 and bids for reserve jerseys begin at $50. All of the proceeds from the auction will go directly to the Pat Tillman Foundation.
USD Rugby will also honor active duty service members and veterans with free tickets. Some were donated to Marines stationed at MCAS Miramar in San Diego. Free tickets will be available to all active duty and veterans at the gate with a valid ID (CAC card or VA ID).
Dustin Braun, a sophomore on USD Rugby, is a Marine veteran who served as an anti-tank guided missileman from 2016 to 2022. This year's Founders Cup means a little extra to him.
"I think the biggest thing for me is just being able to represent the branch that I served in and put on a good show for other veterans and the people that go here to the school," says Braun. "We've been putting in a lot of work, and we've got a good understanding of what our game plan is and how we're going to win."
— Kelsey Grey '15 (BA)