God, Family and Country; Serving at the Tip of the Spear
God, Family and Country; Serving at the Tip of the Spear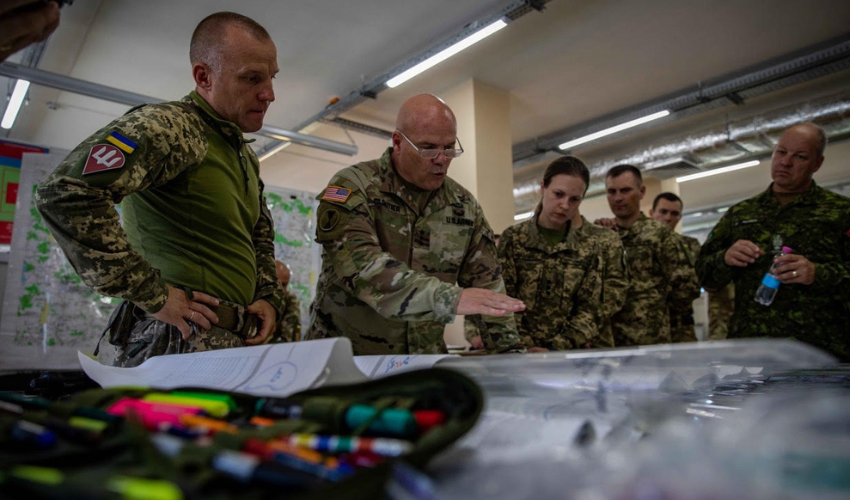 Lt. General Roger L. Cloutier '87 (BA) stood on the flight deck of the USS Midway and looked out across a group of San Diego State University (SDSU) Army ROTC cadets. They sat looking up at Cloutier as he spoke, full of hope and promise as they were commissioned as Second Lieutenants in the U.S. Army. They would soon begin a journey that Cloutier himself set out on more than three decades ago.
"Less than three-tenths of one percent wear the uniform," says Cloutier. "It's a really small percentage of American citizens that do. The young men and women who join the Army today are as patriotic and as motivated as I've ever seen."
Cloutier, 57, knows better than most the opportunities that lie ahead of newly commissioned officers. Cloutier currently serves as Commander of Allied Land Command (LANDCOM), which ensures the North Atlantic Treaty Organization (NATO) land forces remain prepared and operable to maintain the freedom and security of the Alliance.
Cloutier is responsible for roughly 500,000 soldiers from 30 NATO nations and approximately 40 partner nations.
His years of experience prepared him for this leadership role.
"I never thought I'd be where I was today when I first came to the University of San Diego," says Cloutier. "Between my family, my faith and the U.S. Army, I have grown tremendously."
As an 18-year-old, life looked quite different for Cloutier. His father served in the Air Force, which caused the family to move frequently. Finally, in 1980, Cloutier's father was transferred to Naval Air Station North Island in Coronado to do joint duty with the Navy.
The move placed Cloutier at Hilltop High School in Chula Vista where he was recruited by then USD Football Coach Brian Fogarty as a running back.
"I wanted to stay in San Diego and the interaction between Fogarty and I was really good," recalls Cloutier. "I was also raised in the Catholic Church, so I thought going to a Catholic university would also be great for me."
Cloutier listened to his intuition and began life as a student-athlete at USD in 1983. At first, he wanted to study computer science, but quickly realized it wasn't the right fit. Instead, he discovered his passion lay in political science.
"It was a bi-polar world back then. The Cold War was going on and it was trying to understand the international system and how the U.S. fits into that — that drew me into the direction of political science."
Cloutier's interest in the Army didn't come until later. He had a friend and teammate on the USD Football team who also happened to be a part of the SDSU Army ROTC.
"One day, my buddy was walking by in his uniform and I thought he looked cool and I said, 'Hey, what's that all about?' and he said, 'You should come to check it out.'"

That simple interaction led to the start of Cloutier's lifelong career. He went to check out the program and immediately signed up.
"I fell in love with it because it was exactly like being on a football team. The Army is a family, there's teamwork and everybody pulls together to work toward a common objective."
And if you're wondering how his Air Force father took the news about his son joining the Army, Cloutier says, "There was good-natured ribbing back and forth, but he was very supportive."
Army ROTC is also where Cloutier first met his now-wife, Diane, who was also a cadet in the program. Cloutier says he spotted her across a field at a training event.
"For me, it was [love at first sight], maybe not necessarily for her," he jokes.
In 1988, Cloutier left for preliminary training at Fort Benning, Georgia for infantry officer basic training, where soldiers are taught the fundamentals of being an officer in the infantry. Shortly after, he was sent off to airborne school where soldiers are taught how to jump out of airplanes and parachute operations.
Cloutier then attended Ranger School, which is one of the toughest volunteer training courses for a soldier. Soldiers are taught small unit tactics under extremely stressful conditions to practice pushing the limits of their minds and bodies.
Upon graduating from Ranger School, Cloutier moved back to San Diego and married the love of his life, Diane. The newlyweds celebrated their wedding by moving to their first duty station in Fort Ord in Monterey, California.
"I often say, behind every good soldier is a great family because without my wife Diane and her love and support, I wouldn't be where I am today," reflects Cloutier. "She is the bedrock not only of me but of our entire family."
By 1989, Cloutier received his first orders to deploy in support of Operation Just Cause. The Army spearheaded an attack on the Panamanian Defense Forces of then-dictator Manuel Noriega. The goal was to restore power to the democratically-elected government of Guillermo Endara and arrest Noriega. Though the Army was successful in its mission, it wasn't without loss. One of the soldiers in Cloutier's unit was killed during the operation.
"I've never forgotten his name. It was Douglas J. Duff and he was from Elgin, Nebraska and he was 20 years old at the time," says Cloutier. "I've never forgotten his service or sacrifice. From that day forward, the need to make sure our soldiers are trained and prepared is something that has been seared into my heart."
Cloutier also completed multiple tours in Iraq throughout the U.S. involvement in the region, including Operation Iraqi Freedom and Operation New Dawn. He recalls those years being particularly tough on soldiers and their families.
"We were doing back-to-back deployments, but the men and women who deployed to Iraq did amazing things under difficult circumstances. America should be proud of her sons and daughters."
In 2015, the chief of staff of the Army asked Cloutier to command Fort Jackson in South Carolina after earning the reputation of being a leader who cares for his soldiers. He accepted and oversaw Basic Combat Training for nearly 70,000 soldiers each year.
"It was an opportunity to take all my experiences and lessons I learned over my years of service and inculcate that into thousands of soldiers that would permeate throughout the U.S. Army."
Three years later, Cloutier assumed command of U.S. Army Africa/Southern European Task Force in Vicenza, Italy. The new leadership position afforded Cloutier a chance to yet again make a difference in peoples' lives.
"My area of responsibility encompassed 53 out of 54 countries on the African continent. Over 1.3 billion people are living on the continent, which means there are a lot of challenges: conflict, desertification, food insecurity, and more."
Cloutier's job was to focus on the security of the military forces that were working and operating on the continent and help them build the capacity so in time they could also help improve people's lives.
That humanitarian aspect is something Cloutier would like to continue in his work as he begins to think about what life will look like after leaving the Army.
"You know, you go your entire adult life wearing the uniform and serving your nation, at some point, you have to figure out what to do next. I want to continue a life of service and I want to do something that at the end of the day when I lay my head down on my pillow, I can say I made a difference and did something that mattered."
— Kelsey Grey '15 (BA)
Photos courtesy of NATO LANDCOM