USD Hosts Inaugural Juneteenth Freedom Celebration
USD Hosts Inaugural Juneteenth Freedom Celebration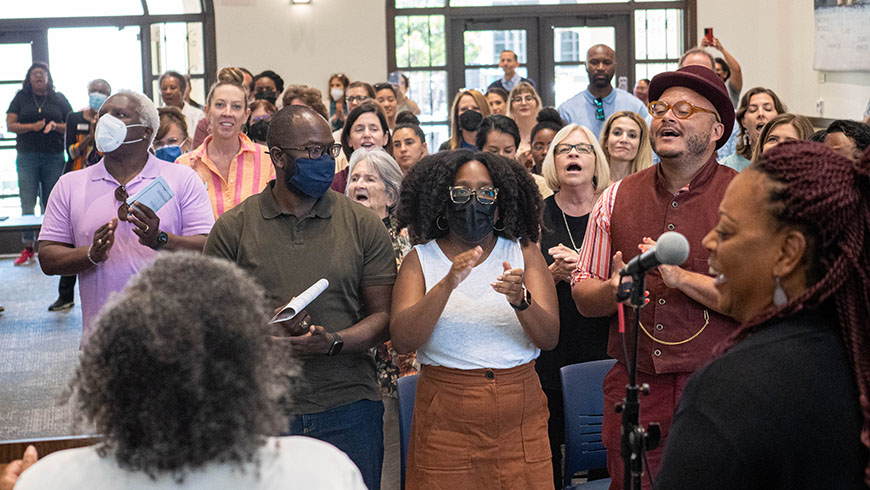 The sound of hope and unbridled passion reverberated off the walls inside the Ministry Center, as a packed house of more than 100 people clapped in unison while together singing the popular gospel song, This Little Light of Mine.
The University of San Diego held its Inaugural Juneteenth Celebration on Thursday, June 9. The event was organized by the USD Black Employee Alliance and the Division of Mission Integration and featured several individuals who spoke about the history and importance of Juneteenth, a federal holiday that commemorates the end of slavery in the United States.
Juneteenth is also called Juneteenth Independence Day, Jubilee Day, Emancipation Day and Freedom Day. It was officially signed into law as a federal holiday on June 17, 2021.
"We look at this holiday, specifically, as Black people stepping into their freedom," said Associate Professor of History T.J. Tallie, PhD, who along with fellow Associate Professor of History Channon Miller, PhD, provided the audience with a brief history of Juneteenth.
"You are invited into this sacred space," Miller said. "We invite you all to think about sacred Black spaces and the continued struggle for freedom."
The event was emceed by College of Arts and Sciences Department Chair and Political Science and International Relations Professor David Shirk, PhD. Interim Director of Student Support Services Ophelia Augustine provided a welcome, and Rev. Christopher Carter, PhD, assistant professor of Theology and Religious Studies, provided the invocation.
The celebration also featured live music from guests from across the community, including Tesfa Wondemagegnehu, Ken Anderson, and members of The Martin Luther King, Jr. Community Choir San Diego (MLKCCSD). Along with This Little Light of Mine, the group led the room in the singing of the anti-slavery hymn, Glory, Glory Hallelujah.
The MLK Choir raises funds through a series of concerts for educational grants that are distributed to aspiring college-bound high school majors in Visual and Performing Arts from the San Diego County area.
At the end of the program, Tesfa Wondemagegnehu led the audience in the Black National Anthem, Lift Every Voice and Sing.
A video tribute was debuted during the celebration, which will be shared with the entire USD community ahead of Juneteenth 2022. Check it out below.
Vice President of Mission Integration Michael Lovette-Colyer introduced the short film and also expressed his appreciation for the Black community at USD.
"Thank you for welcoming us into your joy and your celebration," he said.
Rickey Vignati, special assistant to the Vice President for Student Affairs; and Pauline Powell, assistant dean, College of Arts and Sciences, both spoke to the growing diversity within the USD community.
"USD is on its way," said Powell. "We have more Black employees and more employees and students of color."
Overall, the inaugural celebration was a huge success, said Erin Bishop, director of Mission Integration and Center for Christian Spirituality.
"Like a lot of people, this is my first opportunity to celebrate Juneteenth," Bishop said. "It's important for the USD community to come together in this way, first and foremost, to offer education about something that is new to many of us, but also to cultivate a deeper sense of community around our shared values."
— Story and photos by Matthew Piechalak; video by Alé Delgado