It's All A Balancing Act
It's All A Balancing Act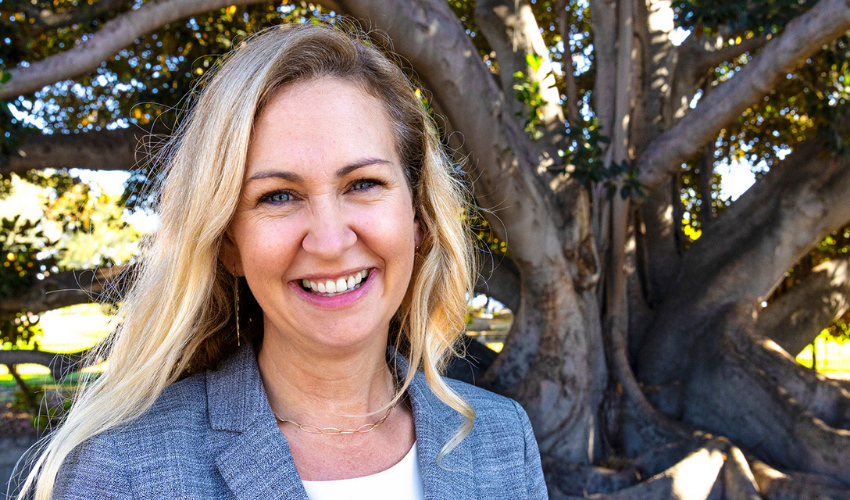 Alumna adds to a full plate with Balboa Park role
University of San Diego School of Law alumna Allison Soares '15 (LLM) has perfected the art of juggling.
A partner and tax attorney at Vanst Law LLP in San Diego, a professor of accounting at San Diego State University and a wife and mother to two young boys, Soares is a busy woman. As if all of those duties weren't enough, she was recently appointed by Mayor Todd Gloria '00 (BA) to be co-treasurer of the Balboa Park Committee.
It sounds like a lot, but for Soares, being active and involved in her community is just how she was raised.
She grew up in a town that was north of Madison, Wisconsin, and went to school at the University of Wisconsin in Milwakee. Soares' early years in proximity to a college town had a profound impact on her, inspiring her to complete her undergraduate work there.
But she wanted to see more of the world.
After graduating finance degree, she moved to Sao Paulo, Brazil, and worked with professionals to prepare business presentations for English-speaking audiences.
Despite falling in love with the work, Soares felt called to move back to the United States. She set her sights on San Diego, where she got a job in the accounting department at Rady Children's Hospital. It was also around this time that she married her husband, Cesar, who she'd met while in Brazil.
After three years at Rady Children's, Soares knew she wanted to do something more and decided to apply for law school outside of California.
"I wanted to see what else was out there, so I ended up going to law school in Miami. We loved it, but Miami is not a place you want to raise your family," Soares says with a laugh. Not all that surprisingly, the couple settled on their first home together — San Diego. Soares took the bar exam and passed with flying colors, quickly landing a job at a boutique firm in North County.
"I was really fortunate because I loved the work that I was able to do there; 2008 was a rough economic time."
In spite of her passion on the job, she felt herself being pulled back to academia.
Soares applied to USD's School of Law to earn a master's degree in tax law. After a year and a half, the full-time professional and mother of two young boys earned her LLM degree. "It was definitely a juggling act, but the more work I had on my plate, the better off I was," she says. "I kept organized and loved that I could work full time with the flexibility of the classes."
She says her School of Law experience was a dynamic opportunity, with a focus on both academics and real-world application. That environment created a strong bond between students and the community, something that Soares continues to explore today.
A regular visitor to San Diego's Balboa Park, Soares joined the Friends of Balboa Park, becoming the organization's treasurer. In January 2020, the Friends of Balboa Park merged with the Balboa Park Conservancy and, in July 2021, Soares became co-treasurer of a newly named nonprofit, Forever Balboa Park. The organization was behind the creation of the new viewing platform for the Moreton Bay Fig tree, an iconic, century-old landmark that has been a part of the park since being planted during the Panama-California Exposition of 1915.
As an active member, Soares submitted an application to sit on the Balboa Park Committee — a group of individuals appointed by the councilmember for District 3 and approved by the mayor. They act as an advisory board to the city council to discuss and review what's going on in Balboa Park. Soares went through the process and was confirmed to sit on the committee in August 2021.
"Being on this committee really gives me the opportunity to make a difference, to use my education and skill set and make sure that the work that needs to be done in the park is getting done," she explains.
Keeping Balboa Park accessible to all San Diegans is one of her biggest goals.
"I love that the park is free and open to everyone, and doesn't hinder anyone from using it. We don't want to have just people who live in the neighborhood visiting the park, we want to attract people from all throughout San Diego."
Although she's thrilled to take on this new endeavor, Soares says she won't be adding more to her plate anytime soon. "I feel very happy with where I am in my life and career. It feels like I'm at the beginning of a new chapter."
— Kelsey Grey '15 (BA)