Hispanic Heritage Month: Misael Morales Guzman
Hispanic Heritage Month: Misael Morales Guzman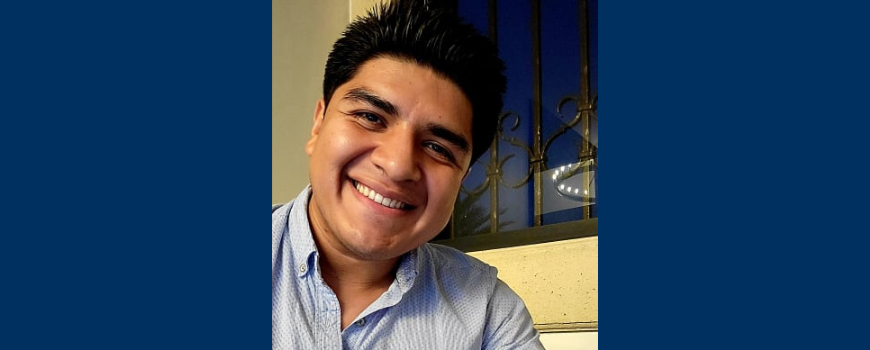 Misael Morales Guzman can relate to his Spanish-speaking students at Orange Glen High School in Escondido. Not too long ago, he was where they are.
Immigrating from the coastal town of San Quintín, Baja California to Vista, California at the age of 14, Morales Guzman recalls walking into his first American classroom feeling both excited and nervous.

"I see myself in the students," he says. "I remember thinking, 'How do I talk to people? How do I ask for directions?'"
Years later, Morales Guzman's fears are gone as he stands on the other side of the desk teaching English as a second language to high school students. But his career as a bi-lingual assistant teacher is taking a brief pause to make way for his life-long dream.
Morales Guzman is now a first-year master's student at the University of San Diego Joan B. Kroc School of Peace Studies.

Before attending USD, he studied at Palomar College for three years and then transferred to Cal State San Marcos for another three, studying criminology and sociology. A study abroad trip to Spain opened his eyes to international relations and from there he knew he needed to find a peace studies program.

"I found that the Kroc Institute for Peace Studies feeds perfectly into what I want to learn and how I give back to my community," says Morales Guzman.
For Morales Guzman, the two communities he wants to help through his studies are high school students and his hometown.
Growing up, he lived in San Quintín in a home with his six siblings while his parents lived stateside and worked at a winery in Escondido. He recalls his parents working 14-to-16-hour shifts, seven days a week and sending money back across the border to support the family. He says his parents risked everything to find a better life for them.
Morales Guzman looks back fondly on his first 14 years of life in Baja California, mainly playing soccer with the neighborhood children and focusing on his studies, but he also remembers his hometown's struggles. When the country's economy took a dip, poverty and violence spread.
"I look back at the images I have as a child at the children who may not have the same opportunities as me, who are on the streets with no shoes or the elders who have no food," he says. "We must find justice for that population."
Now, Morales Guzman is in a position to do exactly that. He says his classes at the Kroc School are helping him discover ways to help teenagers both in San Quintín and San Diego County.

He says he hopes to one day start a peace building program for high school students to help them find their passions and keep them from going "the wrong ways."

The world is open to Morales Guzman and what he can do on the frontlines of peace building, but he says he wouldn't be here without the sacrifices of his parents.
"I'm a first-generation college student. My parents praise education and ethics. Coming home and telling them, 'Today was a good day at school,' they feel such pride because I'm a product of their ethics and values."
— Kelsey Grey '15 (BA)