University of San Diego to Host Groundbreaking Ceremony for Knauss Center for Business Education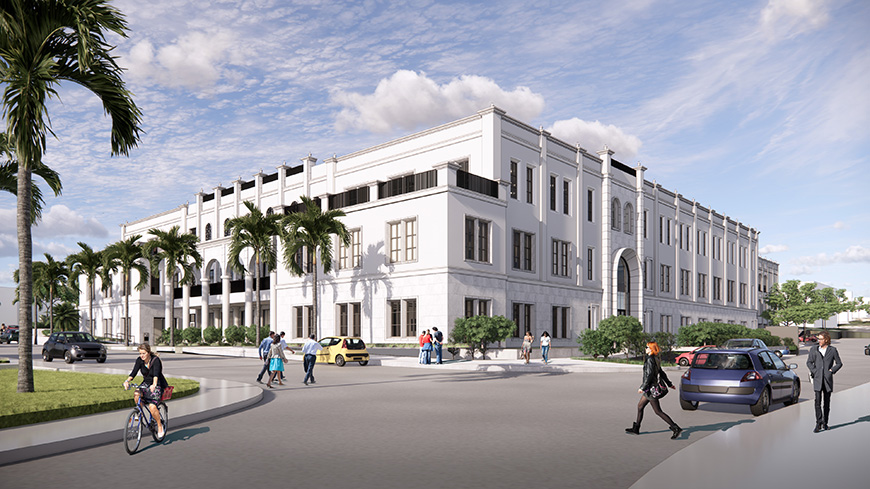 SAN DIEGO, California -- Today at noon the University of San Diego will break ground on a facility that represents the future of business education — the 72,000-sq.-ft. state-of-the-art Knauss Center for Business Education.
Please note: Due to current limits on gathering sizes, we cannot host media on campus for this event. However, by 3 p.m. this afternoon the media relations office will be sending out video interviews and b-roll for use in media coverage. We can also coordinate interview requests. Please reach out if you are interested in covering this event.
WHAT: Knauss Center for Business Education Groundbreaking Ceremony
WHO: USD School of Business Dean Tim Keane, USD Board of Trustees Chair Don Knauss and his wife Ellie Knauss, President James T. Harris III, and others
WHERE: Knauss Center building site next to Olin Hall (west end of campus)
University of San Diego
WHEN: Monday, April 12 at noon
When completed alongside a renovation of the existing Olin Hall, the complex will total 120,000-sq.-ft. and will unify all of the USD School of Business' academic programs, centers and institutes under one roof. The complex will include instructional spaces, collaboration spaces, data analytics and financial labs and is planned to open for classes in fall 2022.
The building is named for the chair of USD's Board of Trustees, Don Knauss, the former CEO of Clorox, and his wife, Ellie Knauss. The Knauss's generous $20 million gift in 2017 helped solidify the final planning and construction of the complex.
---
MEDIA ASSETS
About the University of San Diego
The University of San Diego sets the standard for an engaged, contemporary Catholic university where innovative Changemakers confront humanity's urgent challenges. With more than 9,000 students from 69 countries and 50 states, USD is the youngest independent institution on the U.S. News & World Report list of top 100 universities in the United States. The university's eight academic divisions include the College of Arts and Sciences, the School of Business, the Shiley-Marcos School of Engineering, the School of Law, the School of Leadership and Education Sciences, the Hahn School of Nursing and Health Science, the Joan B. Kroc School of Peace Studies, and the Division of Professional and Continuing Education. USD's Envisioning 2024 strategic plan capitalizes on the university's recent progress and aligns new strategic goals with current strengths to help shape a vision for the future as the university looks ahead to its 75th anniversary in the year 2024.