USD Interns Help Local Businesses and Gain Hands-On Experience During the Pandemic
By: Nicholas Stineman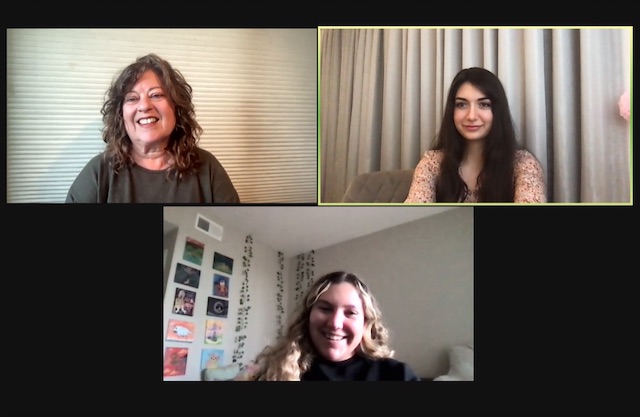 Now more than ever, local businesses are in dire need of assistance. Whether it be the mom-and-pop bakery down the road or the bookstore on the corner, it is likely that your favorite small business has been hit hard by the pandemic.
Student interns from the University of San Diego have been helping local businesses while simultaneously gaining invaluable hands-on work experience. And while most internships in the past year were virtual because of the pandemic, 92% of the class of 2020 participated in internships.
Last fall, Nancy Gordon, LCSW, founder of Nancy Gordon Global, reached out to the USD Career Development Center to see if she could connect with USD student interns to help with her business' social media marketing strategy. Today, she works with three student interns, and with their help, she has seen immense growth in her social media presence.
"They make me feel that I'm not alone, which is very much a part of being an entrepreneur when you don't have the budget to hire (various positions). It's hard. It gets overwhelming for me. I don't think I'm unique in that to one degree or another. I told them I really appreciated them because I felt that I had a team," said Nancy Gordon. "I try to convey the message that there are no stupid questions, there are no unreasonable complaints or feedback that I'm open to working with them to make this a win-win all the way around," she added.
USD students Raffaella Armeni and Amanda Sangari are two of Gordon's interns who have helped grow Gordon's social media presence-- increasing the viewership of some social media posts to reach 1000 people.
"Nancy, since she's a solo business owner, it can be very stressful at times, because you feel like you're doing all of the parts of the company which is really hard on one person so now she has us to bring new ideas and also help her if she can't get to something," said Amanda Sangari, a senior business administration major.
"We're definitely able to complement each other's skills. So, throughout this whole experience, we've been learning how to mesh our talents and unload the burden from one another so it's not as stressful but very much a collaborative experience and that's how we've been getting the most productive work done I would say ," said Raffaella Armeni, a senior marketing major.
USD's Career Development Center has played an instrumental role in the collaboration between students and small businesses. For Armeni, that has also meant getting help to make her feel more prepared in the job search.
"The Career Development Center has been really helpful with resume work and preparation work to be ready to search for these opportunities and make sure we're a well-rounded candidate and feel prepared to embark upon the real world," said Raffaella Armeni.