SMSE Celebrates Women's History Month: Challenging the Status Quo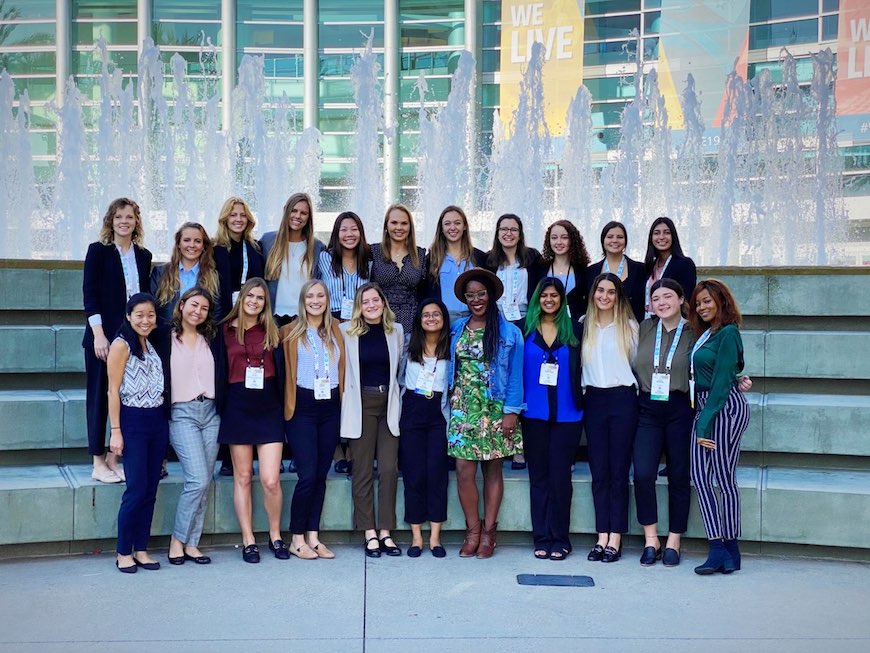 The Shiley-Marcos School of Engineering (SMSE) asks current and past women engineers and computer scientists to share how their experiences within USD's programs, curriculum, student organizations and other resources across campus have impacted them personally and professionally to elevate them as women in the STEM fields.
Sydney Lew '22
Electrical Engineering Major
"Being a woman in engineering is definitely difficult at times, but USD's support of their women in STEM has made my time at USD a lot better. One organization that stands out to me is the Society of Women Engineers (SWE). I was lucky enough to join SWE my freshman year and was able to meet so many smart and talented women. USD's advisors and faculty have also been so crucial to my professional development, especially Rhonda Harley and Diana Chen."
Sydney Lew serves as vice president of SWE, corresponding secretary of Theta Tau and marketing director for the Institute for Electrical and Electronic Engineers (IEEE).
Rosie Pham '22
Integrated Engineering Major and English Minor
"The Integrated Engineering and English departments have graciously encouraged me to be a woman in STEM at USD. Having amazing faculty support pushes me to new heights daily! The incorporation of the liberal arts within the curriculum is priceless as it has gifted me the most important tool an engineer can have: empathy. It's what is truly unique about USD because how can we become innovative engineers if we lack the emotional understanding to see our impact in our community?"
Rosie Pham is currently involved within the USD community as the president of the Humanitarian Society, a tutor and assistant coordinator for RefugeeNet, a consultant for the Writing Center, an Industry Scholar and a member of the Society of Women Engineers. Previously, she served as a scholastic assistant, Health Equities fellow and member of Make-A-Wish.
Jacqueline Puga '21
Mechanical Engineering Major
"TRiO programs at USD provided resources that helped me adapt to university as a first-generation college student and are fundamental in my preparation for graduate school. Dr. Cornwall mentored research projects that have shaped my career goals. I have learned from two female role models as a student assistant for the Office of Undergraduate Research. Dr. Kahn-Jetter, Dr. Myers and Dr. Dalrymple have inspired me to continue my efforts as a woman in STEM. I am grateful that USD fosters a community that has paved a way for female success."
Jacqueline Puga began her involvement at USD her freshman year as the founding president of the Society for the Advancement of Chicanos/Hispanics and Native Americans in Science and advocated for a community that fostered diversity in STEM for two years. She is currently the president for the Society of Hispanic Professional Engineers and is helping maintain student involvement, while fostering professional and academic development in undergraduates remotely.
Nicole Reyes '21
Mechanical Engineering Major
"USD has amazing women faculty members whose support has helped me succeed as a woman in the Mechanical Engineering program. Also, my involvement with organizations, such as Society of Women Engineers (SWE), has helped me to meet other talented women and men to build a community of people who wish to promote the success of women in the engineering field. SWE has been so beneficial to my success as a woman in the STEM fields because of how supportive and willing to help everyone is."
Nicole Reyes currently serves as the president of the Society of Women Engineers.
Rachel Valdez '21
Computer Science Major
"The engineering community has been very helpful throughout my time at USD. As an Hispanic woman pursuing a STEM degree, it's very easy to feel out of place in a male-dominated field. However, faculty and staff have made me feel welcomed and encouraged me to give my best academically and professionally in my goals, and it is because of this support that I am graduating in three years. Additionally, clubs such as the Association for Computing Machinery (ACM) and the Society of Women Engineers (SWE) have allowed me to form meaningful relationships with women who are just as passionate about STEM, and we created a community where we support each other. Through my leadership involvement on campus, I've made it my mission to advocate for women in STEM."
Rachel Valdez currently serves as the secretary of the ACM club and also the secretary of the Society of Hispanic Professional Engineers. She additionally serves as the vice president of membership for USD's chapter of Mortar Board, as a Writing Center consultant and as the web editor for USD Student Media. She is also involved in SWE, the International Student Organization and is an Engineering Exchange for Social Justice (ExSJ) scholar.
Previously, Valdez served as a computer science tutor (Fall 2019 - Fall 2020), a scholastic assistant (2019 - 2020), a scheduler for the Women in STEM club (Spring 2019 - Spring 2020) and the vice president of the Society for the Advancement of Chicanos/Hispanics and Native Americans in Science (2019 - 2020).
Daniella Walter '21
Mechanical Engineering Major and Mathematics Minor
"As a woman engineer, the Society of Women Engineers (SWE) has served as a powerful resource to complement the curriculum and the faculty contributions that support my persistence in engineering. SWE provides a diverse and collaborative environment where women are empowered to succeed. Through this organization, I have been able to learn from the tremendous convictions and determination that other women have, and begin to shape my own sense of leadership so that I may serve as a role model for others."
Daniella Walter has actively served as the secretary and outreach coordinator for the Executive Board for SWE, where she works collaboratively with representatives from UCSD and SDSU to recruit young high schoolers in San Diego to join SWE and pursue STEM-related careers. She was additionally selected to serve as the incoming vice president of Tau Beta Pi, the National Engineering Honor Society. In 2020, she served as the academic chair on the Associated Student Government Senate Board, where she worked to secure the academic needs and concerns of students and faculty across the institution.
Kim Woodbury '15 (ISyE)
Sr. Project Manager, Thermo Fisher Scientific and SMSE Alumni Council Member
"The engineering community was a place to not only learn, but it gave me a network of colleagues and some of my closest friends! My Industrial and Systems Engineering and public speaking courses helped shape me to be a hard worker, a problem solver, a confident speaker and a consistent challenger of the status quo."
Kim Woodbury's involvement with student organizations was prudent to her personal and professional development. The Preceptorial Program allowed her to help incoming freshmen navigate their college path and develop manager skills. The Society of Women Engineers encouraged and empowered her to be a strong and encouraging female leader, all while teaching her how to professionally network. Her involvement in the USD Dance Company showcased teamwork amongst strong females of diverse backgrounds and helped exude her creativity and confidence on stage.
While at USD, Woodbury was involved in the USD Dance Company (member 2011 - 2015, president 2013-2014), Society of Women Engineers (member 2011 - 2015, secretary 2012 - 2014, president 2014-2015) and Institute of Industrial Engineers (member 2012 - 2015).
Diana Chen, PhD
Assistant Professor, Integrated Engineering and SWE Faculty Advisor
"I've been the faculty advisor for the Society of Women Engineers (SWE) Section at USD since 2018. There are so few women in engineering that it's always been important to me to give back. I used to look up to my own women engineering professors with awe, that they could 'do it all'. Representation is so important. I try to be a hands-on advisor and give students feedback, encourage them to take on new activities and gain leadership experience that they wouldn't through just attending classes. It's rewarding to me to see SWE members get internships and jobs through the club's efforts and develop into full-fledged engineers."
Maritza Johnson '05 (CS)
Professor of Practice and Director for USD's New Center for Data, AI and Society
"Getting involved in student organizations and societies is a great way to build your network, both with peers and faculty members, and to get leadership experience."
Elisa Lurkis
Director of Development and Alumni Relations and 2020 Women of Impact Recipient
"If they don't give you a seat at the table, bring a folding chair." — Shirley Chisholm, American politician, educator and author
— Michelle Sztupkay