Worthy of Wellness Workshops for BIPOC Students, Staff, and Faculty
Worthy of Wellness Workshops for BIPOC Students, Staff, and Faculty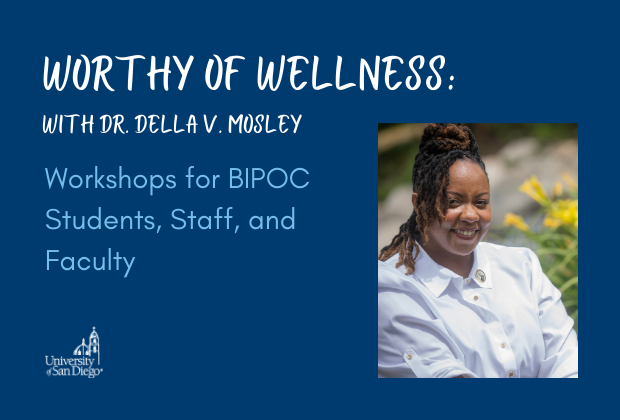 These sessions are for BIPOC students, staff, and faculty.
Event Dates:
Thursday, February 25th: Student session from 12:30 to 2:00 p.m. PT - Register Here
Thursday, February 25th: Faculty session from 4:00 to 5:30 p.m. PT - Register Here
Wednesday, March 17th: Staff session from 12:00 to 1:00 p.m. PT - Register Here
Thursday, March 25th: Student session from 12:30 to 2:00 p.m. PT - Register Here
Thursday, April 15th: Faculty session from 12:30 to 2:00 p.m. PT - Register Here
Event Description: There are certain concepts and practices that help Black, Indigenous, and other People of Color to heal in the face of racial oppression and trauma. The Worthy of Wellness workshop introduces the theory of "Radical Healing" (French, Lewis, Mosley, Adames, Chavez-Dueñas, Chen, & Neville, 2020), an intersectional framework for wellness and liberation suggesting that healing from racial trauma occurs when one can be both critically conscious about systemic oppression and yet still envision personal and collective liberation. As a group (students, staff, or faculty), we will explore how to get closer to radical healing. Participants can expect opportunities for personal reflection, group dialogue and exercises, and practical resources to help them enhance their wellness.
Speaker Biography: Dr. Della V. Mosley is an Assistant Professor in the American Psychological Association (APA) accredited Counseling Psychology Program in the Psychology Department at UF. She created and leads the Wellness, Equity, Love, Liberation, and Sexuality (WELLS) Healing and Research Collective. She is the cofounder of Academics for Black Survival and Wellness (#Academics4BlackLives). Dr. Della is a Black queer feminist, scholar, activist, and healer committed to liberation. Her research focuses on facilitating the wellness of Black and/or queer and transgender People of Color (QTPOC) and is undergirded by Black feminist-womanistparadigms and liberating methods of inquiry. She uses practical, evidence-based, and culturally mindful approaches to fight oppression and facilitate healing and liberation of Black and QTPOC folx. She has published in top-tier journals, has been invited to speak internationally, and is engaged in radical social justice advocacy work. Dr. Della is an APA Minority Fellow, co-authors the Psychology Today blog, "Healing through Social Justice" with the Psychology of Radical Healing Collective, and recently served as the Presidential Task Force Co-Chair for the American Psychological Association Society of Counseling Psychology.