Men's Basketball: Tuning Out the Noise
Men's Basketball: Tuning Out the Noise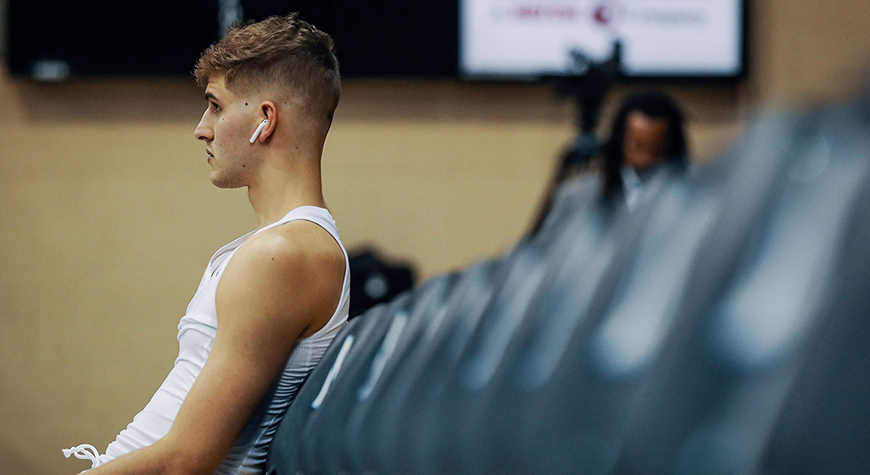 Spend enough time in the Jenny Craig Pavilion when it's empty — before a practice, or perhaps late at night after a game — and you'll notice some things. The low hum of the lights when there's no cheering fans there to drown it out. How the sound of a dribbled basketball echoes throughout the venue as 5,100 empty seats look on. You'll notice more than anything else, of course, that it's much quieter than you're used to it being, as nearly all college basketball facilities will be this season due to the coronavirus pandemic.
Yet when you ask Joey Calcaterra about the mindset that he and his University of San Diego teammates have heading into their upcoming tipoff this week, he mentions something you might not expect — tuning out the noise.
They won't have the USD faithful to fire them up at home, nor will they have to contend with the roar of hostile crowds on the road. In a season marked by muted, vacant arenas, USD will instead look to manage a different type of noise.
Noise like expectations and doubt following a 9-23 season a year ago.
Noise like the murmurs of uncertainty surrounding the sport as college basketball navigates an unprecedented season.
Noise like the stress that comes with playing a contact sport in a pandemic.
But if all goes to plan this season, the Toreros won't hear a thing, save for the din of the lights, the booming of leather hitting hardwood, and the swish of the net. And as prescribed by their head coach, they'll be focused on a singular pursuit: being the best versions of themselves they can be each day.
"A big thing for our team is not letting that doubt creep into our minds," Calcaterra said of preparing for an unusual season. "I think the guys and I have done a great job of keeping our heads down and working day in and day out. We've done a great job of separating ourselves from the outside world as much as we can … we've just been very disciplined."
Calcaterra, now in his third season at USD, will look to build off a breakout junior campaign that saw him average 11.3 points per game. The guard's fourth year in San Diego will provide rare continuity for a Torero team that added nine players over the offseason to infuse experience into the roster — something last year's team lacked. Among the most notable of those additions was Josh Parrish, a redshirt senior transfer from Rice.
"It was kinda crazy, transferring in a pandemic, that's not really the most ideal situation," Parrish said of his arrival in San Diego. "It was a trust deal. I saw a group of good guys just coming off a year where they lost a lot of experience and senior leadership. Coming along, I feel like I can bring a great level of experience and seniority. I thought it was a good fit, and I trusted my gut and went with it, even without taking a visit."
Parrish, a 6-foot-4 forward who averaged 6.9 points and 3.3 rebounds in 60 games last year at Rice, is one of several new players the coaching staff will count on to bring that veteran presence. Another is guard Frankie Hughes, a redshirt junior transfer from Duquesne whose three-point shooting was among the best in the Atlantic 10 Conference before a knee injury sidelined him for the 2019-20 season. Also new to the team is Yavuz Gültekin, a 6-7 forward from Texas A&M via Turkey who brings marquee experience from the Southeastern Conference.
"You can't really put a price tag on that experience," head coach Sam Scholl said of his team's newfound contingent of veteran players. "There's plays that they make that you just don't have to coach. They understand a lot of defensive concepts, they understand a lot of offensive spacing. The learning curve is not as steep."
Scholl hopes each of those players will be an immediate fit in the San Diego program and complement the significant resources that the Toreros will return, which includes larger-than-life 6-10 forward Yauhen Massalski and the crafty Finn Sullivan, who hails from local Torrey Pines High School. That's not to mention a number of freshmen and newly eligible younger players who will look to make their own mark this season.
"This is a team that has good depth," the third-year head coach added. "A lot of it is still to be determined in terms of rotation and things like that, but I feel very, very comfortable playing all 12 guys."
The Toreros will need their veteran players to bring more than just minutes at other schools if they are to succeed this season. Ranking near the bottom of the West Coast Conference in offense last season, San Diego hopes its remodeled roster can bring more offensive firepower than 2019-2020's lackluster effort. Asked what adjustments he and his players have made on that side of the ball, Scholl distills it down to three words.
"We want pace, space, and movement," Scholl said. "Those are big, big keys for us offensively. We have a lot of versatility and a lot of guys that can make a lot of different plays from a lot of spots on the floor. I think you're gonna see a lot of different leading scorers in a lot of different games."
On the defensive side of things, an area in which the team fared slightly better last season, USD will look to succeed by controlling the tempo of each game.
"Our biggest thing is we want to control and finish," Scholl said. "We want to control the team we're playing — the shots they get, where the ball goes, and keeping the ball in front. And then we want to finish possessions with great ball pursuit. Whether the ball's at our feet, in front of us, or up off the rim, we want to finish possessions at a great rate."
College basketball schedules across the country remain in flux as the country deals with the ramifications of the coronavirus pandemic. As such, the Toreros' early season slate has remained fluid, but Scholl mentioned it will include a formidable selection of opponents from the West Coast's top conferences.
"We're always looking to play good people," said Scholl of his program's non-conference schedule this season. "We're gonna play a Pac-12 opponent, we're gonna play good teams from other conferences, the Big West, the Mountain West."
As for the ever-competitive WCC?
"Our conference has done nothing but improve year to year," said Calcaterra, who's played as many games in the WCC as just about anyone on the Toreros' roster. "It's always a tough conference to play in, and every week you're gonna have two dogfights. We just gotta take it one game at a time."

Calcaterra knows what it means to succeed both in the WCC and at the college basketball level in general. He was part of USD's magical 2018-2019 season that saw them nearly run the table in the conference tournament enroute to a 20-win season and an NIT appearance, and he slogged his way through a tough 9-23 campaign a year ago.
When he looks around a quiet Jenny Craig Pavilion as the Toreros prepare for an unprecedented season, the redshirt-junior point guard likes what he sees.
"We just got a bunch of winners on our team, a bunch of guys who wanna go on and play professionally," Calcaterra said. "I just hope Toreros fans are excited, we got a great group of guys both on and off the floor."
— USD Athletics