USD Receives $4 Million to Continue "Bridging the Gap" for High School STEM Students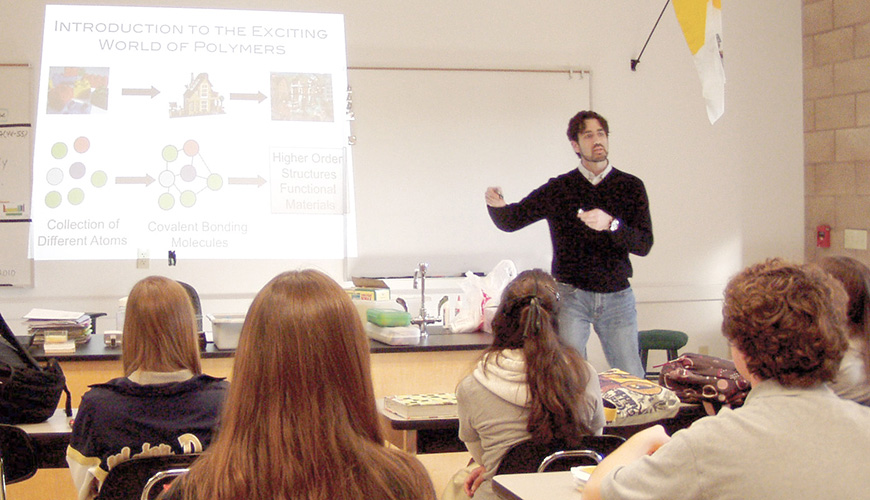 Roy Emmanuel Medina, remembers, even back in high school, his love for engineering. "I was really interested in engineering, creating things out of nothing and being a hands-on type of person," said Medina.
Medina attended Mater Dei High School in Chula Vista and was a part of the school's Science Academy – geared, he says, toward students who are interested in pursuing a career in STEM (Science, Technology, Engineering and Mathematics). It was during this experience where Medina was first introduced to the University of San Diego (USD) after he was offered a scholarship through USD's "Bridging the Gap" program, funded by The ALSAM Foundation.
"Bridging the Gap" is a STEM enrichment program that began in 2010 as a partnership between USD, The ALSAM Foundation, and Mater Dei Catholic High. The objective of the program is to inspire students who are interested in STEM majors and careers and help them acquire the academic and research fundamentals they need for success in college. Students get the chance to experience summer research opportunities at USD, hands-on seminars, and a chance to work closely with University of San Diego professors.
"(It) really put an edge and interest in my eye because of the financial support they were providing for student's like me who are middle income, with my parents. Being able to be provided the financial support, I then chose to go to the University of San Diego," said Medina.
Four years later, Medina is an Industrial and Systems Engineering student at USD, expecting to graduate in the summer of next year.
More than 170 students, just like Medina, have benefitted from the "Bridging the Gap" program – with many also completing a degree in STEM. And, now, many more students will have the opportunity to experience the 'Bridging the Gap" program after The ALSAM Foundation recently awarded USD with a $4 million endowment to continue funding the program.
"The connection we can build with these students. Getting them involved in science early in high school and fostering that scientific development and inquiry is so valuable especially in our current pandemic times. It's really evident that we need more scientists out there and to be able to develop them from this stage is really wonderful. And, to be able to now grow and develop our program and know that this is going to be a continuing part of USD, where we can engage with the community to help develop these young scientific minds is wonderful," said Nathalie Reyns, Faculty Director of the "Bridging the Gap" program.
"The University of San Diego and the (ALSAM) foundation really allows the students to have a lot of options and open up all the doors and I'm really excited for more students to be able to participate," said Medina.