Women's Basketball Opens Nonconference Nov. 28 in JCP; Men's Basketball Opener is Dec. 9 at UCLA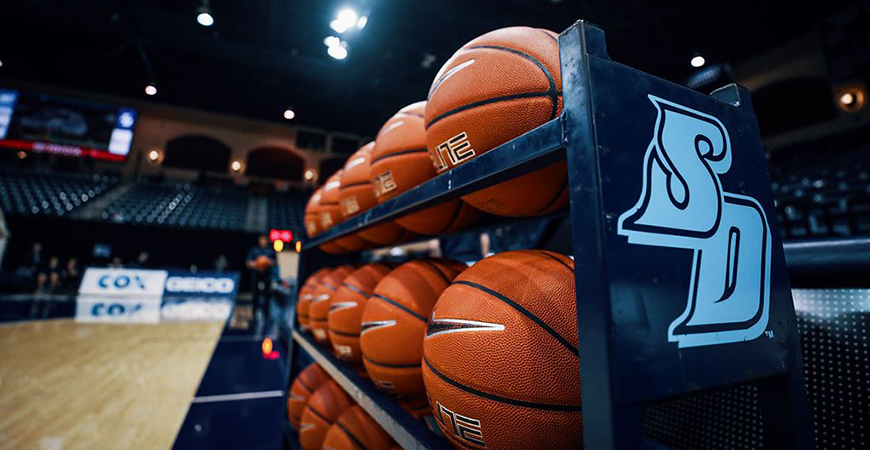 The University of San Diego women's basketball program, led by head coach Cindy Fisher, announced its 2020 nonconference schedule of games today.
The Toreros, who finished second in the West Coast Conference in the 2019-20 season and reached the WCC Tournament title game, return to the court this coming Saturday, Nov. 28 when they'll face UC Santa Barbara in a 2 p.m. game in USD's Jenny Craig Pavilion (JCP).
This game against the Gauchos, who play in the Big West Conference, marks the teams' 23rd meeting and their first match-up since the 2017-18 season.
It will be the first of six nonconference games in 2020 for the Toreros, who will host three games and play three games on the road.
The full nonconference schedule — following the UCSB game — consists of: Dec. 5: USD vs. San Diego State, 2 p.m., in the JCP; Dec. 8 USD at Cal State Fullerton, 5 p.m.; Dec. 13: USD at Arizona State, 2 p.m.; Dec. 17: USD at Long Beach State, start time to be determined; Dec. 20: USD vs. UC Irvine, 4 p.m., in the JCP.
The Toreros begin WCC play with home games Dec. 28 and 30 against Santa Clara and San Francisco, respectively. Start times for all conference games are still to be determined. Tip-off times for all games, actually, are tentative. The schedule is subject to change. View the entire 2020-21 USD women's basketball schedule.
Season-Opening Game Scheduled for Dec. 9 at UCLA
USD Athletics announced on Nov. 20 that its men's basketball program would pause all team activities for a period of 14 days as a result of a positive COVID-19 test result within the program.
The university now anticipates the team opening its season Dec. 9 vs. UCLA at Pauley Pavilion. Previously scheduled games with UC Irvine and Cal State Fullerton may be rescheduled during the month of December.
"Our program has and will continue to have a very disciplined and determined approach to the two competitors on our schedule — the teams we face and COVID-19," said head coach Sam Scholl. "We will continue to pursue being the best versions of ourselves each day. We are excited for our return to the court to do what we love together."
Torero basketball games tentatively scheduled prior to the West Coast Conference opener Dec. 31 at San Francisco are: Dec. 9: USD at UCLA, Pauley Pavilion; Dec. 14: USD vs. Nevada, JCP; Dec. 16: USD at Cal Poly, San Luis Obispo, Calif.; and Dec. 22: USD vs. Long Beach State, JCP. Tip-off times for all games are still to be determined. View the entire 2020-21 USD men's basketball schedule.