Training in the New Normal: Catching Up With 3 Torero Student-Athletes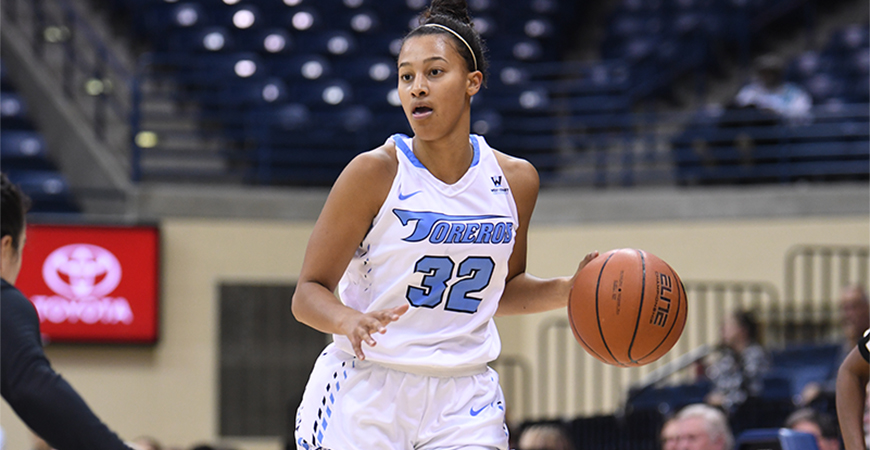 When the University of San Diego closed campus this past March because of the coronavirus pandemic, Toreros scholar-athletes were forced to get creative. While classes continued remotely, Jenny Craig Pavilion was closed. So was the university's weight room. Contact with coaches and the sports performance staff was limited to Zoom sessions.
Of the challenges the pandemic created, women's basketball head coach Cindy Fisher, about to begin her 33rd season as a college coach, said, "Nothing has ever compared to anything like this."
Shuttered from campus, robbed of their old routines, how would athletes improvise? USD Athletics caught up with three Torero student-athletes who detailed how they trained and the excitement they now feel that they're back on campus working out.
Roxie Wiblin, Volleyball
Wiblin is a 6-foot-2 senior outside hitter from Berkeley. When USD first closed, Wiblin remained in San Diego. She taped down a simulated agility ladder in her living room and practiced footwork drills. She tried distance running.
"But I didn't like that much," she said.
Instead, she headed to the alley behind her Mission Beach home and jumped rope.
When the spring semester finished, Wiblin went home to Berkeley. She plopped down a yoga mat on the front patio and cranked out calisthenics. She hopped on an elliptical trainer and made like a Tour de France cyclist.
She hiked near home, 3-milers morphing into 7-mile workouts.
Asked how challenging it was to push herself, Wiblin said, "There's definitely a factor like, 'What's the point?' But when you get to that mental space it's more like, 'What can I do for my teammates?' I know if I'm in better shape I can push everyone, they can push me. It came down to it's not about me anymore. It's about what's best for the program."
Wiblin has started all three years at USD and in 2019 was selected to the U.S. Collegiate National Team.
The Toreros began training inside the JCP in late August but under conditions players had never experienced. No more than five athletes at a time were allowed inside the gym. The players worked on individual drills. Each player had their own set of balls, color coded with dots. The balls were sanitized after workouts for the next group of players.
"It's challenging our creativity, that's for sure," said head coach Jennifer Petrie, now in her 24th season as San Diego's head coach.
Asked what it's like to be back on campus, with her friends, training again, Wiblin said, "It feels the most normal I've felt since March."
Josh Parrish, Men's Basketball
Parrish is a 6-foot-4 graduate transfer forward from Arlington, Texas. When USD closed last March, Parrish had just finished his season at Rice University in Houston. He returned to Arlington for spring break and remained there when the Rice campus closed. He earned a degree in sports management and transferred to San Diego in May.
When Parrish returned to Arlington, gyms were closed and hoops were taken down at parks because of the virus. But his backyard features a cement slab about the size of an NBA key, along with a basket. To launch three-pointers, Parrish stepped back on the grass.
Said the muscular 215-pound forward, who averaged 7.5 points last season for the Owls, "It's a matter of improvisation."
He headed to a park for agility drills. For cardio work, Parrish said he did it, "the old-fashioned way. I'd just go outside and start running 'til I couldn't run anymore."
He tried covering a 4-mile trail. "I couldn't sustain that one," he said. A 2½-mile route was more palatable.
Like the volleyball team, the men's and women's basketball teams were able to begin train inside Jenny Craig Pavilion late last month. But for safety measures, the conditions were far from normal. There was no more than one player working out at the gym's six baskets. Players were assigned specific balls. Coaches wore masks, gloves and some wore shields.
While it's hardly been 5-on-5 scrimmages, after being on their own for months, players and coaches appreciate being inside the JCP, working on their game.
"Certainly it's been fun to be back on the court with the players," said head coach Sam Scholl. "We don't take that opportunity for granted."
Sydney Hunter, Women's Basketball
Hunter is a 6-foot senior guard from Keizer, Ore. She has started the past two years and averaged 7.5 points last season. When USD closed in March, Hunter returned to Keizer, which is about 30 minutes south of Portland.
For her basketball fix, Hunter headed to parks and an elementary school, none of which had nets. With only light-weight dumbbells, she relied on pushups, squats and plyometrics for weight-resistance training.
Wanting companionship on long runs, she jogged around a nearby lake with her dog.
Hunter returned to San Diego in late May. With teammates, she trained at the beach, ran steps at the downtown convention center and found outside courts at Liberty Station and Bay Park.
As for being back around her teammates again, Hunter said, "It felt like home again."
For all USD Athletics news and information updates, visit the website and follow on social media: Facebook, Twitter and Instagram.
Contact:
Chris Kutz, Associate Athletics Director, Strategic Communications
ckutz@sandiego.edu
(619) 260-7930