On-Campus Temperature Screening Locations, Operating Hours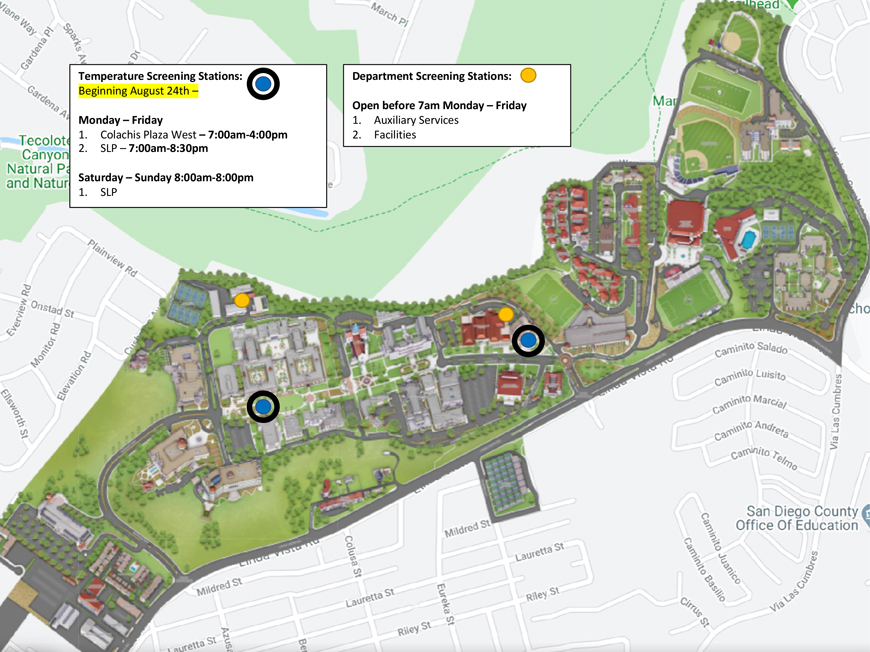 Before entering any campus buildings, faculty and staff will report to one of the temperature screening locations listed below. The individual will be required to show their daily certification email confirmation from Qualtrics; have their temperature taken with a non-contact thermometer; and click on the Qualtrics link to verify the temperature check. This will generate a message that they are certified to be on campus, and a temperature screening attendant will provide them with a wristband to wear before entering campus buildings.
Faculty and staff with temperatures of 100 degrees or higher will be prohibited from being on campus and will be advised to return home or to their residence hall. Employees must also notify their supervisor if they were prohibited from being on campus due to a high temperature reading.
Qualtrics messaging will also provide a workflow to guide various scenarios.
Temperature screening will be provided outdoors at the following campus locations and during new operating hours, effective Aug. 24:
• Student Life Pavilion: 7 a.m. – 8:30 p.m., Monday-Friday; 8 a.m. – 8 p.m. Saturday-Sunday.
• Paseo de Colachis – West: 7 a.m. – 4 p.m., Monday-Friday.
• Auxiliary Services: Open before 7 a.m., Monday-Friday.
• Facilities: Open before 7 a.m., Monday-Friday.
Visit the Torero Blueprint website for more information.