Torero Tidbits: WCC Fall Sports Postponed to Sept. 24; Alumni Events; U3A Summer Sessions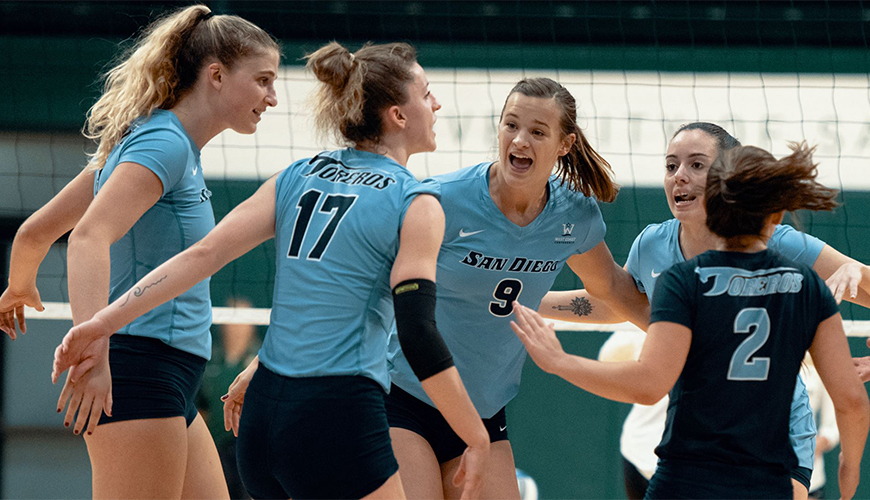 With the health and safety of student-athletes paramount in all decisions, the West Coast Conference Presidents' Council announced today that it will delay the beginning of fall competition in all conference sports due to the COVID-19 pandemic. WCC programs will not participate in any competition prior to Sept. 24, 2020.
The welfare of student-athletes is of primary importance in all decisions. Discussions focused on the health and welfare of WCC students, personnel, fans, and local communities. The conference and its membership understand that providing a safe environment while dealing with this virus has an impact on each of our campus communities as well as our global community.
"This is the right call," University of San Diego Executive Director of Athletics Bill McGillis said in a statement. "The health and safety of our scholar-athletes — as well as that of all coaches, staff, officials and other members of the USD and WCC communities — drove this decision and will remain the primary consideration in our decision-making as we move forward. Our focus should be on the reopening of our campuses and the delivery of an outstanding education to our students. At a minimum, a delayed start to competition will allow us nearly six full weeks following the start of classes on August 17 to assess and better understand the impact of COVID-19 on our campus."
This decision includes the traditional fall seasons in men's and women's cross country, men's and women's soccer and women's volleyball. Baseball, beach volleyball, men's and women's golf (USD does not field a women's golf team), women's rowing, softball and men's and women's tennis, which hold their traditional seasons in the spring, will not participate in a fall competition scheduled prior to Sept. 24.
The men's and women's basketball competition seasons, scheduled to begin Nov. 10, are not impacted by this decision. This does not apply to sports which are not sponsored by the WCC, including BYU and USD football competition seasons.
"I think it's important to note that, while this decision provides clarity as to the earliest date (Sept. 24) on which we will begin competition this fall, there certainly remains the possibility of further significant change to our fall seasons/schedules in the weeks ahead," McGillis said. "I'm proud of the perseverance of all Torero scholar-athletes and am very much looking forward to their arrival on campus prior to the start of classes on August 17."
In-person voluntary and mandatory athletically related activities outside of competition, including training and practices, may be conducted at the institution's discretion in accordance with NCAA regulations and local health and safety guidelines.
"While difficult, this is a necessary move to ensure we are providing the safest environment for our programs to compete," said West Coast Conference Commissioner Gloria Nevarez. "We have worked on plans for a variety of circumstances and believe, with our actions guided by information and science, this is the responsible decision at this time. We will continue to evaluate our best path moving forward with the health and safety of everyone involved as the guiding principle of our discussions."
The WCC Presidents' Council made this decision following extensive review of various contingency plans. The conference continues to discuss options for fall sports. Any further action will be shared at the appropriate time.
Virtual Alumni Events Through July
Coming off last Saturday's very successful virtual 12th annual USD Wine Classic, the USD Alumni Association's signature fundraiser to support student scholarships, it's a good time to remind all Torero alumni about upcoming events through the end of July.
All events below are free. Click on the link to register and obtain the Zoom link.
Affinity Events
July 20: SOLES MEd in TESOL, Class of 2015 Virtual Five-Year Reunion, 5:30-7 p.m., Pacific Time.
July 22: SOLES Counseling Class of 2015 Virtual Five-Year Reunion, 5:30-7 p.m., Pacific.
July 23: Black Alumni Network Virtual Connection, 6-7:30 p.m., Pacific.
July 24: Founders Chapel Choir Virtual Connection, 5:30-7 p.m., Pacific.
July 25: The Complexities of Latinidad in Today's Environment, 11 a.m.-12:30 p.m., Pacific.
July 29: Alumni Veteran Connection and Career Support, 12-1 p.m., Pacific.
Special Events
"Balancing Gratitude and Grief," Wednesday, July 22, 11 a.m. to 12 p.m. Pacific.
Join the USD Alumni Association for a live Zoom event featuring Father Robert Capone, a 1991 USD alumnus and current University Chaplain.
Torero Club Events
July 21: Minneapolis-St. Paul Torero Club, 5-6 p.m. Central Time.
July 22: Inland Empire (Calif.) Torero Club, 5-6 p.m. Pacific Time.
Two University of the Third Age Sessions Remain for Summer 2020
The second of three one-week virtual sessions for USD's University of the Third Age this summer takes place July 27-30. The final week's session of the summer is August 24-27.
One of the best programs for lifelong learners that has been going for more than 40 years at USD, the U3A offers interesting guest speakers from throughout San Diego on a wide variety of topics as well as a technology workshop.
The virtual summer sessions run Monday-Thursday from 8:30 to 11 a.m. To learn more about the program and to sign up for one or both of the remaining U3A weeks — it's $29 for one week, $49 for two weeks, please register here.
— Compiled by Ryan T. Blystone