Catching Up with Women's Basketball Head Coach Cindy Fisher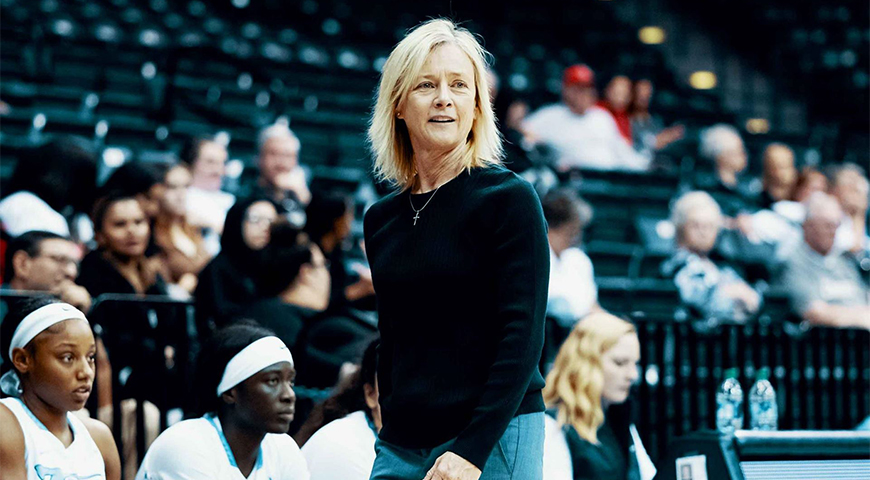 USD Athletics caught up with USD women's basketball head coach Cindy Fisher as her team begins to prepare for the 2020-21 season. The reigning West Coast Conference Coach of the Year shared what the team has been up to, her thoughts on her players turning pro, conversations around racial injustice and more.
How have you been staying connected to your team during this time of social distancing?
We have been keeping our strong connection as a group through Zoom calls. Technology has allowed us to continue to support and uplift each other during these unprecedented times. I am so thankful that we have such an engaged group of people that care deeply for one another and truly look forward to our virtual time together. This time together has provided us a way to continue to build on the team chemistry created throughout a successful 2019-20 season. It has also been wonderful to welcome our new players into the group and to get to know them even better over the last few months.
What do you miss the most about being on campus?
The things I miss most about being on campus are our scholar athletes and my colleagues. I truly miss the interaction with our team every day and the energy that they bring to my life, whether at practice or just stopping by the offices to say hello. I miss seeing them smiling each day and laughing on campus with excitement and hope. I miss driving into work every day and feeling so blessed to work at such an amazing university.
A few outgoing seniors have signed to play professionally. What does that mean to you for them to be taking that next step in their careers?
I am very happy and proud of our graduating seniors that have signed pro contracts. Patty Brossmann and Ana Ramos are currently signed with teams and will be playing in early fall. Leticia Soares will be playing professionally after she completes her degree in November. I know playing at the next level has always been a goal for all of these women, so to see their dreams come true is so exciting — and a huge credit to all of the hard work they put in over the years. We are all so excited for them, and we really look forward to following their pro careers.
You landed a transfer in Steph Gorman to add to the incoming class. Talk about what she's going to add and what you are looking forward to from her, Laura and Gabby.
We are very fortunate to welcome three new players to our roster for next year — Steph Gorman, Gabby Giuffre and Laura Erikstrup. All three of these young ladies are going to make a significant impact in our program immediately. They are a very talented and versatile group, and each one brings a different strength and skill level to their respective positions. Steph and Gabby are scoring guards and with their size are going to be tough matchups for our opponents. Laura is a strong post player who has the unique ability to score away from the basket, while also being a force in the paint. These three along with our amazing returners are going to make this upcoming season very exciting.
In today's climate — what have your conversations with the team been like surrounding racial injustice?
As a team we have all been reading the book, Race Talk and The Conspiracy of Silence, by Derald Wing Sue. Reading this book together, along with our women's rowing team, has opened up an honest and deep dialogue about racial injustice. This book and many other resources made available to us have helped guide the conversations that are so important for us to have. I think what has stood out most to me is the raw emotion and our teams' willingness to share feelings with one another. We've come to realize that this type of dialogue and openness is a first step towards understanding the work it will take for us to have an opportunity to help create change that is desperately needed in this world.
Sue writes, "Personal changes are a lifelong journey, and expecting them to occur in a workshop, classroom, or singular event, event over an extended period of time, is an unrealistic expectation. Perhaps each successful individual racial dialogue should be perceived as planting seeds that will blossom fully in the near future."
It is my hope that by reading this book together we can begin this journey collectively and that we all become stronger allies as a result.
What are your goals and hopes for the 2020-21 squad?
Our goal for the 2020-21 season is to be WCC Champions. This group is extremely focused and determined to win games in the NCAA tournament. Being away from the team and the sport for three months has created an even bigger sense of urgency for us all to get back together to accomplish our goals. It has been very challenging to be away from the team and right now I cannot wait to get back together with this special group in person and reach the goals that we have set.
— USD Athletics