President Harris, Seven Alumni Honored for COVID-19 Impact in "SD 50"
President Harris, Seven Alumni Honored for COVID-19 Impact in "SD 50"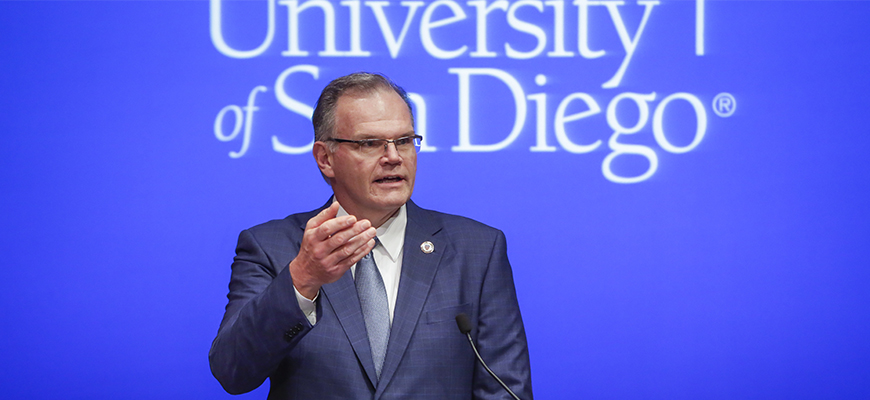 When a crisis strikes — in this particular case a health pandemic stemming from novel coronavirus COVID-19 — the need for leadership, support and action for our city and individual communities is vitally important.
Seeing the hard work and dedication of all healthcare, first responders and many more essential workers, the San Diego Business Journal on Monday published its inaugural special report, "SD 50."
Local business executives and organizations were recognized for making a positive impact during the COVID-19 crisis, leading their companies to adapt quickly to the changing environment and rising to the occasion to help the community.
Fifth-year USD President James T. Harris III, DEd, along with seven USD alumni, were among those recognized as "San Diego's most influential leaders who have made a significant difference during these unprecedented times."
Harris was recognized for "leading USD's collaboration with county leaders to establish USD as a free COVID-19 testing site. It's an action centered around supporting underserved and underrepresented populations in the local community."
He said this in a mini-profile within the publication: "Times like these can produce feelings of hopelessness, but they can also give us hope for humanity as we see people take extraordinary measures to be of service to others."
The seven Torero alumni and their respective impact during COVID-19 are listed below:
John D. Alessio '91 (BBA), '94 (JD), managing partner for Procopio, Cory, Hargreaves, and Savitch LLP. Alessio, who has been involved with the law school's incoming students diversity reception and is active in the Law Firm Challenge through Procopio, has been praised for "protecting the health of over 350 attorneys and staff by shifting them to remote work, making the transition look seamless. He recognized the economic threat faced by clients and worked meet their needs."
Jim Floros '84 (BA), president of Jacobs and Cushman San Diego Food Bank. "Floros has led the San Diego Food Bank and its North County chapter to meet the huge demand from families impacted by the pandemic."
A.J. Moyer '01 (BAcc), president and CEO of C3 Bank. "A.J. created and led C3 Bank's CARES team, which was formed to help our local businesses secure pivotal SBA PPP loans. Under A.J.'s leadership, C3 Bank funded PPP loans for around 500 local businesses."
Larry Nishnick '98 (JD), a corporate and securities partner at DLA Piper LLP. "Larry was part of the national DLA task force assigned with assisting clients with the CARES Act programs including advising and counseling on available government programs such as the Main Street lending program and the Paycheck Protection Program (PPP)."
Keith Olmo '99 (BA), CEO of Jan-Pro of San Diego. "He began supplying the office and independently owned franchisees with Electrostatic sprayers and hospital grade disinfectants. He kept all full-time employees on payroll even with a 30 percent decrease in revenue due to shutdowns."
Ronson Shamoun '98 (BAcc), '02 (JD), '03 (LLM), CEO and principal attorney for RJS Law and a member of the USD School of Law's Board of Visitors. "RJS LAW owns several commercial properties throughout San Diego. Many of his tenants were immensely affected by COVID. In an effort to assist his tenants, Shamoun waived rent payments for many months in an effort to help them stay in business and keep their heads above water."
Tony Teravainen '12 (MS), CEO and co-founder of Support the Enlisted Project and involved with USD's Alumni Veteran Network where he served on a recent virtual panel discussion. "Tony had his organization immediately shift gears to serve families unable to leave their homes for groceries and spouses losing their jobs, critical second income to survive in San Diego."
In addition to short items on their respective COVID-19 action responses, all 50 honorees had a mini-profile spotlight.
— Compiled by Ryan T. Blystone
Quotes provided by The San Diego Business Journal's SD 50 publication.