Shiley-Marcos Valedictorian Grateful for Engineering Opportunities
Shiley-Marcos Valedictorian Grateful for Engineering Opportunities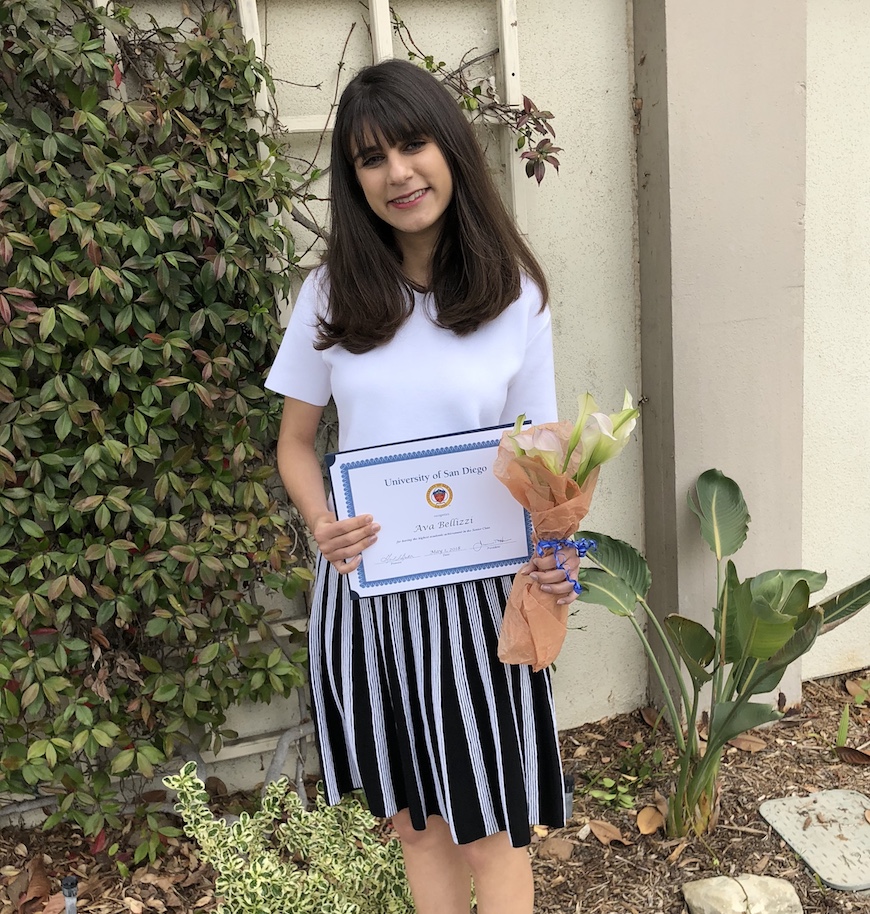 From opportunities for research and scholarship to those in leadership and service, mechanical engineering graduate and valedictorian Ava Bellizzi took advantage of every opportunity she found at USD.
"I am very grateful to have had such a wonderful experience as a student in the Shiley-Marcos School of Engineering," said Bellizzi who graduated with an impressive 3.99 GPA.
From her first semester at University of San Diego, she was active in undergraduate research, first focusing on engineering education with under the mentorship of Professor Susan Lord, and then concentrating on water filtration under Professor Frank Jacobitz.
The latter project led to a senior design project for a water filtration system for use in rural areas of Uganda employing bananas, bio-mass from banana trees and other plants to filter out bacteria and contaminants to provide clean water for the residents there.
Bellizzi also was an active member of the USD section of the American Society of Mechanical Engineers (ASME) where she served as club secretary and then president during the 2019—2020 academic year.
During her sophomore and junior years, she was a part of the Scholastic Assistant program and from the start of her sophomore year until the end of her senior year, she served as a teaching and lab assistant for introductory engineering courses.
"Connecting with my peers and professors through my involvement on campus was certainly a highlight of my USD experience," she said.
In addition to taking part in the USD Honors Program, she was a member of the inaugural cohorts of the Shiley-Marcos School of Engineering's Industry Scholars Program and Industry Mentorship Program, as well as a member of three honor societies: Tau Beta Pi (Engineering honor society), Pi Tau Sigma (Mechanical Engineering honor society), and Kappa Gamma Pi (Catholic college graduate honor society). Bellizzi also received the David Malicky Engineering Scholarship.
As she looks toward the future, Bellizzi plans to pursue a career as a mechanical engineer in the medical device industry and ultimately seek a graduate degree after gaining experience in the field.
"We couldn't be more proud of Ava's academic success and her many other accomplishments exemplifying our mission of creating Changemakers to make a real difference in the world," said Shiley-Marcos School of Engineering Dean Chell Roberts.