USD Graduate on Front Lines of Addressing Homelessness during Pandemic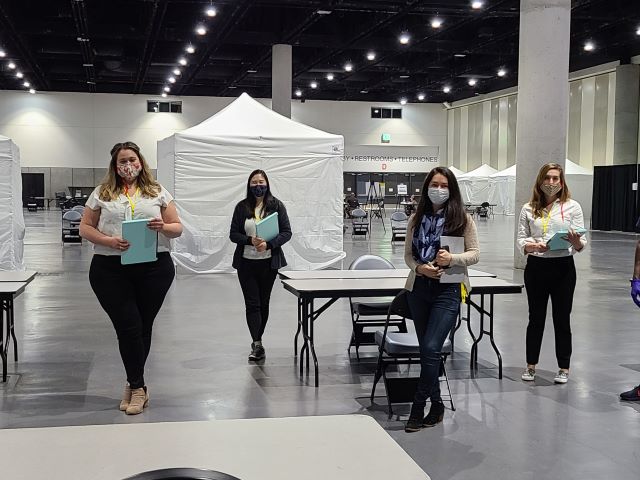 Protecting San Diegans experiencing homelessness has been one of the many COVID-19 challenges. USD graduate Deanna Villanueva has been on the front lines of the effort in San Diego.
"COVID-19 and our response to it has launched us into an entirely new realm when it comes to homelessness and how we address it in the city of San Diego," said Villanueva (pictured third from left) of the San Diego Housing Commission.
The Commission, is part of a joint partnership between the City of San Diego, County of San Diego, and the Regional Task Force on the Homeless. This partnership effort has provided shelter for over 1,100 people experiencing homelessness in the San Diego Convention Center.
"The first concerns we all had were how to keep our most vulnerable residents safe and how to slow the spread of COVID-19 among this population and it's been gratifying to see the effort succeed", said Villanueva, the lead for the partnership's Housing Navigation team. "I get to work alongside a dedicated team of people, including our partners, who are working tirelessly to move people experiencing homelessness into their next home."
The effort is laying the groundwork to help many of them find permanent housing by connecting them with resources like financial assistance and case management services, added Villanueva, whose official title is Vice President of the Commission's Housing First Programs.
"The Convention Center creates a unique opportunity to centralize homelessness resources in one space," she said.
Even before the crisis, the joint efforts to shelter and house individuals and families experiencing homelessness have been bearing fruit. Since 2017, the San Diego region has seen a decrease in the number of people experiencing homelessness each year, according to the annual Point-in-Time Count, a census of individuals experiencing homelessness.
Overcoming the challenges to helping this population find housing brings real satisfaction, said Villanueva, who earned a bachelor's degree in Sociology from USD in 2007 and a master's in the subject from American University.
It's "as much about housing availability and affordability as it is about any other barriers and difficulties people face in their day-to-day lives that lead them to where they are now," she explained. "We meet people where they are, work to understand what objectives they'd like to accomplish and do everything we can to support them in their plans to find their next home."
Villanueva, whose parents always emphasized the importance of giving back, said she's known since she was a teenager growing up in Silicon Valley that she wanted to do this kind of work. "It's an incredible privilege to wake up every day in a city that I love, to do the work that I know I was called to do."
While she's always had the desire, attending USD was critical to her success and a big reason why she's continued to generously support the university, including for student scholarships during this challenging time.
"USD was an essential component of my preparation for this work. I spent four years in an environment that fostered service to our community, compassion, excellence, critical thinking and innovation – skills and traits that help me today," she said.
"I can only hope to try to honor all of (my parents') sacrifices through the work I do every day and through my contributions to other students who may need some help to get to where they want to go."
— Liz Harman