USD School of Law Alumni Megan Donohue '09 (JD) and Nick Fox '11 (JD) Share How USD Prepared Them for Success
Megan Donohue '09 (JD) and Nick Fox '11 (JD) Share How USD Prepared Them for Success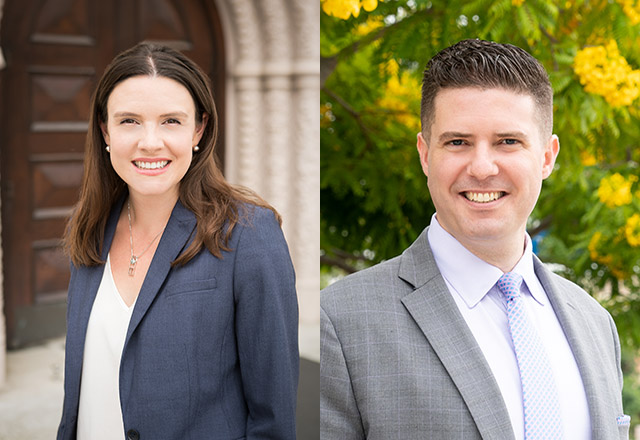 SAN DIEGO (April 15, 2020) – University of San Diego (USD) School of Law alumni and Rising Star Recent Alumni Award recipients Megan Donohue, '09 (JD), and Nick Fox, '11 (JD), share with admitted students how USD prepared them for bright and impactful legal careers.
Megan Donohue '09 (JD)
Megan Donohue is an experienced business litigator, with a focus on advertising and media disputes, who also counsels clients on consumer protection issues, class action lawsuits and complex business litigation. She represents clients in many different industries, both small start-ups and industry leaders, including pharmaceuticals, healthcare, nutraceuticals, cosmetics, consumer products and digital media. She has successfully defended numerous advertising challenges, often involving emerging technologies and business models, and has initiated and defended challenges before the National Advertising Division of the Council of Better Business Bureaus.
Donohue also counsels clients on advertising claims and their substantiation, to help clients avoid litigation challenges as they grow their business. She also advises on issues, like privacy and trade secret problems, that threaten client's innovations.
In addition, Donohue has a robust pro-bono practice that focuses on protecting the rights of immigrant youth. Most recently, she worked with the ACLU, representing a group of amicus clients (including USD's own Children's Advocacy Institute) challenging the separation of families at the Southern border in Mrs. L v. ICE. She is also challenging the treatment of unaccompanied minors in government detention through a nationwide class action.
Donohue is a committed member of the USD community. She currently serves as president of the USD Law Alumni Association Board of Directors and is a former adjunct professor, teaching moot court appellate advocacy. In law school, she was a competing member of the Moot Court Board and National Mock Trial Team. She also served as a member of the San Diego International Law Journal.
Nick Fox '11 (JD)
Nick Fox is a senior counsel at Foley & Lardner LLP, where he practices in the area of business and civil litigation, including class action defense.
Fox serves on the Board of Directors for the San Diego County Bar Association and the Tom Homann LGBT Law Foundation. He is a Fellow of the American Bar Foundation as well as a member of the American Bar Association, National LGBT Bar Association, Federal Bar Association, Association of Business Trial Lawyers (and serves on its leadership development committee), and numerous diversity bar associations. Fox recently completed seven years of service as a board member of the Tom Homann LGBT Law Association, where he also served as co-president from 2013 to 2015, and again from 2016 to 2018. He is a barrister member of the Honorable William B. Enright American Inn of Court.
In 2019 and 2018, San Diego Super Lawyers recognized Fox as a Rising Star, and he has received the State Bar of California's Wiley M. Manuel Certificate for Pro Bono Legal Services for multiple years. In 2017, the San Diego Law Library Foundation honored Fox with the inaugural Witkin Changemaker: Advancing Access to Justice Award. He received the Tom Homann LGBT Law Association's Co-Presidents' Award in 2015, and Legal Aid Society of San Diego's Outstanding Service Award in 2013.
During law school, Fox was senior executive editor of the San Diego Law Review and a member of the Appellate Moot Court Board. He serves on the USD School of Law Alumni Association Board of Directors with leadership roles on the executive, nominating, philanthropy/sponsorships, and diversity committees. Fox is USD's Law Firm Challenge Captain at Foley, a participant in the alumni and student mentoring program, and a former class reunion committee member.
Fox co-founded the USD School of Law LGBTQ Alumni Scholarship, in collaboration with fellow alumni, to benefit LGBTQ+ law students who demonstrate a commitment to advancing LGBTQ+ issues as well as leadership and involvement in the LGBTQ+ community.
About the University of San Diego School of Law
Each year, USD educates approximately 800 Juris Doctor and graduate law students from throughout the United States and around the world. The law school is best known for its offerings in the areas of business and corporate law, constitutional law, intellectual property, international and comparative law, public interest law and taxation.
USD School of Law is one of the 84 law schools elected to the Order of the Coif, a national honor society for law school graduates. The law school's faculty is a strong group of outstanding scholars and teachers with national and international reputations and currently ranks 36th nationally among U.S. law faculties in scholarly impact and 22nd nationally in past-year faculty downloads on the Social Sciences Research Network (SSRN). The school is accredited by the American Bar Association and is a member of the Association of American Law Schools. Founded in 1954, the law school is part of the University of San Diego, a private, independent, Roman Catholic university chartered in 1949.