Athletics Roundup: Men's Basketball on Win Streak; Women's Basketball Tops SDSU; Swim/Dive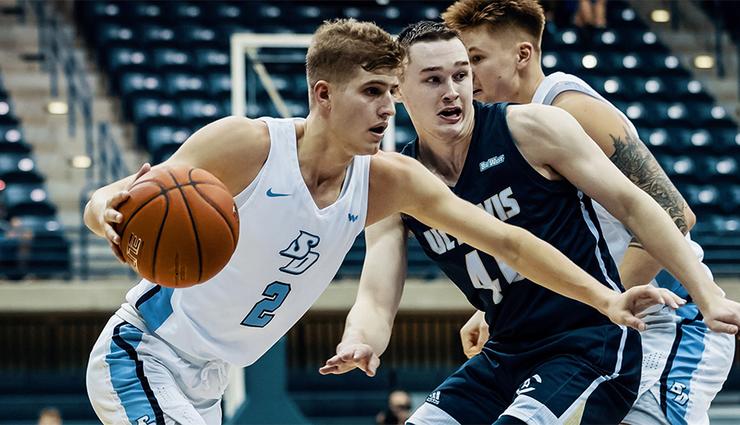 The University of San Diego men's basketball team has given itself a present this December as it has a modest three-game win streak, giving it something to build on with West Coast Conference play starting in a few weeks.
This past week, the Toreros topped a pair of Big West Conference teams in nonconference action, earning a 66-54 road win against Cal State Fullerton on Dec. 11 and then edging UC Davis 58-54 on Dec. 14 in the Jenny Craig Pavilion.
The Toreros, now sporting a 6-7 record, can get to a .500 winning percentage this Saturday when the team travels to the Bay Area to play in the Al Attles Classic against Pac-12 Conference foe Stanford at noon in San Francisco's Chase Center (home of the NBA's Golden State Warriors). Stanford took a 9-1 record into a nonconference game on Tuesday against University of San Francisco.
Against Fullerton, Braun Hartfield scored 18 points — one of three players to finish in double figures — and USD as a team outrebounded the Titans 49-31 to earn the victory in Titan Gym. Hartfield scored 15 of his 18 points in the first half and the defense limited Fullerton to under 60 points and 35 percent shooting from the field (21 of 60). In addition to Hartfield, USD's James Jean-Marie had 14 points and Marion Humphrey had 10 points, six rebounds and four assists. Alex Floresca had 10 rebounds and Yauhen Massalski had eight.
Against UC Davis, San Diego held the Aggies to one field goal in the final seven minutes and went on a 12-2 run late in the second half to pull ahead for the win. The Toreros held the Aggies to 31% from the field and 21% from three-point range. With UC Davis limited offensively, USD made five of its last eight shots to secure the victory.
Joey Calcaterra kept the Aggies away in the final minute by making 5-of-6 free throws and finished with 11 points, as did Hartfield. Finn Sullivan had 10 points and Jared Rodriguez added nine. San Diego outrebounded UC Davis 36-29 and outscored them in the paint, 32-18. Humphrey led San Diego with a career-high 12 rebounds.
Men's Basketball Schedule (through Dec. 31): USD vs. Stanford, Saturday, noon, as part of the Al Attles Classic, Chase Center in San Francisco; USD hosts Whittier College, Sunday, Dec. 29, 2 p.m., Jenny Craig Pavilion.
The USD women's basketball team had a big two-game week on its schedule this past week. Cindy Fisher's team fulfilled the first half of it with a convincing 70-47 road victory against cross-town rival San Diego State on Dec. 11. The second half of the week, however, was hampered by a cold-shooting Torero team that fell at home, 65-47, against Washington on Dec. 15.
In the win over the Aztecs, the Toreros never trailed and had a solid defensive outing on the road. The win marked the largest victory against the Aztecs since the 2016-17 season.
The San Diego defense forced 20 Aztec turnovers. Those takeaways turned into 15 points on the offensive end of the floor. Myah Pace led the way individually with five steals, one shy of tying her season-high. Pace currently leads the West Coast Conference in takeaways.
Senior Madison Pollock was potent against the Aztecs, scoring a season-high 19 points and pulling down seven rebounds. Two other Toreros recorded double figures as Sydney Hunter contributed 14 points and four steals, and Pace scored 12 and grabbed six rebounds.
San Diego's offense crashed the glass well, pulling down 20 offensive boards to rack up 16 second-chance points. Four Toreros contributed at least five rebounds as USD collected 44 rebounds.
Sunday's game was a different story. The Toreros (5-5) stumbled against Washington, shooting only 28.6 percent from the field and 12.5 percent from beyond the arc in the loss to the Huskies.

Pace was the offensive bright spot for San Diego as the junior guard recorded a career-high 19 points and had four rebounds, one assist and three steals.

Senior Patricia Brossmann also recorded double figures with 12 points and six rebounds off of the bench, and Jordyn Edwards added eight points and three steals.

San Diego's defense worked to limit the Huskies offensively, holding Washington to only 39 percent shooting from the field including 29.2 percent from beyond the arc.

Cold shooting caused San Diego to struggle out of the gate, falling behind 25-9 at the end of the first quarter. The Toreros continued to lose ground in the second quarter and faced a 43-21 halftime deficit.

Pace maintained a steady offensive presence for San Diego shooting 4-4 from the line in the third. Despite Pace's offensive momentum, USD's deficit continued to grow after halftime, and the Toreros faced a 57-31 disadvantage heading into the fourth quarter.
Women's Basketball Schedule (through Dec. 31): USD hosts Cal State Northridge, Saturday, 2 p.m., Jenny Craig Pavilion; West Coast Conference play opens — USD at Pepperdine, Saturday, Dec. 28, 2 p.m., Malibu, Calif.; USD at Loyola Marymount, Monday, Dec. 30, 2 p.m., Los Angeles.
The Toreros dominated Utah's Dixie State in a dual meet on Dec. 14 at the Sports Center Pool in San Diego. Torero swimmers finished first place in 12 of 14 events, and raced to second- and third-place spots in the other two en route to a 189-62 victory.

Freshman contributed four first-place finishes with three coming from Rachel Hubka. She continued a streak of strong performances, finishing first in all of her events including the 200-freestyle relay. Her 50-yard butterfly, 50-yard free, and 100-yard free times were solid showings but were not enough to match her career-best times she set at the Pepperdine Invitational just a few weeks ago.

Fellow freshman Callie Johnson swam into first place in the 100-yard breaststroke with her 1 minute, 8.72 seconds time. Johnson proved she wasn't the only strong breaststroker on the team as the Toreros also took second, third and fourth place in the event.

Dive had an exceptional day, with Isabel Busyn finishing with a 433.28 while Catherine McCarthy secured a 412.57.
Keep up with all USD Athletics news, scores and information on its website. Follow the Toreros on social media: Facebook, Twitter and Instagram. The final USD News Center athletics roundup entry for 2019 will appear on Dec. 23.