Athletics Roundup: Volleyball Season Concludes in Hawaii; M&W Basketball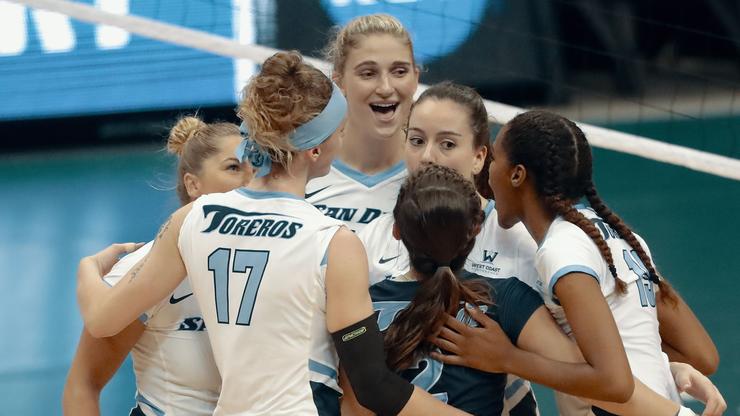 The 2019 University of San Diego women's volleyball season began in Honolulu, Hawaii in late August and, despite a strong effort this past weekend, the season also concluded here in December.
San Diego, making its 10th consecutive NCAA Tournament appearance, knocked off Washington State in four sets in a first-round match Dec. 6, but 24 hours later, regional host and NCAA Tournament 12th seed Hawaii swept San Diego, 25-23, 25-21, 25-21.
The Toreros (25-6), who opened their season in the Hawaiian Airlines Rainbow Wahine Classic Aug. 30-Sept. 1 and took Hawaii to a five-set match, on Saturday took three tightly-contested sets down to the wire, but were unable to push past the Rainbow Wahine (26-3) before 8,000 fans in Stan Sheriff Center.
Grace Frohling and Katie Lukes led USD with 10 kills apiece and Megan Jacobsen added eight kills, hitting at a team-high .389 clip. Anna Newsome collected 35 assists and added 10 digs to record her ninth double-double of the season. Roxie Wiblin also registered 10 digs, while Annie Benbow paced the team with 11 digs.
Defensively, the Toreros struggled at the net, collecting three team blocks to UH's nine. Frohling led the team with two blocks (one solo). Newsome and Camryn Tastad registered two service aces for USD.
The Toreros had difficulty slowing the one-two punch of Hawaii's Hanna Helvig and Mckenna Ross, who collected 12 and 10 kills respectively while the Bows finished with a .277 hitting percentage. Skyler Williams and Helvig led the defensive effort for UH with four blocks apiece.
In Friday's NCAA first-round match, the Toreros had four players reach double-digit kills en route to a 25-21, 22-25, 25-19, 25-14 victory over the Washington State Cougars (23-10).
Frohling paced the Toreros offensively with 17 kills, tying her career high. Lukes added 15 kills, while Thana Fayad and Jacobsen finished with 12 and 11 kills, respectively. Newsome directed the San Diego offense to a .308 hitting percentage, collecting 57 assists — one shy of her career high. Newsome tallied 15 digs for her eighth double-double of the season and added eight kills.
USD was strong defensively, holding the Cougars to a .168 hitting percentage. The Toreros excelled in the back court, collecting 76 digs to WSU's 44. Benbow led USD with 21 digs and Fayad added 10 for her 10th double-double of the season.
The Boca Raton (Fla.) Beach Classic provided two perspectives for the USD men's basketball team in its four-game appearance — two games played at San Diego's Jenny Craig Pavilion were victories and two games played at the Abessinio Court at Florida Atlantic University Arena were both losses. San Diego is now 4-7 on the season.
San Diego's two wins came against Hofstra, 79-69 on Nov. 27, and a 68-51 triumph against Holy Cross on Dec. 7. In between and in Florida, the Toreros lost 70-61 against St. Bonaventure on Dec. 1 and less than 24 hours later, dropped an 89-83 decision to University of Illinois at Chicago (UIC). The 89 points is the most allowed by the Toreros in a game this season.
Against Hofstra, Braun Hartfield scored a career-high 25 points and grabbed 12 rebounds and Joey Calcaterra added 21 points to lead San Diego to the tournament-opening win.
Going to Florida for the immediate post-Thanksgiving games, the team played St. Bonaventure first.
San Diego led 35-33 at halftime, but the Bonnies made 10 of their last 17 shots, including three in a row, and had a 13-2 run to defeat San Diego. Hartfield led USD with 18 points, including three 3-pointers, Calcaterra and Alex Floresca scored 11 and 10 points, respectively.
In the loss to UIC, the Flames used a pair of big first-half runs, 25-3 and 10-2, en route to a 42-30 halftime lead. The second half was a matter of the Toreros playing catch-up with a 53-point effort, but it wasn't enough. Four San Diego players were in double figures, led by Jared Rodriguez's 22 points. Calcaterra had 19, Marion Humphrey had 17 and Hartfield had 14 points and 10 rebounds.
Returning to the JCP for the tournament finale, Yauhen Massalski led the Toreros with 12 points and eight rebounds in the win over Holy Cross. Hartfield had 11 points, six rebounds and three steals and Finn Sullivan had 10 points.
Men's Basketball Schedule: USD at Cal State Fullerton, Wednesday, 7 p.m., Titan Gymnasium, Fullerton, Calif; USD hosts UC Davis, Saturday, 7 p.m., Jenny Craig Pavilion.
It was a tough week at home for the Torero women's basketball team. Two losses in Jenny Craig Pavilion came against Idaho, 65-32, on Dec. 4 and then 72-67 to Cal State Fullerton on Dec. 7.
Idaho dominated San Diego running out to a seven-point lead after one quarter and a 36-16 halftime lead. A 20-point third quarter sealed the win for the Vandals. In the loss, Myah Pace and Jordyn Edwards had eight points apiece. Patricia Brossmann had nine rebounds and Leticia Soares had four points and eight rebounds.
A few days later, San Diego led 35-28 at halftime against Fullerton, but the Titans outscored the Toreros 23-11 in the third quarter en route to the victory. Edwards had a big game with a career-high 22 points and Pace tallied 17 points, six rebounds, six assists and four steals. Soares scored 12.
The losses drop the Toreros to 4-4 on the season with the cross-town rival game ahead as San Diego State hosts it at 6:30 p.m. on Wednesday.
Women's Basketball Schedule: USD at San Diego State, Wednesday, 6:30 p.m., Viejas Arena; USD hosts Washington, Sunday, 2 p.m., Jenny Craig Pavilion.
San Diego' Miguel Berry, Henry Lander, Aaron Frey and Ross Meldrum were named to the United Soccer Coaches NCAA Division I All-West Region teams, the organization announced today. Berry and Lander were named first team while Frey was second and Meldrum third. This year marks only the third time in school history that two Toreros were named all-region first team (Previously in 2012, 2001). The four all-region selections are also the most for USD in a single season.
Keep up with all USD Athletics news, scores and information on its website. Follow the Toreros on social media: Facebook, Twitter and Instagram.