Strong September for Nationally-Ranked Men's Soccer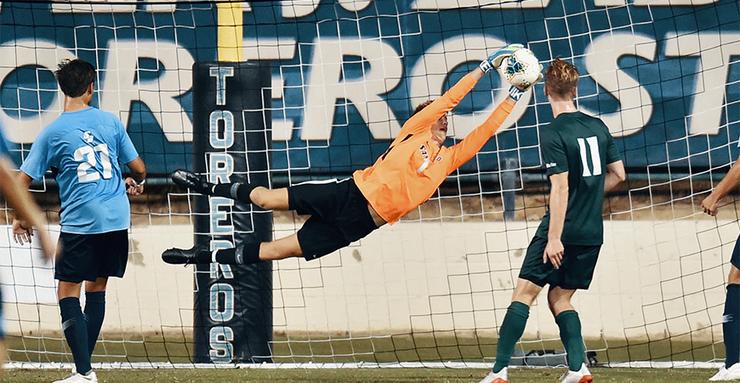 The University of San Diego men's soccer team is traveling to Morgantown, WV, for a nonconference game on Friday, Oct. 4, with No. 23 nationally ranked West Virginia. The game is a big test for the Toreros, who will start West Coast Conference play in mid-October.
But as West Virginia prepares for USD, it's likely they, too, will be taking this game seriously. That's because USD Head Coach Brian Quinn's team is also nationally ranked at No. 25 in the United Soccer Coaches/NCAA Top 25 poll and brings a 7-1-1 record into the match.
The Toreros have gotten off to a strong start, winning six games by shutout, topping cross-town rival San Diego State, 3-2, in the season opener at SDSU and earning a 2-2 tie against a UC Santa Barbara team to open October. Tying UCSB was an okay result considering the Gauchos had played then No. 1 and current No. 2 Stanford to a tie. Only USD's 2-1 loss to Sacramento State kept it from having an unbeaten September.
This year's successful start has been the program's best since 2002 when it won nine of 10 games. A few constants for the 2019 team has been the scoring touch of senior forward Miguel Berry (Poway, Calif.) and goalkeeper Matt Wiher (Irvine, Calif.).
Berry, a 2019 preseason All-WCC selection, has scored seven goals and assisted on four others for a team-high 18 points. He's had four game-winning goals, he scored USD's lone goal against Sacramento State and he's had a pair of two-goal games in wins over SDSU and Belmont.
Along with stellar defensive play from multiple players in front of him, Wiher, a redshirt sophomore, has posted six shutouts in nine games and has allowed only six goals. He was named the WCC Player of the Week in early September after he posted three shutout wins in one week. Wiher is the first Torero to earn the WCC Player of the Week award since Berry in October 2017 and is the first USD goalkeeper to be named the conference's top player of the week since Thomas Olsen in September 2017.
The September success in nonconference play will surely help the men's soccer team prepare for what will likely be another balanced and formidable group of teams in the WCC. USD's conference play opens at home on Saturday, Oct. 12 at 7 p.m. against San Francisco. The current Top 25 poll has WCC Saint Mary's ranked 10th and Loyola Marymount as one of the top "others receiving votes" teams.