USD Women's, Men's Rowing Gain New Leadership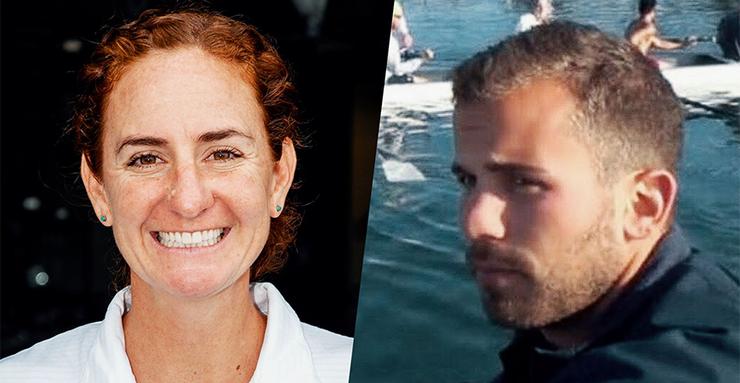 The University of San Diego women and men's rowing programs will be under new leadership starting in 2019-20 as Stesha Carlé, an assistant coach for USD the last two years, was elevated to head coach of the women's team while Ben Hise, head coach of Capital Crew in Sacramento, Calif., has been named head coach of the men's rowing program, Associate Vice President/Executive Director of Athletics Bill McGillis announced late last week.
Carlé takes over USD women's rowing after Sarah Trowbridge, the Toreros' head coach for the last two years, resigned to join her family on the East Coast. Trowbridge's husband, Bryan Volpenhein, was recently named the head men's rowing coach at Penn.

"Sarah Trowbridge is an extraordinary coach and leader, and she did an outstanding job in building a new foundation for success in women's rowing at USD," said McGillis. "Coach Trowbridge will depart having left a legacy of integrity, values, passion, toughness and competitiveness that will result in championship success for our program. We wish her and Bryan the very best for their futures.
"I also knew from the get-go that the next and right head coach was already on our campus," McGillis continued. "Stesha Carlé is uniquely positioned to lead our program forward, and I've never been more confident in elevating an assistant coach to the head coach role. Coach Carlé has made immense contributions to our program over the last two years, while serving as our top assistant. She brings an excellent background as a world-class rower and terrific coach to her new position. Coach Carlé is a ferocious competitor and a strong, positive and inspirational leader who is committed to our vision of Winning in the Classroom, Winning on the Playing Field and Winning in the Community. I fully expect our women's rowing program to continue its climb to national prominence under her leadership."

After a decorated four-year collegiate rowing career at Michigan, Carlé competed with the U.S. National Team and won six medals, including three silvers at the world championships in the W4x in 2008, 2009 and 2011. Her silver in 2008 was, at the time, the highest the U.S. had ever finished in the event. She went on to capture gold medals in the W1x, W2x and W4x in the 2014 National Championships.

Using her seven-year national team experience, she was also a runner-up at the Olympic Trials in 2016.

While rowing with the nationally-ranked Michigan program, Carlé helped guide the Varsity 8 to a second-place finish at the NCAA Championships in 2003 and third-place finishes in 2004 and 2005. As a team, Michigan finished in the top four in 2003 and 2004, lifted by Carlé and the Varsity 8's performances. In addition to her time as a Wolverine, Carlé rowed for the national U-23 team in 2005 (gold medal) and 2006.

A native of Long Beach, Carlé has also worked with the Long Beach Rowing Association and the Southern California Sculling Club in Huntington Beach, Calif.
"I could not be more excited to be the next head coach of women's rowing at USD," said Carlé. "I would like to thank Bill McGillis and (Associate Director of Athletics and men's rowing sports facilitator) Josh Lawrence for this tremendous opportunity. Sarah Trowbridge has been an amazing mentor, colleague, teammate and friend, and I wish her the best as she makes the move east with her family. USD has a strong focus on creating scholar-athletes who are successful in the classroom, on the playing field and in the community. These values, combined with outstanding scholar-athletes, make this the perfect fit. Over the past two years as an assistant, I have helped this team develop strong athletes and fierce competitors. With the addition of this year's incoming class, I look forward to leading the Toreros to success on the national level."

Hise, who has led Capital Crew for the last three years after previously serving as an assistant coach at Washington and UC Irvine, becomes the second coach of the program in the last 28 years. He replaces former head coach Brooks Dagman, who retired in May.

"We cast a very wide net in our national search for Coach Dagman's successor, and it became crystal clear to me in the end that we had the opportunity to hire a very special young coach in Ben Hise," said McGillis. "I could not be more excited that he chose to join our program. Coach Hise's experience as both an elite club coach, and as an assistant coach at the collegiate level, have prepared him well for this role. He is a dynamic coach and leader with the energy we need to develop a strong men's program. Coach Hise will connect well with the young men and women on our team and he will be a force on the regional and national recruiting fronts."

"First, I want to thank Bill McGillis and Josh Lawrence for the opportunity to work with the men's rowing team at the University of San Diego," said Hise. "I'm very excited to get to work with the dedicated scholar-athletes, the passionate alumni and the athletic administration at USD. In all my discussions with Bill and Josh, it was very clear that the rowing program is very well supported by the athletic department. I feel that their values align perfectly with mine in that we want to develop the scholar-athletes as people and as athletes and we want the most competitive program that we can create together. I also appreciate having met some of the program's passionate and supportive alumni during the search process and am very much looking forward to working together with them to build a program of which they will be proud."

A native of Northern California, Hise spent the last two years as the rowing manager and head men's coach at Capital Crew in Sacramento. In his role, he oversaw development of more than 150 athletes and led the men's varsity eight to gold medals in the state championship and San Diego Crew Classic for the first time in 13 years. In the 2019 regionals, he guided three boats to first-place finishes.

Hise last coached at the collegiate level as an assistant with the Washington women's rowing team in 2015-16. With his help, the Huskies captured a top-three finish in the Pac 12 Championships and advanced to the NCAA Regatta.

Prior to Washington, Hise served as a coach with the Newport Aquatic Center, leading the men's lightweight eight to a second-place finish at nationals and regionals in 2014. He was elevated to head women's rowing coach in 2015, where he led the lightweight eight to the Southwest Regional Championship for the first time in the club's history. The varsity eight also advanced to nationals after a third-place regional finish, making the Newport Aquatic Center the only girls' program to send both eight to nationals.

As a student-athlete at UC Irvine, Hise stroked for the varsity eight for three years. He served as a team captain in his junior and senior years before taking over the novice program as a coach in 2012. He was quickly promoted to men's head varsity coach in 2013, leading the varsity eight to its first Western Intercollegiate Rowing Association (WIRA) victory in 21 years.

Hise graduated from UC Irvine in 2011 with a degree in English. Carlé, meanwhile, holds a degree in Movement Science ('06), specializing in exercise physiology, biomechanics and motor control, from Michigan.

Both teams will take the water for the first time in competition in October.
— USD Athletics