Toreros Football: New Season, Same Goal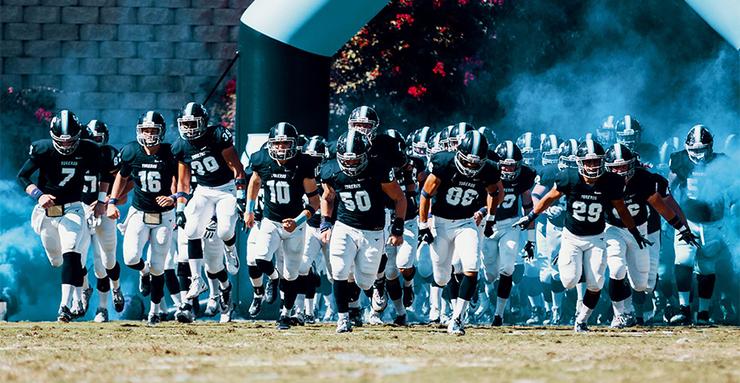 At 76 years young, Dale Lindsey is about to embark on his seventh season as University of San Diego head football coach. His goal this season is the same as the previous six.
"Win the Pioneer Football League. Go to the playoffs," he said.

Standards obviously don't deviate for the San Diego football team, which began practice for the 2019 season on Aug. 2. Lindsey has strung together five straight PFL championships. In all, USD has won the PFL title seven of the past eight years.
Rival coaches expect more of the same this season. For the ninth straight year a PFL coaches' poll picked the Toreros to finish first.

As for San Diego's dominance, Lindsey said, "I think it's a statement that we have done a good job of recruiting players, they've done a good job of listening and the coaches have done a good job coaching them.
"We don't have any magical formula. I think it's a result of a lot of hard work."

Six USD players were named to the 2019 Preseason All-PFL team, two each on offense, defense and special teams.

Leading the way is wide receiver Michael Bandy, one of 25 players named to the Walter Payton Award Watch List, the honor symbolic of the Football Championship Subdivision's Heisman Trophy.

Bandy is coming off one of the most stunning seasons in San Diego history. The senior from La Mirada, Calif., caught 88 passes for 1,698 yards and 14 touchdowns. The yardage total was the fifth most in FCS history.

Asked what he can do for an encore, Bandy said, "I just want to help this team win more games. I want a better record than last year, go deeper in the playoffs. That's the main goal."

Joining Bandy on the Preseason All-PFL team are running back Emilio Martinez, defensive end Nick Friedel, linebacker Kama Kamaka, kick returner Michael Armstead and punter Tanner Kuljian.

A junior, Martinez compiled 1,157 yards from scrimmage and scored 13 touchdowns in 2018. A redshirt junior, Friedel filled the stat sheet last season, compiling 36 tackles, 9.5 tackles for losses, 3.5 sacks, 1 interception and 1 fumble recovery. A junior, Kamaka logged 69 tackles, 5.5 for losses, an interception and fumble recovery. A redshirt junior, Kuljian was one of the nation's best punters. Not only did he average 42.8 yards per punt, but 25 of his 59 kicks landed inside the 20. He was picked to the inaugural FCS Punter of the Year Award Watch List by The Augusta Sports Council. A senior, Armstead averaged a whopping 32.3 yards per kickoff return, including two for touchdowns.

There are two main question marks for USD entering the season. Only one starting offensive lineman returns, Aidan Valencia, and Valencia is moving from right to left tackle.

And, for the first time since 2014, Anthony Lawrence, who set every major San Diego career passing record, will not be the Toreros' starting quarterback. Going into practice there was a three-way battle between Reid Sinnett, Mason Randall and Alex Farina to earn the starting job. A fifth-year senior, Sinnett went in listed No. 1 on the depth chart.

Regarding breaking in a new quarterback, Bandy said, "It's going to be different, but I'm excited to see what the new quarterback can do. It's going to be a good competition through camp. All three guys can get the job done."

San Diego opens the season Aug. 31 at Cal Poly. The Toreros play their first home game Sept. 7 against UC Davis. Check out the rest of the 2019 season schedule here.
Contact:
USD Athletics
(619) 260-4803