USD Athletics Honors 2018-19 Student-Athletes at Celebration of Excellence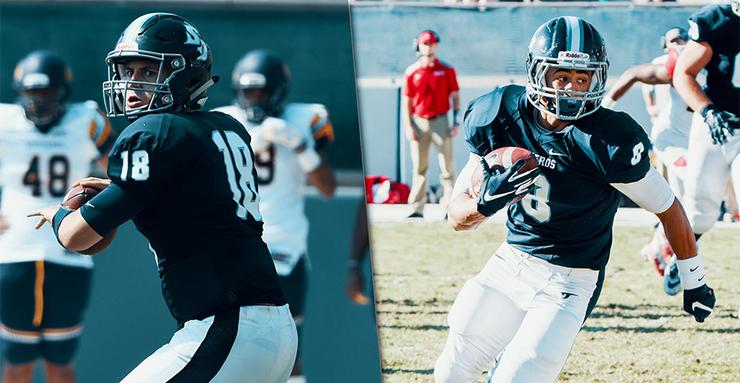 University of San Diego Athletics held its 2018-19 Celebration of Excellence awards program on Monday, May 13 at Balboa Park's Air and Space Museum. In all, 11 awards were given to Torero student-athletes, including the Male and Female Toreros of the Year.
Toreros of the Year
Women's volleyball standout middle blocker Addie Picha was chosen as the Torero Female Torero of the Year. There were two male athletes selected as top Torero, tennis player Gui Osorio and football quarterback Anthony Lawrence.
Picha was an All-West Coast Conference first team selection, an AVCA Pacific South All-Region Team honoree and an AVCA All-America honorable mention in 2018. Picha was ranked among the top 15 in the country in attacking percentage, and top 20 in blocks and blocks per set for a majority of the season. She led the WCC in total blocks, and was second in blocks per set and hitting percentage. Picha accounted for 68 percent of USD's total blocks last year.
Osorio led the men's tennis team to its fifth straight regular-season WCC title in six years, its sixth consecutive WCC Tournament title, a 20-plus win season and to the second round of the NCAA Tournament. Osorio, a junior, is the 2019 WCC Player of the Year, a first-team selection in singles and doubles and a WCC All-Academic Team selection. His season is not over yet as he will be in the 64-player draw of the NCAA Individual Championships singles tournament beginning May 20 at the USTA National Campus in Orlando, Fla.
Lawrence set all kinds of USD and Pioneer Football League records in his final season. The PFL Offensive Player of the Year and PFL first-team selection became the USD and PFL's all-time leading passer and completed his career with 12,628 passing yards. He produced a career year in his senior season, registering career highs in completions (282), yards (4,107), touchdowns (39), average yards per pass (9.5), average yards per game (342.2) and efficiency rating (171.7). Lawrence's 39 touchdown passes are tied for 15th most in FCS history in a single season and his 4,107 yards ranks 25th all-time. Lawrence also climbed the charts in multiple FCS all-time career records, including touchdown passes (5th, 120), passing efficiency (6th, 161.8), passing yards (10th, 12,681) and total offense (14th, 12,681).
Top Torero Win
The Top Torero Win Award went to women's volleyball, likely for its second-round sweep of NCAA Tournament Regional host USC, 27-25, 25-21 and 25-19 on Dec. 1. The victory not only sent USD to the NCAA Round of 16, but it also snapped an 0-7 record in NCAA Tournament play against the Trojans. USD had also lost to USC earlier in the 2018 season.
Highest GPA Awards
The Highest GPA Awards went to a top sophomore, junior and senior: Jessica Ong, a standout on the women's cross country and track teams, earned a 4.0 GPA. Ong is a psychology major and a business management minor; Clare Adams from the women's rowing team, was named the top junior with a 3.99 GPA. Adams is an international relations major and biology and Spanish minor; Camille Morales, a women's cross country and track competitor, has the top GPA for a senior at 3.92. Morales is a biology major with minors in chemistry and philosophy.
Service, SAAC and Spirit Awards
The Father Owen Mullen Service Award went to men's cross-country runner James Davenport and football wide receiver Kaene Soto. The Spirit of the Torero Award was given to baseball's Nigel Ward, a right-handed relief pitcher. The Student-Athlete Advisory Committee Award was given to Mackenna Briggs of the women's swimming and diving team. Briggs was the 2018-19 SAAC President.
Torero Newcomers of the Year
Torero male and female newcomers of the year were football player Michael Armstead and women's tennis standout Solymar Colling.
Armstead was named the Pioneer Football League's Special Teams Player of the Year, the first USD football player to win the honor since it was introduced in 2015. Armstead returned two kickoffs for touchdowns and averaged 32.23 return yards per kickoff. He also caught 24 passes for 553 yards and three touchdowns as a receiver.
Colling's tennis season is still going. The recently named WCC Freshman of the Year helped lead the Toreros to their first NCAA Tournament team appearance since 2012. She played every singles and doubles match this year at the No. 1 position and has a 15-5 dual match record in singles. She went 7-1 against WCC opponents. Colling will compete in the NCAA Individual Tournament's 64-player singles field beginning May 20 in Orlando, Fla.