Burnham-Moores Center for Real Estate Welcomes Jeremy Gabe, PhD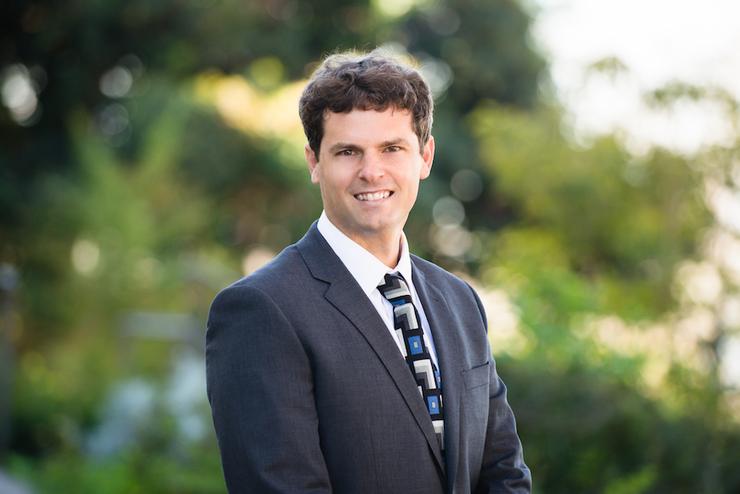 The Burnham-Moores Center for Real Estate (BMC) at the University of San Diego School of Business welcomes Jeremy Gabe, PhD, assistant professor of real estate, as the newest faculty member of the School of Business real estate program.
"I am very pleased to welcome Jeremy as a colleague in the department," says Shreesh Deshpande, chair of finance and real estate and professor of finance at the USD School of Business. "His portfolio of scholarship is impressive, and his teaching and mentoring of students has been impactful. Jeremy will join department faculty colleagues in accelerating the trajectory of excellence in the real estate undergraduate and graduate programs at USD."
Prior to joining USD, Gabe served as a lecturer in real estate at the University of Auckland, where he specialized in research at the intersection of urban economics, environmental economics and urban planning. His research is published in leading journals, including the Journal of Property Finance and Investment and in Building Research and Information. He was awarded research grants from government agencies and industry clients in New Zealand to explore methods and strategies of assessing green buildings and infrastructure. Gabe has served as a reviewer for a wide variety of academic journals and is a frequent consultant to the real estate industry. He is also a co-founder of the Future Leaders of the American Real Estate Society (FLARES) and serves on the board of the International Real Estate Society (IRES).
Gabe's teaching philosophy challenges students with applied, experiential learning and aims to develop critical analytical skills within a global context. His students move beyond rote education into critical thinking and strategic application of knowledge. Gabe will start the 2019 Spring semester teaching the undergraduate commercial real estate finance and investment course.
"It is with great pleasure that we welcome Jeremy to the USD School of Business and to our #1 ranked, cutting-edge real estate program," says Charles Tu, Daniel F. Mulvihill Professor of Commercial Real Estate and academic director of the Master of Science in Real Estate (MSRE) program. "His international experience, research and depth of expertise across all aspects of real estate from design to occupancy make him a good fit."
Gabe earned his degrees in civil and environmental engineering, architecture and real estate from Northwestern University and the University of Auckland. He was born in Hawaii, raised in California, and spent the last 15 years in New Zealand. Gabe, his wife and son moved to San Diego in January. He is an avid swimmer, triathlete, skier and outdoor enthusiast.
"It is great to be in San Diego at USD and to receive such a warm welcome," says Gabe. "I look forward to contributing to the excellence of the USD School of Business and the Burnham-Moores Center, getting to know the real estate students and meeting the individuals and organizations that support USD's #1 ranked real estate program in the country."