Athletics Roundup: Recap of USD Basketball, Swimming, Tennis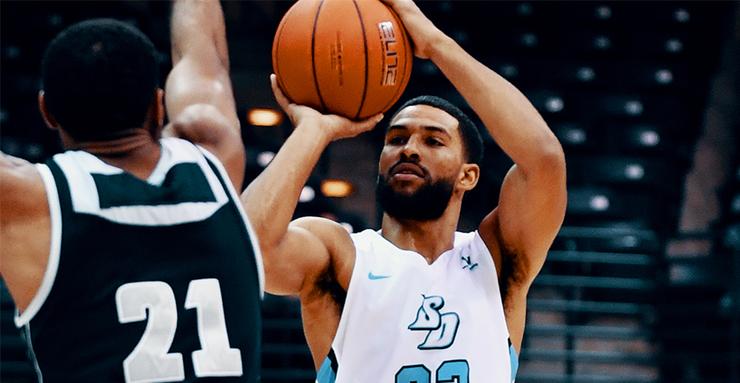 The return of Isaiah Wright to the USD men's basketball lineup for last Thursday's West Coast Conference road game against Portland helped the Toreros earn its first win in nearly two weeks. Unfortunately, a slow start in its road game two days later against Saint Mary's resulted in a loss and a split decision for the Toreros.
The 76-55 win against Portland saw Wright's return after a wrist injury that had knocked him out of action since the Dec. 23 game against Drake. He missed four games in all, including the first three WCC contests. Against Portland, he contributed 11 points, eight rebounds and four assists as part of a balanced Toreros performance.
Eight different players scored for the Toreros, who were led by Jose Martinez's 15 points off the bench. Isaiah Pineiro had a double-double with 14 points and 12 rebounds and Joey Calcaterra, in his first collegiate start, tallied 13 points and grabbed five rebounds.
Against Saint Mary's, though, it was a different story. The host Gaels had a strong first half with leads of 13-2 and 24-8 before USD was able to climb back into the game in the second half. USD got as close as 47-39 with 12 minutes-plus to play, but St. Mary's 10-2 run ended USD's hopes of a full-on comeback.
Pineiro led USD with 19 points, Wright had 15 and Tyler Williams had nine. Yauhen Massalski had six rebounds and four blocks for the Toreros, who are now 13-7 overall, 2-3 in WCC play.
Next Games: USD hosts Loyola Marymount, Thursday, 7 p.m., Jenny Craig Pavilion (Seats for Soldiers Night); USD vs. San Francisco, Saturday, 7 p.m., JCP (Catholic Schools Night).
Two more tough results for the USD women's basketball team against West Coast Conference opponents, this time a pair of home games against Portland and Top 25-ranked Gonzaga this past week.
The Toreros' 69-60 loss to Portland on Jan. 17 saw USD trail 27-14 early and struggle with turnovers, but a second-half surge got the team within striking distance of the Pilots. Madison Pollock notched a new season-high point total with 22. Sydney Shepard had 14 points, including four 3-pointers, and Patricia Brossmann had a double-double with 10 points and 11 rebounds. Leticia Soares added nine points Sydney Hunter had eight rebounds.
The team then faced No. 13 Gonzaga and the result was an 86-61 USD loss. The visitors are a difficult matchup every time for the Toreros (and the rest of the WCC) but this was the first chance to enter this matchup for a couple of freshmen players, Aminata Dosso and Kiera Oakry. Dosso finished with 13 points and Oakry had 11 points and a team-high seven assists. Brossmann scored 12 points and grabbed seven rebounds. Soares had eight points and seven rebounds for the Toreros, whose record fell to 8-11 overall, 1-7 in WCC play.
Next Game: USD hosts BYU, Saturday, 2 p.m., Jenny Craig Pavilion.
The USD women's swimming and diving team final home meet of the 2018-19 season saw it compete strongly with crosstown rival San Diego State on Jan. 19. The end result was a 138-126 meet score in favor of the Aztecs, but seven Torero swimmers combined for 10 top-three finishes at USD's Sports Center Pool.
MK Clancy earned USD's lone first-place finish in the 200-yard butterfly in a time of 2 minutes, 8.78 seconds. Kaitlyn Evans had a pair of second place finishes in the 100 free and 200 individual medley and was third in the 100 breaststroke. Liza Kuznetsova was the top USD distance swimmer, finishing second in the 500 free and third in the 1,000 free. Lauren Quincy was second in the 200 backstroke and Maeve Murdoch took second in the 100 butterfly. Samantha Terranova and Sabrina Firnett finished third in the 200 free and 200 breaststroke, respectively.
In the final event of the day, the 400 freestyle relay, the team of Alexa Philips, Olivia Adey, Haley Ohlson and Murdoch finished second in a time of 3:39.30.
Next Meet: USD at UC San Diego, Saturday, Feb. 2, noon, La Jolla, Calif.
The USD men's tennis team opened the 2019 season with a 5-2 victory over Utah State on Jan. 19 at USD's Hogan Tennis Center.
USD won the doubles point with wins by the teams of Guus Koevermans and David Norfeldt and then Nico Borter and Gui Osorio.
In singles play, Joel Gamerov, playing at No. 4, No. 2 Osorio and No. 1 August Holmgren won their matches to secure the points to clinch the victory, but the teams opted to complete all singles matches. Norfeldt, playing in the No. 5 slot, won his singles match, too.
Next Matches: USD plays Ole Miss, Friday, 11 a.m., at UCLA; USD plays either UCLA or Indiana, Saturday, time TBA, at UCLA.
A strong weekend for the USD women's tennis team at the four-team Long Beach State Invitational with Cal State Northridge, Portland State and the host 49ers, concluded with one Torero, freshman Solymar Colling, earning the singles championship on Jan. 20, and USD gaining some confidence with season dual matches set to begin at the very end of January.
USD started strong by going 12-0 on the first day with four doubles victories and eight in singles play. The Toreros followed it up with nine wins in 10 matches on Jan. 19. USD then concluded the event with seven wins in 11 matches.
Colling captured the singles title defeating Long Beach State's Wiktoria Rutowska, 6-4, 6-4 on Sunday. Colling reached the final by winning matches against Cal State Northridge's Monika Van De Vondel Friday and then a win over Portland State's Lotti Meszaros on Saturday.
Next Match: USD plays at USC, Thursday, Jan. 31, 5 p.m., Los Angeles.
More USD Athletics Information
Keep up with all USD Athletics news, scores and information at its website. Follow the Toreros on social media: Facebook, Twitter and Instagram.