Marketing Students Put Their Social Media Skills to the Test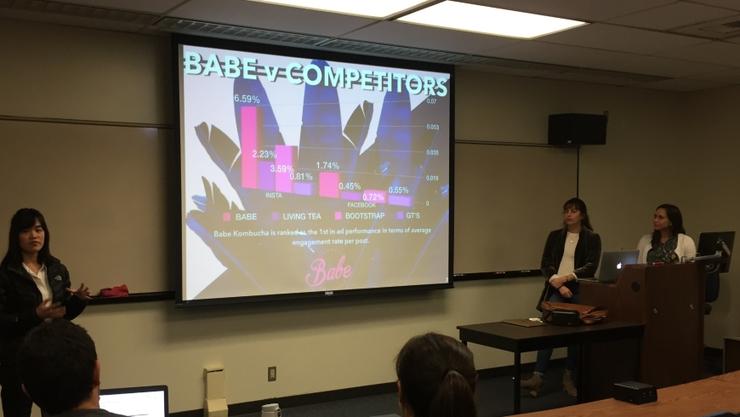 The Beach House is missing its wave.
But a team of undergraduate business students has a plan to make sure the family friendly restaurant and bar can still attract customers after the popular Wave House attraction recently was closed due to construction at Belmont Park.
As part of the Digital Marketing and Social Media class this fall, students conducted a social media audit, analyzing their key audiences, and testing various advertising.
Ultimately, the team found that "we could get consumers to consider and evaluate Beach House but getting them to actually 'buy' or visit was more difficult," said MBA student Christina Wieand. "We recommended Beach House post more incentives to get people to come in, such as special events, unique drinks, deals and promotions."
Another team in the class led by Assistant Professor of Marketing Colin Campbell, analyzed the entire Belmont Park attraction as a whole.
Both teams put a lot of thought and effort into the presentations and their work is likely to be incorporated into the park's advertising and marketing strategies in the coming year, said Belmont Park's Marketing Coordinator Suzy Reyes.
Another team in the class looked at Babe Kombucha in USD's Linda Vista neighborhood, recommending that the probiotic tea producer enhance its social engagement by posting more about its tasting room, adding more video and linking its brand to the San Diego beach and hiking lifestyle.
"We really want to hone in on a style and look for them," student Rachael Ponn told the class. "It's hard to create brand awareness when every post is a little different."
Based on its plan, the team came up with several goals for the brand including producing more sales leads, adding brand ambassadors and followers on social media and shooting more video.
The presentation had "some amazing content," said Campbell, including beautiful images and the way it "highlighted the value (their) client delivers.
Twenty-six teams in the class presented their projects for other firms including Orange Theory Fitness and Puesto Restaurants. Several of the presentations were for firms created by students including Double Take Recruitment Videos for high school students hoping to win athletic scholarships and Poppy Medical ID, a medical jewelry retailer.
A "real-world" project like this benefits the students in many ways, Colin said. Students get to explore all facets of the marketing and advertising world, finding out which ones they'd like to work in. Students also get to create portfolios of their work and in some cases have been hired by the clients or even created their own businesses.