USD's Next-Level Entrepreneurship: Torero Ventures Catalyzer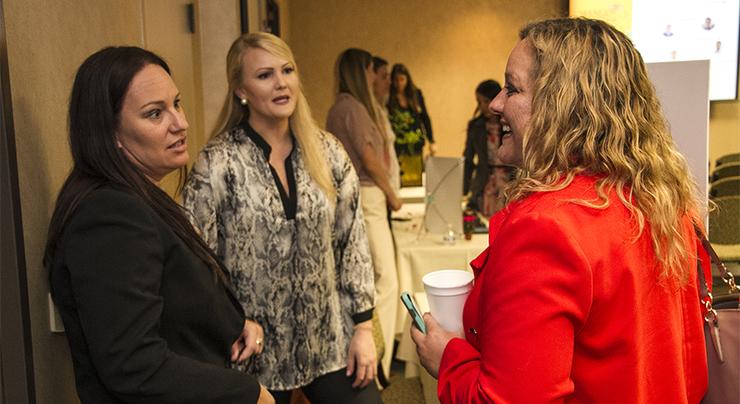 The pathway that University of San Diego student entrepreneurs have followed to present their big idea on campus is by participating in one of three campus competitions — Changemaker Challenge in the fall and Venture Vetting (V2) Pitch Competition and Global Social Innovation Challenge in late spring.
These competitions serve a valid purpose for development and each is a fine entry for USD students to get their first taste of the entrepreneurship world.
Priya Kannan-Narasimhan, PhD, an associate professor of management in USD's School of Business, appreciates those entities, but her own dream, currently in the pilot phase, is about creating a next-level platform for USD student entrepreneurs. Torero Ventures Catalyzer is her vision to give an individual student or a group the chance to do research and learn the actual audience for their idea and if it can truly exist in the marketplace.
Kannan said the directors that run ideation initiatives on campus, "have expressed their enthusiasm for this proposal that will enable them to move their students' ideas from ideation to incubation." Citing the rising number of entries into the Changemaker Challenge, V2 and GSIC, the numbers are expected to grow.
But, she said, "very few of these participants had the opportunity to develop prototypes and get market validation for their product or service."
On Dec. 10 in the Joan B. Kroc Institute for Peace and Justice with an invite-only audience, Kannan and co-teacher Jeff Teza, an entrepreneur-in-residence from the Shiley-Marcos School of Engineering had their students in Management 494 and, graduate and undergraduate entrepreneurs, showcase their respective ventures.
They were: Her Hub with Molly Perlick, Indira Lashiram, Kristina Feghali and Anne Dudek; Park Swap by Graham Banks; Salads on Saturn with Stephanie Casola, Peter Cosentino and Laia Sanchez; Alexandrine & Cass' Chris Carey and Harrison Yu; EZ Pooch Pad with Lauren Schwitzer; Mango Food Services' Beidyuth Ghosh, Monty Fernandez, Rishabh Dangi and Adhitya Sundara Rajan' Windansea Coffee's Jordan Ohara and Haidi Vattolo; Artificial Research Automator (ARA)'s Sangjun Kim, Aram Favela, Marvin Thielk and William Scott; and Generations' Janaira Quigley and Anna Kenneally.
"Innovation and entrepreneurship activities consist of three primary stages: ideation, the designing of new ideas; incubation, moving the idea future toward commercialization; and third, scale up, which is commercializing the idea on a large scale," Kannan said. "There are several ideation opportunities and initiatives that exist on campus, teaching students how to design new ideas, but there are almost no incubation opportunities to move student ideas further toward launch."
The impact of Torero Ventures Catalyzer as a resource was seen in each student venture's video. Many expressed an "aha moment," explained what they knew about their product and could confidently talk about it because they had learned about target marketing and the "customer discovery" phase.
"Everything changes based on who their customers are," she said. "Our students have spent their time doing the work and each team now has unique insight."
Generations, a web-based platform that gives a stay-at-home parent the opportunity to build a business and gain an income by providing caretaking and companionship services to home-bound seniors, earned $19,000 in this past spring's V2 competition.
Through Torero Ventures Catalyzer and the work Quigley and Kenneally have put in since that prize-winning moment, they've learned a lot. The duo, both nearing graduation from their respective School of Business master's degree programs, have changed their marketing targets a few times to get the best results.
Mango Food Services seeks to create a healthier generation by connecting children with healthy meals. First, the entrepreneurs interviewed schools about using their services. That didn't work. From there, they targeted parents — sans the school input — due to nutrition factors of their product, but ultimately, it flipped again to the children and what they liked to eat. That's three marketing targets of research before finding the right way to proceed.
Customer discovery is critical to potential success and equally vital is what Torero Ventures Catalyzer offers student entrepreneurs — an interdisciplinary approach through a strong cross-section of faculty and staff who can advise and mentor students to be better critical thinkers.
Kannan and Teza were joined at the Dec. 10 event by School of Business Dean, Dr. Jaime Alonso Gomez and Vice President of Institutional Effectiveness and Strategic Initiatives, Dr. Andy Allen, Stath Karras, executive director of USD School of Business' Burnham-Moores Center for Real Estate, and Mysty Rusk, Jonathan Irwin and Jonathan Ossie from USD's Small Business Development Center, "The Brink." Interdisciplinary advisory team members representing the School of Business, College of Arts and Sciences, School of Leadership and Education Sciences, Hahn School of Nursing and Health Science, Kroc School and the Shiley-Marcos School of Engineering were also present.
A testament to Torero Ventures Catalyzer's value is having faculty and staff from each USD entrepreneurial competition on the advisory team. Mike Williams, PhD, and Juan Carlos Rivas (Changemaker Hub, Changemaker Challenge), Regina Bernal and Mike Lawless, PhD, (V2 Pitch Competition, Legacy Entrepreneurship Conference) and Amit Kakkad, PhD, and Rachel Christensen (Center for Peace and Commerce, Global Social Innovation Challenge) can offer their experience from working with student entrepreneurs. Each competition on campus has credibility, too, as they've each been around for nearly a decade.
While Torero Ventures Catalyzer is in its infancy — Kannan said her team-taught class is only offered during the fall semester right now — the pathway for USD student entrepreneurs is building for the future.
"The Torero Ventures Catalyzer is an experiential, interdisciplinary, entrepreneurship and innovation management education that leverages USD's rich competences in liberal arts," she said. "This will provide the University of San Diego with a competitive advantage in entrepreneurship and innovation management education."
— Ryan T. Blystone