QB Josh Johnson Makes Most of Latest NFL Opportunity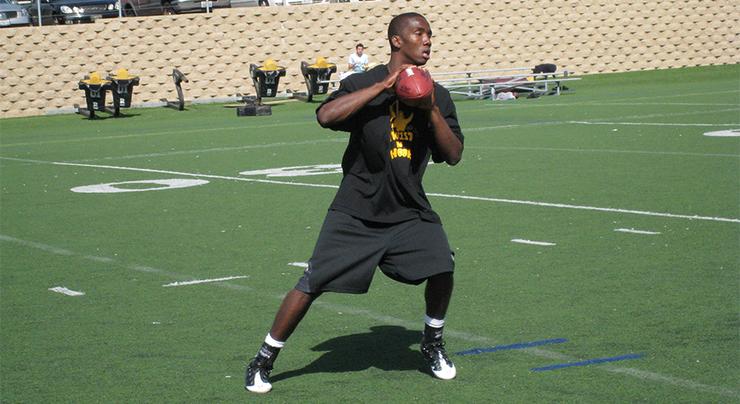 Quarterback Josh Johnson entered the Washington Redskins' NFL game Sunday with 5:31 left in the third quarter and the team trailing 40-0 against the New York Giants. While the score may indicate that it wasn't the most ideal time to enter, Johnson, the former University of San Diego standout, was ecstatic to get the opportunity.
The Giants won the game, but Johnson completed 11 of 16 passes for 195 yards, ran for 45 yards, led the Redskins to two touchdown scoring drives including a 79-yard touchdown pass to make an impression on the coaching staff. His play earned him at least enough to start the Redskins' next game this coming Sunday at the Jacksonville Jaguars.
That news is not just good news, but for Johnson, who has been on the roster of 11 NFL teams (twice with two teams), including being the first Torero selected in the NFL Draft, a fifth-round draft pick in 2008 by the Tampa Bay Buccaneers. He played in 26 games, including five starts, for the Buccaneers. Since his release by Tampa Bay after the 2011 season, he's donned the uniform for the San Francisco 49ers (twice), Cleveland Browns, Cincinnati Bengals (twice), New York Jets, Indianapolis Colts, Buffalo Bills, Baltimore Ravens, New York Giants, Houston Texans and Oakland Raiders. He had a 2012 stint with the Sacramento Mountain Lions of the United Football League and just last month, Johnson was the No. 1 overall selection of the San Diego Fleet, an inaugural team in the newly created Alliance of American Football.
But Johnson was signed by the Redskins on Dec. 5 after being called in for a workout. Washington's top two quarterbacks, Alex Smith and Colt McCoy, are both out with injuries and the Redskins had earlier signed former USC and NFL quarterback Mark Sanchez so Johnson was signed to backup Sanchez.
"Honestly, [this is] something I've been doing for the past six years," Johnson said in an article for Monday's online edition of The Washington Post. "I've been cut so much, been picked up week of games. Got picked up one time the day before a game. The poise was there within myself because I just had to remember what I did before. What is there to lose? What is there really to lose when you come from getting cut so much, not having an opportunity, wanting an opportunity? This is your opportunity, so you take it."
Johnson entered the NFL after a stellar career at USD. Recruited and coached for his first three seasons at USD by Jim Harbaugh, the mobile quarterback completed 724-of-1,065 passes (.680) for 9,699 yards and 113 touchdowns and just 15 interceptions. He was also a threat on the ground as he finished with 1,864 yards rushing on 307 attempts (6.1 avg.) with 19 career rushing scores. As a three-year starter for the Toreros he was 30-4 and led San Diego to two Mid-Major Sports Network championships and three PFL conference titles. He finished with 11,563 yards of total offense. In 2007, his senior season under new head coach at the time, Ron Caragher, Johnson tossed a school record 43 touchdowns while ranking first in the nation in total offense, passing efficiency and points responsible for. He left USD as the NCAA career leader in passing efficiency with a 176.68 rating and as the holder of all of the Toreros' career passing records (Anthony Lawrence, who just finished a stellar USD football career in 2018, has since broken several of Johnson's career marks). Johnson was inducted into USD's Chet and Marguerite Pagni Family Athletic Hall of Fame in 2015.
Everything he's done now, though, is in his past, even Sunday's NFL game. His only focus now is learning the Redskins' playbook, getting a full week of reps with the first-team offense in practice and starting against Jacksonville on Sunday.
— USD News Center Staff