Tree Lighting Ceremony: Let Your Light Shine, Help Others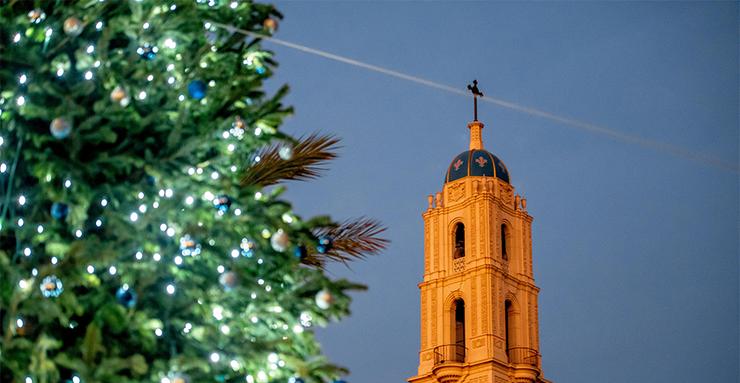 The second annual University of San Diego Christmas tree lighting ceremony took place Nov. 27 at the Paseo de Colachis Overlook. The theme of "Light Out of Darkness," carried with it special meaning, not just to the tree lighting, but reminders from USD President James T. Harris and student leaders who each expressed the importance of one's light to shine bright, especially toward others.
Natasha Salgado, a graduating USD senior and president of Associated Students, said, "Light out of darkness is a theme that's relevant and necessary to reflect on at a time when many people are hurting in various parts of our community, from our own campus to neighborhoods, the country and the world. Over the past few months we've experienced more than our share of darkness, but it's important to keep in mind, in this holiday season, the message of Christmas. No matter how dark things may seem, we can act as agents of God and find a way to bring forth light out of darkness, joy out of sorrow and life from death."
Breana Clark, a second-year student in the School of Leadership and Education Sciences' master's program in higher education leadership and president of the Graduate Student Council, said the ceremony is a chance "to recognize the light that's in each one of us and dedicating ourselves to letting that light shine." The campus community that gathered at the ceremony was equipped with small candles and Clark stated "the candles symbolize the way in which we are called as Changemakers to bring light into the dark places of our campus and the world and to come together in solidarity and ally ship."
Kaitlyn Forbes, a law student and president of USD School of Law's Student Bar Association, encouraged the campus community to realize that "each of us plays an important role by sharing our light with the world. Spread your light and share your blessings with others. By giving back to those in need we can directly impact our community in a positive way." Forbes spoke passionately about "an appreciation for the gifts each of us have and to treat each other well, share our talent, resources and love most abundantly and shine your light for all to see."
When President Harris spoke, he offered notable examples on a day devoted to a national day of giving, from university co-founders Mother Rosalie Hill and San Diego Bishop Charles Francis Buddy to philanthropic gestures that have benefitted the university and through a campus community that has logged some 400,000 community service hours.
"Each one of these provides an illumination of the warmth that this world so desperately needs today," Harris said.
He spoke about the need for all of us to shine our light when it comes to helping our neighbors and to ask, "what would Jesus do?" He touched on the current caravan activities happening at the U.S.-Mexico border and sought to look at it as "not an invasion, but as a humanitarian crisis." Harris stressed the importance of showing compassion to provide some light and hope for all involved: "I'm not calling for the opening of our borders, but for us to open our hearts," adding that a drive for food, clothing and other supplies to provide support and care is a great way to show compassion.
Harris then brought the conversation back to the event, a tree lighting to usher in a true symbol of light this holiday season.
"As we prepare for the beginning of Advent this Sunday and anticipate the birth of our Savior, whose light shines upon us all, let us move from darkness into light and, in turn, let our light shine for others through the glory of God," he said.
Following the tree lighting, Monsignor Daniel J. Dillabough offered a prayer, a group of carolers led the audience in a rendition of the holiday song, "Winter Wonderland," and the ceremony was a lead-in to the Torero Program Board's annual Winter Wonderland event that featured a small skating rink, holiday arts and craft making and hot chocolate and other wintertime treats.
— Ryan T. Blystone
Tree Lighting Photo by Nick Porter
Video by Allyson Meyer '16