Kheperah Ray '19: Finding and Building Success His Way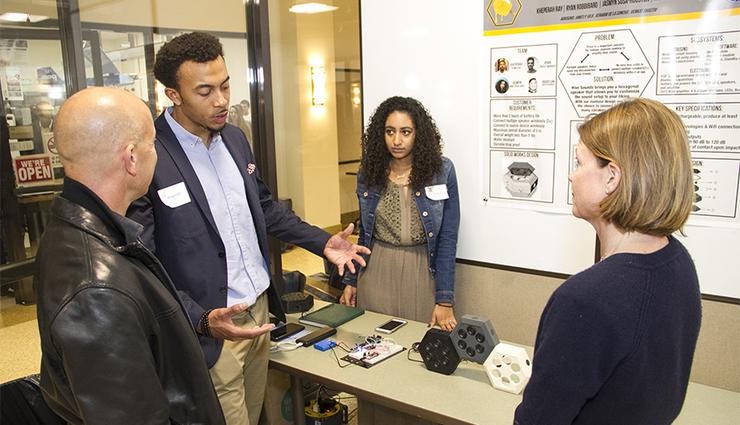 Kheperah Ray clearly understands the concept that if you want something to happen, you need to find a way to make it happen.
It's a philosophy he's followed since growing up in Chicago. It's a spirit of entrepreneurship he's had since he was a teen. Ray would mow lawns, paint and perform other work tasks to earn money he needed to purchase a video game system he wanted. His job at a hardware store enabled him to save up enough money to purchase a camera he desired.
"It was instilled in me and my sister when we were young. We didn't have much," says Ray. "If my parents couldn't do it for us, we knew we had to have alternative ways."
Ray's education path has been much of the same. When he made the decision to attend college as a first-generation student, he came west. He landed first in Los Angeles and stayed with a relative. Because of initial financial issues, Ray's dream to attend college started first, unofficially, at USC. There, he sat in on large room computer science and engineering classes because he could blend in and learn.
At USD, the Electrical Engineering major who will finish his official requirements in late December through the Shiley-Marcos School of Engineering's unique dual BS/BA degree program, Ray's appetite for learning meant preparing him for what awaits him after graduation: A network engineering job with Cisco that starts in January.
Ray's time at USD, though, began with finding community and sticking with engineering during the earliest and toughest times. He persevered. He took advantage of study abroad opportunities to London, Prague and in Australia. He's been president of USD's chapter of the National Society of Black Engineers, been a member of the Black Student Union, was helped by Student Support Services and the Black Student Resource Center, attended alumni career mixers and did Career Development Center's first-ever Torero Trek to Silicon Valley where students toured the area and met representatives from Google, Facebook and Adobe.
"I got to ask questions and I was exposed to things I'd never been exposed to before," said Ray about the Torero Trek. "I was like a kid in a candy store."
He's invested a lot of time and thought at USD, learned the importance of time management and utilized the university's vast resources.
"I've gone to other departments on campus to ask to take part and I've sat in on different meetings. It's reflective of my background in business, art and philosophy. There's a campus full of opportunities here and I feel that things are easily accessible, but it's not always communicated that they are. I see different values in different parts of the community. Even in my own community, I've seen disparities absent, such as small business and a lack of innovation that would make life easier and it makes me question things more and to have a desire to be informed," he said.
"I think when we come into college and everything seems daunting, you don't know how to move around, but that's actually when you should jump in the deep end. I got involved with clubs and organizations, networked, and I found a core group of friends on campus who've consistently held me accountable and pushed me further."
Within engineering, it was Venkat Shastri, the De Sanctis Professor of Engineering and Entrepreneurship, who lit a motivational fire.
"I'm a really ambitious person and my goal was to start a business before I came out of school," Ray recalls. "My junior year, Venkat said most engineers don't often take the opportunity to start a business while they're in college because they've got too much on their plate and they're spread too thin."
Ray came up with HIVE Soundz, an idea in which he aims to have the first portable speaker that gives users the chance to play one unified audio signal via Bluetooth or Wi-Fi. Shastri wanted to be certain that Ray could stick with it.
"I don't think he initially understood what I was wanting to do, but I went and got other students on campus to help bring my idea to fruition," Ray said.
Shastri worked with Ray and his group through the engineering school's Renaissance Initiative, a program to help students develop their entrepreneurial skills and ventures through workshops, entrepreneurship modules, courses and by submitting the idea for the Senior Design entrepreneurship track, which is a required graduation project Ray did last year.
The Renaissance Initiative is championed by Engineering Dean Chell Roberts, PhD. "An entrepreneurial mindset is a skill that differentiates engineering graduates and is highly valued in our growing entrepreneurial economy. This skill is not only valuable for those few that will actually become founders of new companies, but to infuse broader innovation thinking into any company or organization that our graduates join."
Ray's desire to create the portable, hexagon-shaped smart speaker that when connected with other portable speakers amplifies sound enough for a surround sound-type environment is ongoing.
"Venkat was able to push us to a point where he set the bar higher and instilled in us that we have the ambition to create a product out of HIVE Soundz," Ray said.
The passion to create is within Ray and it is something he's not selfish about, either. As a first-generation student developing his path forward, he's equally committed to bringing others along.
Dev Jam Labs, a company Ray and his New York-based friend Cameron Flowers co-founded, hosted a one-day conference called Technology, Hustle, Culture 2.0 at USD in October. The conference showcased the dedication to strength and diversity in technology, innovation, entrepreneurship and culture to college and high school students. It had an emphasis on STEAM (Science, Technology, Engineering, Art, Mathematics), workshops, pitches, demonstrations, hackathons, performances and gaming tournaments. Ray and Flowers' contacts across the country flew in to work with budding entrepreneurs and to inspire a local audience.
Giving others access to resources does wonders for a community. Kheperah Ray has learned plenty from the USD community and he's ready to take it to next-level heights.
"The community we think we don't have on campus is really here. I focus on community because I'm an advocate for exposure through the community. I've been exposed to a number of things and I'm fortunate to have been in them. To be well-rounded, I think, is some form of change. It goes back to the idea of being a Changemaker. We can all do it. As students, I know we all get bogged down with everything we do, but I know that we can all do it."
— Ryan T. Blystone
Become a Changemaker cover photo courtesy of USD's Career Development Center