USD Athletics Roundup: Cross Country, Volleyball, Soccer, Football, Swimming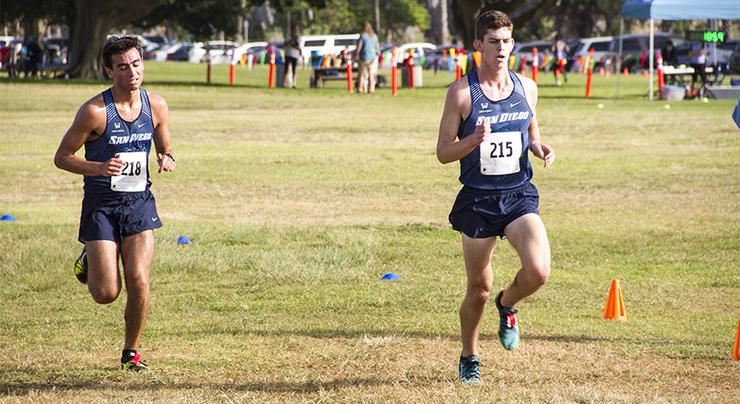 Hosting a meet is a lot of detailed, hard and extra work, but when the USD Invitational men and women's cross country races were completed late Saturday morning at Tecolote Shores Park in Mission Bay, USD Coach Will Guarino and his teams were rewarded for their efforts.
"It was very gratifying," Guarino said. "We have a really good group of women and men who are optimistic and hard working so when you have that, and have top results, it's great."
Sophomore Hannah Rasmussen won the women's 6K race in a time of 21 minutes, 58 seconds, and the only one in the field to run under 22 minutes. Complemented by senior Zani Moore's fourth-place finish in 22:40, an eighth-place finish by sophomore Molly Klein (23:08) and junior Ally Roessling (23:45) and senior Natalie North-Cole (23:50) finishing 15th and 16th respectively, the USD women won the team title, too. The Toreros' sixth and seventh runners, Cassidy Kuhn and Morgan Conn gave USD seven runners among the top 20 entrants.
The USD women scored 44 points, edging Canada's Simon Fraser University, a solid Division II program, by three points (47). Point Loma Nazarene was third with 54, UC San Diego was fourth with 93 points and Cal State San Marcos was fifth (102).
On the men's side, Patrick Bruce, Nic Dinsdale, Jackson Pearce, Ethan Steiner and Isaiah Quiambao finished eighth, ninth, 15th, 16th and 21st, respectively, to finish third in the team standings behind Simon Fraser. Bruce, a junior, ran the 8K in 26:22. Dinsdale, a freshman, finished in 26:27, Pearce, a sophomore, and Steiner, a freshman, both finished in 26:44, and Quiambao's time was 27:02.
Simon Fraser scored 21 points to win the men's title, followed by UCSD (61), USD (64), CSUSM (66) and Soka (155).
Guarino emphasized the fact that the meet results pleased him mostly because of the runners' progressions and visible improvement. Having it happen on an elite, national championship-caliber course was satisfying, too. The course and the weather conditions made it a nice draw for those in attendance to the USD teams' lone home meet of the season. The USD runners were actively supported by USD administrators and community, including the USD men's basketball team and head coach Sam Scholl along the course.
The cross-country teams will now turn their attention to training for their next meet this month, one that will take place on the East Coast among a bevy of high-caliber and highly-ranked individual runners and teams.
Next Race: Paul Short Invitational, Saturday, Sept. 29, 6:30 a.m. (Pacific), Bethlehem, Penn.
There was a little bit of everything among the results for the USD women's volleyball team as it competed in the SDSU/USD Challenge this past weekend.
Beginning with a key match-up against No. 16 USC, the 23rd-ranked Toreros were swept in three games on Friday night in the Jenny Craig Pavilion. The next morning, USD swept the University of Louisiana, 3-0. On Saturday afternoon, USD fell in a five-set match against Oregon State.
Against USC, the visiting Trojans won 25-22 in the first game, but then settled in with scores of 25-15 and 25-20 to close out the match. Katie Lukes had 10 kills to lead USD and Roxie Wilbin added nine kills.
Versus Louisiana, USD made quick work of the Rajun Cajuns with scores of 25-14, 25-19 and 25-17 for the sweep. Three players, Megan Jacobsen, Lauren Fuller and Addie Picha, each had 10 kills for the Toreros.
Against Oregon State, USD won the first game and the fourth game, but the Beavers won the fifth and deciding set, 15-12, to claim the win. Wilbin led USD with 18 kills, followed by Fuller (15), Picha (11) and Lukes (10). Oregon State blocked 22 shots in the contest.
Wilbin and Fuller were later named to the SDSU/USD Challenge All-Tournament team.
The 1-2 tournament mark sent USD to a 3-6 overall record. While the Toreros have played five matches against Top 20 teams already this season, they've gone 0-4 in matches against Pac-12 Conference opponents (Washington 0-2, UCLA, USC) and did defeat nationally ranked Baylor.
USD, the defending co-West Coast Conference champion, now gets ready for the start of WCC play, which begins Thursday at home.
Next Matches: USD hosts Saint Mary's, 7 p.m., Thursday, Jenny Craig Pavilion; USD hosts Pacific, noon, Saturday, JCP.
Overtime is a prime time to see what your team is made of, especially when it is tired and winning becomes a sudden-death situation.
In the USD men's soccer team's two nonconference matchups this past Thursday and Sunday, the team earned a split decision at Torero Stadium in the toughest way possible. Cal State Fullerton's Robert Coronado scored in the 100th minute to defeat the Toreros 1-0 on Thursday. On Sunday, the Toreros were on the right side of things as Alex Churness' first goal of the season also in the 100th minute, gave USD a 1-0 victory over UNLV.
The 1-1 record this last week put the Toreros' overall record at 3-3-2 under first-year head coach Brian Quinn.
Against Fullerton, the Titans outshot the Toreros, 19-12 and 6-5 in the saves department. Coronado's goal came on a 30-foot free kick.
In the win over UNLV, Churness' goal came on a header off a cross kick by Patric Krall. UNLV did outshoot USD, 16-11 and had a 5-4 saves edge.
Next Matches: USD hosts Seattle University, 7 p.m., Wednesday, Torero Stadium; USD at Cal State Northridge, Sunday, 6 p.m.
Following a home win in its season-opener on Sept. 1, the USD football team has played a pair of road games against two nonconference opponents that gave the Toreros all they could handle. On Sept. 8, it was UC Davis. This past Saturday it was an Ivy League school, Harvard, which opened its 2018 season by outscoring USD 27-3 in the first quarter en route to a 36-14 victory over the Toreros in Cambridge, Mass.
The difference in the loss to Harvard was its running back, Aaron Shampklin. He scored four touchdowns, including three in the opening quarter, and had 178 yards rushing.
USD, meanwhile, could only muster a pair of field goals and sophomore Terrence Smith's 13-yard touchdown run. Quarterback Anthony Lawrence, who finished the day 23 for 46 with 298 yards and an interception, scored on a two-point conversion to make it 30-14.
The Toreros (1-2) have a bye this week. They open defense of their Pioneer Football League championship at home on Sept. 29.
Next Game: USD hosts Stetson, 2 p.m., Saturday, Sept. 29, Torero Stadium.
The USD women's soccer team has had no scheduled games since a Sept. 9 road game against USC. Since then, USD has been working on its game and preparing for its final nonconference matches with a couple of Big West Conference foes this week.
The Toreros will take their 3-3-1 overall record into a Friday night home game against Cal State Fullerton at 7, followed on Sunday with a 1 p.m. game on the road against UC Irvine.
The team will treat these two games as the final tune-up for West Coast Conference play, which begins Sept. 27 at home against Portland.
Next Matches: USD hosts Cal State Fullerton, Friday, 7 p.m., Torero Stadium; USD at UC Irvine, Sunday, 1 p.m., Irvine.
San Diego opened its 2018-19 season with its annual pentathlon event against San Diego State, dropping a 33-24 decision last Friday.

It was the first event of the season and gave each squad a chance to compete in a variety of strokes in a competitive environment. The first five events — 100 free, 100 fly, 100 back, 100 breast, 100 IM made up the pentathlon, with points being allotted accordingly. The meet concluded with a set of sprints followed by the 400 IM and 500 free. Times for each individual from the first five events were combined and swimmers were ranked accordingly.
Dani Taylor was the top finisher in the pentathlon for USD with a time of 5:13.00 and Alex Hubel was close behind finishing in 5:14.44. Other top finishers for the Toreros were Mackenna Briggs (5:18.89) and Lillian Benwell (5:20.50).

USD had multiple impressive finishes in individual events. Taylor had the top time in the 50 free (24.65) and was second in the 100 free (52.21). Hubel had two second-place finishes in the 100 fly (55.94) and the 50 fly (26.29). MK Clancy and Anna Luckenbach had quick finishes in longer distances. Clancy was third in the 400 IM (4:45.9) and Luckenbach finished fourth in the 500 free (5:26.89).
Next Meet: USD hosts Washington State, 11 a.m., Saturday, USD's Sports Center pool.
For More USD Athletics Information…
Keep up with all USD Athletics news, scores and information at its newly redesigned website. Follow the Toreros on social media: Facebook, Twitter and Instagram.