Torero Athletics: Men's Rowing Finishes 19th at IRA Nationals; Roundup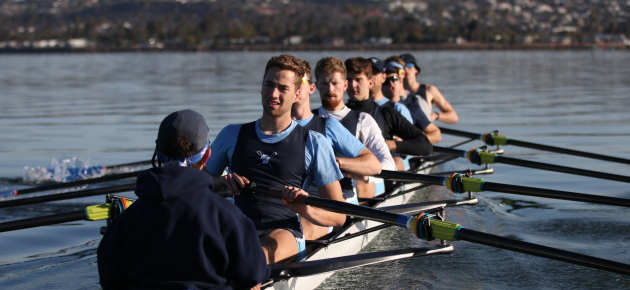 The University of San Diego men's rowing varsity eight team competed over the weekend in the IRA National Championships on Lake Mercer in New Jersey, finishing 19th against tough competition.
USD's eight-person team, with Will Graf, Connor Olson, Eric Hoster, Travis Heft, Brennan McManus, Sam Jones, Sam Stephens, Ben Thibeau, and Owen Chase, raced three times — a heat race and repechage on June 1, and the June 2 semifinal race — and would have had a fourth race on June 3, but high winds forced their finale to be canceled. As a result, Temple, Oregon State, Marist, Bates College, UC San Diego and the Toreros each tied for the fourth final title.
The USD team, coached by Brooks Dagman and assistant David Janiak, enjoyed representing the program for the first time since USD last reached the IRA national championships in 2014.
On Friday morning, the Toreros placed sixth in their heat with a time of 6 minutes, 16 seconds. Later that afternoon, the men raced in the repechage and finished fourth in 6:12. Saturday's semifinal saw USD achieve its best time of the weekend as it finished sixth in 6:10.
See complete national racing results from the weekend.
The success of the USD football program has recently been seen through a number of changes in the coaching staff. Head Coach Dale Lindsey recently announced that a few coaches have been scooped up by other programs and, as a result, he's been busy this offseason filling positions.
Take a closer look at the new assistant coaches for football and take a look at the defending Pioneer Football League champion's 2018 season schedule.
The on-the-field portion of the USD baseball season concluded a few weeks ago, but this week, particularly now through June 6, will be an important one for USD Head Coach Rich Hill and how his roster for 2019 is affected.
That's because Major League Baseball's First-Year Player Draft takes place June 4-6. Hill will be watching to see which of his players are selected by a team. Furthermore, this draft can also affect the incoming high school and community college players who may have verbally committed to USD, but their decision can change based on the results of the draft.
According to mlb.com, "Players eligible for selection include high school players, if they've graduated and have not yet attended college or junior college; college players, from four-year colleges, who have either completed their junior or senior years or are at least 21 years old; or junior college players, regardless of how many years of school they've completed. Certain group of players are ineligible for selection, simply because they are still in school. This rule applies to freshmen and sophomore players who have not redshirted. Check www.usdtoreros.com to learn about Torero baseball players who are drafted this week.
Torero Tidbits
Janet Akinola has been named the Assistant Director of Compliance, as announced May 31 by Anthony Martinez, Assistant Director of Athletics for Compliance. Akinola joins the Toreros from Villanova University where she was with the Wildcats' athletic department since October 2016. Akinola will help facilitate compliance education for USD student-athletes, coaches and staff to ensure members are knowledgeable about NCAA policies, rules, and regulations. … Summertime is a great time for boys and girls to attend sports camps on the USD campus. Many sports are offered and many enable your child to work with USD athletes and coaches. To learn more about dates, price and other camp information, please go to http://www.usdsportscamps.com/
For all USD Athletics news, scores, features and information, visit their website and follow the Toreros on social media platforms: Facebook, Twitter and Instagram.