Torero Athletics: USD Golf Hosts WCC Championship Tourney in Santee; Men's Tennis, Softball Shine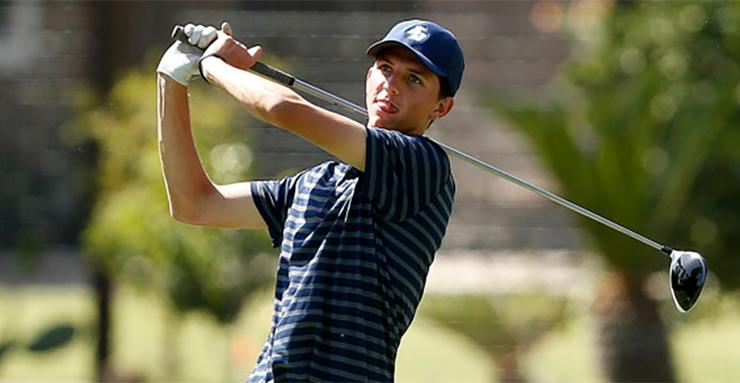 The West Coast Conference's best golfers will descend upon San Diego today through Wednesday as the USD men's golf team hosts the WCC Championships. The three-day event will be played at the par-72 Carlton Oaks Golf Club in Santee.
A 7,304-yard course opened in 1958, Carlton Oaks has hosted major golf events for years, including the PGA Qualifying School and the IMG Academy Junior World Championships.
"I love the course," said first-year USD coach Chris Riley. "It's a great layout. It tests all your shot-making ability. Every club in the bag will be used."
The team winner of the tournament automatically advances to the NCAA Regionals. Teams will field five golfers with the top four scores counting. USD's top three golfers are set: Dalton Hankamer, Tyler Gulliksen and Daniel Lopez have consistently led the Toreros.
At last week's Geiberger Invitational on the PGA West Nicklaus Tournament Course in La Quinta, Hankamer tied for 13th at 1-under 215. Gulliksen and Lopez tied for 17th at 1-over 217. USD finished seventh in the team standings.
A left-handed Texan, Hankamer earned a lot of attention last month when he tied for medalist honors at the Desert Mountain Intercollegiate tournament in Scottsdale, Ariz.
Riley's challenge, though, has been filling out the fourth and fifth spots.
"You need four guys to play good collegiate golf," said Riley, the former PGA Tour player once ranked 21st in the world. "Right now, we've got three playing decent. It's been a little bit frustrating."
Riley likes the Carlton Oaks layout because with some narrow fairways and narrow approaches to the green, it's a thinking-man's course.
"There are a couple par fives where probably laying up (with the second shot) is the percentage play, but a lot of college players, they go for it. Course management is the biggest thing about Carlton Oaks. You've got narrow fairways, narrow second shots. The greens are tough, hilly and undulating. It's a good test of golf."
The USD men's tennis team responded very well after suffering its first West Coast Conference match loss of the season back on April 8 at Santa Clara.
The Toreros, in their final home WCC matches, on April 12 against Pepperdine and then April 15 against Loyola Marymount, blanked both teams, 4-0, to improve their conference mark to 6-1.
Against Pepperdine, a longtime WCC rival, the Toreros won the doubles point on the strength of wins by the team of August Holmgren-Joel Gamerov at No. 1 and Nico Borter-Pratt Keerasuntonpong. Singles wins by Gamerov, David Norfeldt and Alexandros Araouzos propelled the Toreros past the Waves.
Then, against LMU on USD's senior day, the Toreros rallied to win the doubles point after LMU won the first match. Holmgren-Gamerov and Norfeldt-Araouzos picked up wins to secure the point. In singles play, Holmgren, Gamerov and Araouzos each triumphed.
The Toreros, ranked No. 44 nationally, have a 12-8 overall mark and finish WCC regular-season play on the road next weekend.
Next Matches: USD Men's Tennis at Pacific, Saturday, 1 p.m.; USD at Saint Mary's, Sunday, 12 p.m.
The USD softball team needed a little extra on the road in its West Coast Conference series against Santa Clara and after dropping the opening game on April 14, the Toreros were able to take the series with a pair of extra-inning victories.
Saturday's first game was a 4-1 loss to the Broncos, who scored three runs in the first inning and limited USD to only five hits. Hannah Boos did pitch all six innings for USD, but took the loss, giving up four runs (two earned), four hits and striking out three.
The second game, a 4-2 win in 10 innings for USD, was a struggle offensively, too. But the Toreros broke through in the top of the 10th, scoring the decisive runs on RBI singles by Kailey Hill and Lindsay Clare.
On Sunday, the bat of Lauren Kane made USD a series winner as she delivered an eighth-inning RBI single — her second of the game — to lift the Toreros to a 4-3 decision. Kane had two of USD's eight hits in the game.
USD's record is now 25-18 and 4-2 in WCC play.
Next Games: USD Softball at Pacific, Saturday doubleheader, 12 and 2 p.m., Sunday, 12 p.m.
What started as a great week with an 11-2 nonconference road win against UC Riverside on April 10 and picking up a wild 9-8 victory April 13 in the opening game of a West Coast Conference weekend home series against Saint Mary's, finished disappointing for the USD baseball team.
St. Mary's won 6-5 Saturday and then 16-2 Sunday in the rubber game, to take the WCC series and send the Toreros to 17-19 overall and 7-8 in WCC action.
Toughest for the Toreros was committing 13 errors in the three-game series with Saint Mary's. Miraculously, USD won Friday's game despite committing seven errors. It took a five-run eighth inning to pull out that win.
Saint Mary's scored five runs in the sixth inning of Saturday's game to pull out the win, but the Gaels finished the weekend by getting 10 hits and seven runs (six earned) off USD starter Nick Sprengel, who went only 3.1 innings, en route to the blowout win on Sunday. USD committed five errors defensively in the series finale.
Despite the series outcome, USD starting pitchers Paul Richan, Chris Murphy and Sprengel still combined to strike out 19 batters.
Next Games: USD Baseball hosts Cal State Fullerton, Tuesday, 6 p.m., Fowler Park; USD at Pepperdine, Friday-Saturday-Sunday, 3 p.m., 1 p.m., 1 p.m.; USD at UC Irvine, April 24, 6 p.m.
It was a pair of tough Southern California road matches in West Coast Conference play for the USD women's tennis team on April 13 and 14.
USD was swept 4-0 by conference-leading Pepperdine on Friday in Malibu and then dropped another 4-0 decision on Saturday against Loyola Marymount in Los Angeles.
The Toreros' record is 10-10 overall and 2-6 in WCC play.
Next Matches: USD Women's Tennis hosts Pacific, Sunday, 11 a.m., Skip and Cindy Hogan Tennis Center at USD.
The men's varsity eight traveled to Philadelphia to compete against east coast crews in the Kerr Cup for the first time in program history on April 14. The 2,000-meter race, hosted by Drexel University, took place on the Schuylkill River.

The Toreros raced against Temple, Virginia, and Boston College. The men finished fourth with a time of 6:43. Their placement sent them to the repechage in the afternoon. After a short break, the men raced against Lehigh, Bucknell, Trinity, and Rutgers. The USD crew placed second, just four seconds behind Lehigh. The men clocked in at 6:35.
Next Race: USD Rowing at WIRA Championships, April 28-29, Rancho Cordova, Calif.
The San Diego women's rowing team faced top competition at the Lake Natoma Invitational in Northern California. The women's three boats earned fourth place finishes in each race.

The Toreros raced against No. 2 ranked Cal, No. 8 Brown, and co-West Coast Conference competitor Gonzaga in their first race. Cal swept the morning races, followed by Brown then Gonzaga. USD's 2V8+ finished just three seconds behind Gonzaga's crew. The V8+, 2V8+ and V4+ all placed fourth.

In the afternoon, the Toreros raced against No. 7 Stanford, Brown and Alabama. The V8+ fought Alabama, but finished just four seconds short of a win. The 2V8+ also tried to edge the win over Alabama but missed the mark by six seconds.

On Sunday, the women got a second shot at Alabama and Gonzaga when they raced down lane four against both crews and Sacramento State. The Toreros earned fourth-place spots across the board.
Next Race: USD Women's Rowing at Ohio State Double Dual, Saturday.
The San Diego women's track team recorded 14 personal bests in the UC San Diego Triton Invitational April 14 in La Jolla.

Highlights included a victory for Jessica Ong in heat eight of the 800-meter race. She finished with a time of 2 minutes, 18.86 seconds. Sera Parvin placed second in her 800 heat with a personal best of 2:18.92.

Zani Moore earned a personal best and second-place finish in the 1,500 in 4:42.64. In heat two of the 1,500, Ally Roessling posted a personal best in 4:51.68. Later, she had another best, this time in the 3,000 at 10:32.57.

In the 3k, the Toreros led the pack in heat one and recorded five personal bests, including the winner, Maggie Scholle in 10:35.21. Moore, Molly Klein, Parvin, Ong, and Kate Hohler also posted personal bests in the event.

Natalie North-Cole was the lone Torero in the 3,000 steeplechase. She finished ninth in 11:41.84. The 5,000 saw Cassidy Kuhn earn a personal best in 17:22.46.
Next Meet: USD Women's Track at Bryan Clay Invitational, Thursday, Azusa, Calif., and at Mt. San Antonio College Invitational, Torrance, Calif.
For all USD Athletics news, scores and information, visit the website and follow the Toreros on social media platforms: Facebook, Twitter and Instagram.