Fight Back Against Cancer: USD's 10th Relay for Life is April 6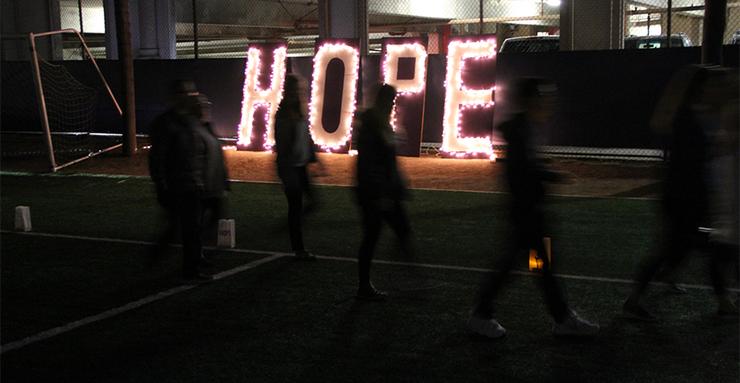 Cancer is nobody's friend. It comes in many forms and causes all kinds of pain, suffering and misery. It takes away lives, thousands of lives each year and has taken hundreds of thousands through the years.
So, what can you do? What can one person, one group or organization, one campus community, one city, one state, one nation, one world do? Plenty.
Sign up as a team — as students, faculty, staff, administrators, alumni — for USD's Relay for Life. Ask your friends, family and companies to donate to a cause that seeks to further research that helps destroy cancer and eliminate it.
This Friday, April 6, the 10th annual University of San Diego Relay for Life event takes place at Valley Field. It starts at 3 p.m. and runs until midnight. The goal is to raise $20,000 to help "Give Cancer the Boot!" as the flier used by USD's Colleges Against Cancer student chapter suggests, adding "we've been kickin' it for 10 years!"
Obviously, since this year's Relay for Life marks a decade at USD, this isn't a new thing. The first one at USD was organized by a graduate student who had participated in a relay while living in Hawaii. High schools and communities host Relay for Life events each year. Oftentimes, USD students who work on the university's event have already participated in one prior to attending college. According to the American Cancer Society, one out of every 100 Americans participates in a Relay for Life event and there are events in more than 600 communities that span 19 countries outside the United States.
"Relay for Life is the signature fundraiser for the American Cancer Society. Relay is staffed and coordinated by volunteers in thousands of communities and 27 countries. Volunteers give of their time and effort because they believe it's time to take action against cancer," says the website page for the USD Relay for Life event. "Join us at these events to bring communities together to remember loved ones lost, honor survivors of all cancers, and raise money to help the American Cancer Society make a global impact on cancer."
Registration begins at 3 p.m. at Valley Field and the opening ceremony kicks off at 3:30 p.m. Other notable aspects include a Survivor/Caregiver Walk at 4 p.m., the Luminaria Ceremony at 8 p.m. and the closing ceremony will begin at 11 p.m. Furthermore, teams who attend are walking laps on the field, they bring games, books, music and food while they participate. Past years at USD's event have also included bubble soccer, groups making origami and there's traditionally been a "jail" where people go and need to be "bailed out" in the form of a donation to Relay for Life.
Donations of any amount to USD Relay for Life teams is welcomed and donations made after April 6 are still accepted (until August, typically) and appreciated. For more information or to donate, please visit www.relayforlife.org/usdca You can also help spread the word on your social media platforms and by visiting the USD Relay for Life Facebook page or on Instagram @usdrelayforlife.
— USD News Center